The EYE of "BOB"

Welcome to the wide open, wide-screen, dilated-pupilled world of SubGenius graphics, wherein the hideous and the beautiful become almost... well, not indistinguishable, but for some of us it gets to where we PREFER the hideous stuff.

---
THE ART MINES
Complex graphics best viewed one at a time -- the latest in SubGenius non-moving pictures.

MASSIVELY REVISED ULTRA-KILLER ADDITIONS: 11-13-0 B.X. --


Puffed up like a toady-frog on 10-20: Rev. Stang's Dobbsful 3D Doodlings (includes movies and QTVR). (Deeper but younger than the 6th, or 9th, 10th or 8th Tunnels.) And don't miss DAMN THAT STERNO! nor the PSYCHEDELIC PORNO ART STASH -- SO HOT we had to move it off THIS SERVER!

THE 7th-TUNNEL QTVR 3D-MOVIE CAVE-IN!


OLD! SubGenius E-Zine/Comix:
THE DAMN TRUTH
First Issue
PORTRAIT GALLERY of NOW-FAMOUS SUBGENIUSES
Click on their names and see the faces of your fellow SubGenii as well as some LIVING GODS and TOPLESS GODDESSES. This area has swells gigantically in size every two months or so -- UPDATED VASTLY Nov. 13, 0 BX.



VIDEO DINGLEBERRIES STASH 5
PIPELOADS of psychedelic twisting, morphing, mind-pumping video animation, Virtual Dobbscape .wrl lands, sexy QTVR preversions, GIFMovies, MOVs, AVIs, MPEGS, 70mm Panavision, -- Dobbs has ALL the trendy crap for EVERY MACHINE! MAJORLY Updated 3-26-97. SEE ALSO: Rev. Stang's Dobbsful 3D Doodlings (new, 8-16-97).

VIDEO DINGLEBERRIES STASH 1
Short MPEG-format videos WITH SOUND, just like the porno clips you download from binaries newsgroups. Includes our MTV work, SubGenius preachers and strippers in action, claymation porno, MORE! NOW AVAILABLE BY FTP!!

VIDEO DINGLEBERRIES STASH 2
PSYCHODOBBS-EDELIC MEDITATION LOOPS, a personal message to YOU from the kind and good Rev. Stang, the GORIEST MOMENTS from GWAR's live concerts, JANOR HYPERCLEATS.

VIDEO DINGLEBERRIES STASH 3
Four short but entrancing experiments with our crude morphing program. They'll play on anything, and they're both distorted and distorting.

VIDEO DINGLEBERRIES STASH 4
Animated Education X-DAY INVASION MOVIE! SubPreachers on CON-TV! More and more GIFmovies!


THE PHOTO DUMP
This section includes a new photo essay on SubGenius Lego Monsters. Also: a typical Swinging Love Corpses doktormusic concert. (Beware -- soon we'll be piping the music at you along with the pictures!). Also, some evidence of blatant illegal SubGenius propagandistic vandalism of public property.



A GLIMPSE INTO THE GWAR UNIVERSE
We survived the tour with GWAR and all we got were these crummy perverted snapshots, videos and symptoms.



THE MTV/SUBGENIUS PHOTO STORYBOARD
In lieu of downloading the actual video, which, we'll, admit WILL take an hour, you can instead walk your way through it -- as still frames captured from the film, with captions showing the matching narration.



Links to ARTFUL WEBSITES
You can go NUTS downloading 3D electronmicrophotographs of bug's mouths, little 'virtual reality animation landscapes' and other gimmickry. We certainly did.



THE INE FARTS OF NENSLO
Paintings! Actual PAINTINGS by the tormented, hateful 'Van Gogh' of the SubGeniuses! (A newer version of this, with many more Nenslo pieces, is at Donna Kossy's KOOKS MUSEUM website, where it is disguised as 'The KDV Gallery.')



---
If you want to become world-famous and rich by having your amazing works of art or digi-video displayed here, HELL, just email it to ye olde Sacred Scribe, Rev. Ivan Stang (i.stang@metronet.com). Just go easy on us and don't send a ton of megs at once... it clogs our tubes.

The little art-buttons above are by Paul Mavrides, originally created as BeforeDark desktop background tiles. The background is a Funway treatment of a Numen Remissionis treatment of a Robert Williams design.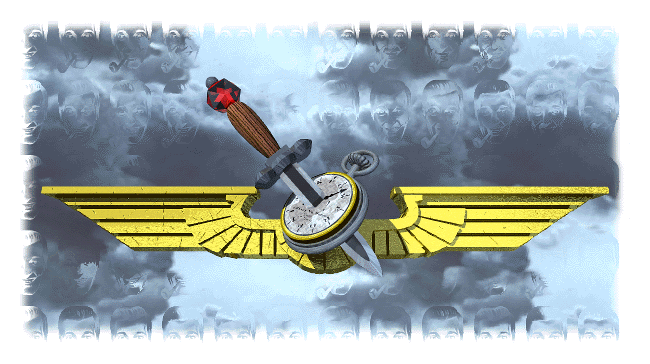 art by Rev. Numen Remissionis