(Part 2)
---
It's US...

...versus THEM.

Are you gonna FRY in HELL ON EARTH...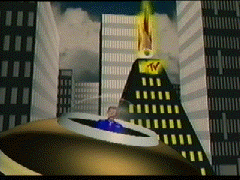 alongside the PINK BOYS...

Or will you pull the wool over your OWN eyes...

and ACCEPT "BOB" into your mind?

REPENT!

QUIT YOUR JOB!
SLACK OFF!!

...and PRAISE "BOB!"

(female voice:) The Church of the SubGenius: Eternal Salvation or Triple Your Money Back.

---
Produced, directed, edited by Rev. Ivan Stang
MTV producer: Rev. Josh Greenburg
Director of Photography: Rev. Bert Guthrie
Music and sound effects: Rev. Mark Mothersbaugh
Props, masks: St. Joe Riley (You can buy "Bob" and Smiley-Face monster masks from him! -- $50 each, from Joe Riley, 2523 San Paula, Dallas TX 75228)
Computer animation: Ken Las Cutler
Hapless SubGenius played by Farley Scott (aka 'Rev. Bob' here in Dallas).
Cheesy stop motion animation: Rev. Ivan Stang

This video is included on the following $20 SubGenius Videotapes:
ARISE
PRE-DOBBS STANGFILMS

and there's a whole 40-minute behind the scenes documentary, "THE MAKING OF SUBGENIUS/MTV," which might be enlightening viewing for filmmakers -- how to do a $50,000 SubGenius commercial using only $15,000, Scotch tape, spit and a radio show.

The SubGenius Foundation
PO Box 140306
Dallas, TX 75214