Sunday, Nov. 14 - LEG TWO
We slept for a long time, and spent the day recuperating from the travel and show.
We breakfasted at an expensive American-style café near Nobby's, "Coyote." Coffee is served in GIANT coffee cups, and in fact all the servings are unnaturally huge, probably to indicate "American-ness."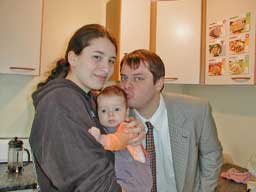 Nobby drove us across London - which takes about 2 hours -- to Pope Black's in Harringay so we could drop off half the swag and gear in preparation for later taking it to Germany in the Pope's company. There we met the gorgeous, charming and long-suffering Mrs. Pope Black, The Rev. Contra Diccion, and their new Christ-Child, William, and were WELL FED INDEED by this family of fine chefs. Rev. Contra Diccion deserves a permanent sainthood merely for not yet killing Pope Black.
Pope Black is an AUTHENTIC SubGenius-style Pope, you see. He's not a fake. He's right up there with Pope Flores, Pope Sternodox, and Pope Meyer, in so many ways. But this kind of SubGenius Papalship is demanding, and Rev. Contra Diccion has certainly earned my respect - for NOT GIVING IN to those demands.
She showed me a section she'd found in "The Secret World of Cults," a nonfiction book by Jean Ritchie, which describes the Church of the SubGenius FAIRLY ACCURATELY (!). We're the one cult that isn't bashed in this cult-bashing book.
Wei and I had to reduce our clothes and swag to bare minimum, 15 kilos each, to meet the conditions of the cheap EasyJet London-to-Germany tickets. The Princess had to finesse a week's worth of clothing into one small bag. Other princesses can probably sympathize with the amount of sacrifice this must have required.
We returned to The Foundry for "Poetry Night," or whatever they call their slam. There we saw The Worm Lady herself, in person; we first saw her in Rev. ErRoR's video of a previous Foundry devival, lecturing bizarrely about the elevated place of WORMS in the grand scheme of things ecologically. She was described to me as "formerly a hotshot lawyer, now turned bag-lady worm-science expert."
John Cowper, an old Cornish farm guy, delivered some satirical songs while daintily dancing with white kerchiefs flapping from each hand. This was some of the best ranting of the whole tour, next to Elvis in a Box; it just figures that this was the ONE time I was NOT carrying the video camera. The Cornish accent and locution is just about as charming as that in far-West-Texas.
After SpinMaster something - a British Wesley Willis -- Pope Black read Rev. Paulino's classic "Nazi Ken Mall Zombies" rant, and my "Brag of the SubGenius." At least he has the right accent for it. I recited (from memory) Captain Beefheart's "The Dust Blows Forward and the Dust Blows Back." Princess Wei sang some punny songs taught her by her granny.
***************************************
Monday, Nov. 15
The British Natural History Museum - bones 'n boners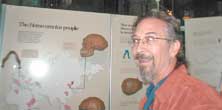 I've been there before, as well as the Smithsonian and the New York Natural History Museum. I can't get enough. Even the EXTERIOR of this museum is a museum, with pterodactyls, smilodons and other monsters carved all over it. Just the DOORWAY ALONE is a bigger museum than most normal museums. For somebody raised in the religion of Dinosaurianism, like me, visiting museums like this is akin to being in an all-night hooker Walmart (like they have in Hamburg) with a bottomless gift certificate.
Glyptodon, Diplodocus, BOTH original famous Coelocanths, carved devil monkeys, jackelope skeletons, stuffed flying lemur, small giant sloth, 100-million-year-old road kill, a warehouse of dinosaur skulls, dino slasher porn, a Creature from the Black Lagoon hand, THE Mantelle Iguanadon thumb-horn, hideous primitive dogs and cats, a unicorn skull, life-sized replica Pig-o-saurus-ephant, unseemly deep-sea fish, ocean flora from Fairyland, STUFFED GIANT SQUID, SLIT-FACED MANATEES, the Bible etched in giant mollusk shells, a SubGenius brain, stuffed Australopithecines, a lemur made of bullets, Early Teen Pron (I mean REALLY early teen), Homo Flaccidus skull, Bug Porn, The Black Scorpion (life size), 10 million stuffed extinct birds in one case, a LARGE giant sloth skeleton, even another DODO!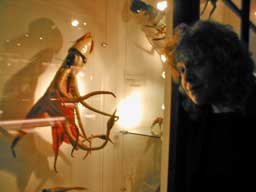 (See more pictures.)
We slept at Pope Black's, as did Pope Mickey Finn, so that we could all leave early together for Germany. Before bed, the Blacks treated us to a fantastic, Lovecraftian pasta dish.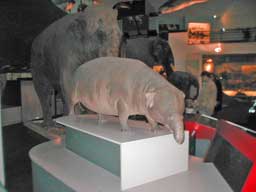 ************* ON TO PART 3
---
Back to main index
---