Tuesday, Nov. 16 - Trip to Hamburg (LEG THREE)

Got up at 4 am for the 120 MPH ride to airport -- our plane left from the very last and farthest gate in Gatwick terminal, and we were the last aboard, and we were assigned to the last seats in the very back. The SubGenius Way.
This was the beginning of our week following Pope Mickey Finn and Pope Black... a laugh a minute, until Pope Black vanished. Then, when we were left following only Mickey, it was more like a laugh a SECOND.
The now-sainted German SubGenius, Rev. Kay (rhymes with Sky) Wittke, met us at the futuristic Hamburg train station (which boasts the most high-tech McDonalds ever seen) with his little dog, Perro. Perro, an aging, angry little Spanish refugee with a serious underbite, was later to be made the new Pope of All Europe, after Pope Black fucked up and made us miss Amsterdam by a whole day.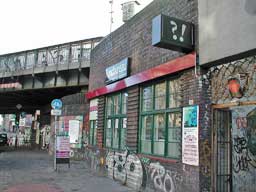 Kay took us first to the venue, The Fundbureau (German for "Lost and Found," basically) at 114 StressemanStrasse. Pope Black appears to know EVERYONE in Hamburg. He lived there for 10 years. Amazingly, none tried to kill him.
Kay, our Fundbureau host, then escorted us to a flat in a building across from the old Schiller Opera building (now a squat), a special room for traveling rock stars and avant-garde artists who are performing at the Fundbureau.
We went out for the first of many Turkish dinners to come, and Pope Black bought $250 train tickets to Amsterdam for us - oddly enough, using my credit card.
Walking around town, it was strange to see Dobbsheads crossed with Burning Man logos in German shop windows. Posters for the show were everywhere.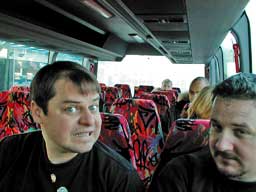 In Germany, even the bus and train seats are psychedelic. The sinks and toilets work from creatively hidden, subtle buttons, and the potties have SHELVES. SHELVES to catch poop. The British told us that this is because the Germans like to inspect their shit for health diagnoses, but the Dutch told us the shelf is there simply to prevent splashback, aka "the Kiss of Neptune."
Germany - in fact Holland and England too - seem to be exceedingly dog-friendly. Every fifth person is walking a dog, or vice versa. They are a common sight in restaurants and bars. Here, it makes sense for a dog to become a SubGenius Pope.
We/I decided that Germany is Cool-Pavement-World. Unbelievable pavements - curving, baroque pavements, paving stones like in the Candyland board game, naked lady roof supports, surrealist drainpipes, palaces next to department stores, and GRAFFITI and DOBBSHEADS, EVERYWHERE!
Their supermarkets are beyond ultra-modern - YET NONE WILL TAKE CREDIT CARDS!!
We met "The German Bob" - Rev. Bob Hoggins, an old pal of the Pope's, and quite an artist/rabble-rouser in his own right. Like St. Kay and Pope Mickey Finn, German Bob helped protect us from Pope Black, and Pope Black from himself, throughout our stay in Hamburg.
Pope Black was scheduled to appear on a TV show broadcast live from a bar -
The Carlos Pintos TV Show (http://www.carlospintoshow.de). By coicidence, so was the German Bob, who was promoing a new political art show he and his partner had opening at an art space called SKAM.
Pope Black, in full papal regalia, was wheeled in on a dolly for his interview by Carlos Pintos. Carlos is a sort of Portugese Jay Leno on German TV, and has had Pope Black on as a guest many times before. (There are Dobbsheads with ""BOB" IS WATCHING YOU" plastered in the bathrooms.)
On a big projection screen, Pintos and his sidekick Martin showed my MTV-SubG video, tons of anti-Bush art stuff from German Bob, and the latest naughty shorts going around the Internet as MPEGs. These Net-filth movielets made the whole show seem kind of alt.binaries.slack-ish. The hosts also mocked their local singles listings. Sitting there in the studio audience, Wei and I often wished we knew what the hell everybody else was laughing at, since most speech was in German, EXCEPT Pope Black's answers to Carlos's questions. The audience had voted to hear Pope Black's horrible North Carolina English rather than his awful North Carolina German.
Pope Black held forth on politics, badmouthing America (from which he's banned, anyway); he plugged our show and showed pictures of his normal family (!); he performed a Short Duration Same-Sex Marriage between Carlos and Martin; he healed Pope Mickey Finn of alcoholism, by getting him MORE drunk (?), and performed a Sacred Sickening by making a healthy German girl into a drunk. (And in this way, Pope Black kept getting free drinks from the bar.)
We had Hamburg hamburgers at a chicken place downstairs called Harry's... another spot where everybody already knew Pope Black, and yet did not try to stop him from living.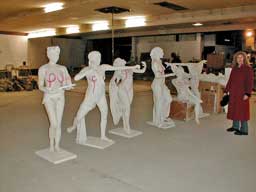 The two Whisky Popes then went out drinking; We/I accompanied German Bob to the awesomely large and insane-looking SKAM art space and beatnik hang-out - a vast warehouse with a nice gallery front. Strewn about the various artists' areas were a parade of life-size plaster women, a miniature film set built by a stop-motion animator, and other weird art, making the whole chamber resemble a Halloween spook-house into which a giant child had spilled oversized alien toys.
Bob builds crazy lamps and other furniture, including his cool "INFINITY LTD." Cube - an Outer Limits box with an eyepiece. You look deep inside this small box - and there is a CITY in there, a tiny city stretching off into the distance as far as you can see. It's all done with mirrors -- HE CLAIMS.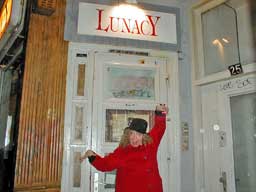 Finally we rejoined the Pope for serious beer-drinking in various bars along "the Reeperbahn" - The Lunacy, The Golden Handschuh - my notes are very blurry here - and at one point we met Chris from Lake Tahoe, a loud, LOUD fellow who wants to have a band named "TIMMY!" a la the Southpark character. He bellows like an American Jeroene van Braam. They'd never let him get away with it in the U.S.
Bob took me through the "Alley of Shame," an all-hooker street mall much like Amsterdam's Red Light District. Wei, nor any non-prostituting woman, was not allowed on that street! I thought this policy oddly sexist.
There were McDonalds EVERYWHERE. They are IMBEDDED in the whoreshousedom of Hamburg.
At some point we stumbled to another biker bar, "The Comet," I think, where the bartender wears a Mexican wrestling mask and got into a primate dominance contest with Pope Black. We got a taxi home with Bob and Kay, and went out of our way to get a look at what Bob calls "Darth Vader's Villa," a scary looking WWII Nazi bunker which now holds a Pink disco.
It's true that I normally eschew alcohol these days, but hey, we were in Germany, and that's where they MAKE the GOOD BIER. And we only sipped, one or two a day.
At first.

Back to main index
---