Friday, Nov. 26 -- FOUNDRY London Devival 2

Woke up too hung over to follow Popes Black, Monty, and Finn to do a live radio show at The Foundry. It seems Jonathan and his wife do a live webcast from there every Friday. Instead of attending, I slept until 2 and awoke feeling great remorse. I demoted myself from Scribe to Janitor. (Which actually means I do less work; I was already Janitor too, anyway.)
Descended to street, and xeroxed the SubG pages in that book on cults. Ate Turkish food. Their menus mean nothing at all to us beyond "shish kabob", so we just pointed and grinned at what we wanted.
Went on tube, hauling the huge bag o' swag, to The Foundry, met Charlie of Throbbing Cocks who was DJing -- interspersing club rock with the Mary Poppins movie soundtrack. EVERYONE, ME INCLUDED, KNEW THE WORDS.

Met Rev. Skunk, a SubGenius I previously knew only as a beloved CUSTOMER, and only by his human name. Saw the good Rev. Notaw again. Princess Wei was Swaggarting, that is, womanning the swag table, and watching the video camera, but DJ Chronic spelled her when she needed to get away.

The sound quality was not good at the venue and the video sound is not good, except when I'm near the stage, hand-holding. Then it's abrasive, harsh, but perfectly understandable.
My SubG 101 rant was delivered in about 15 minutes, really fast, and people seemed to pay attention for that long.

The handsome and generous Rev. Priest, suave as Bond in a FAB "Bob" Smoking Jacket, sang and played guitar -- a great new X-Day song he's written, and more, but the sound was so bad that we're going to have to insist that he perform them again with a tape recorder.

Then LEEVIL performed. I wish I could impart any sense of this guy's SubGenius Charisma. His highly mutated version of the ballad "Hey Joe" is... well... again, I just wish I could impart some sense of it. He is PURE.
We left during LEEVIL, however, to see Skunk in the art-basement - but, meanwhile, the valuable Salacian-donated Hi-8 video camera, filming by itself while atop a tripod taped atop the piano, was bumped by someone. It took a nose dive towards the floor far below, and broke open.

But it still worked! I could play back the moment of TIPPING and falling, and the camera was still capable of recording, even though chunks of it were hanging off its sides, with diodes and wires winking and sparking.
I filmed LEEVIL, with the parts of the camera that you use to control zoom and focus dangling off to one side.
LEEVIL was astonishingly, energetically dumb, and fucking hilarious. One of his many claims to fame is the ass-baring during his reggae song about prison anal rape, and his scratching-by-foreskin DJ technique used during his Rap take-off/tribute.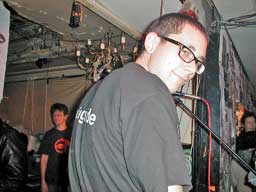 DJ Chronic, aka Rev. Lucky Bastard, was up next, but first, he had to pee - so he rushed down the stairs to do so, but bumped his head so hard on a ceiling pipe that he was knocked unconscious. After being helped up by passersby, but still stunned, he delivered a truly fractured rant about being a fucked up SubGenius. There's a zoomed-in close-up that I took during this rant that absolutely rings with the truth of fucked-upedness.

Then came Rev. ErRoR as Elvis in a Box. He stays crouched down in the box for the first two songs. He's a Bollywood Elvis who karaokes to Indian pop songs, but Elvis-style. When he finally doffs the box, you see that he IS ELVIS, that is, he has the sideburns and the built-in sneer. He also has brown-face make-up on, because he's the INDIAN Elvis. While this truly weird tableau was unfolding, I noticed through my video camera that a fellow was busily engaged, during ErRoR's performance, with DUCT-TAPING an OLD SPEAKER CONE to the front of one of the televisions on which Dobbsedeliasteses was flowing around. He was pretty serious about it - his first attempt didn't suit him, so he made his way across the room and back to fetch better duct tape, and so do the job right.
??
Meanwhile, Princess Wei was fending off the attentions of a Bob Hoskins look-alike who had decided to impress her by providing live accompaniment to the show on the piano (which doubled as swag table.) When he realized that I was bird-dogging her majorly, being married to her, he backed off and correctly declared me "the luckiest man alive."
His piano accompaniment to Pope Black's rant was actually not that bad. Luckily I took the battered cam and got close to Pope Black for his rant, which was one of the best yet. It started out bitter and angry - "YOU SHUT UP, you stupid people over there in the corner, chatting about your PATHETIC LITTLE LIVES." I got some pretty good footage and he did a very good job of befuckedly griping about EVERYTHING PINK.
For Pope Black's ritual karaoke spanking, Espira substituted the soft fake paddles with really hard spiked ones, the nice timid volunteer spankers with feisty, aggressive ones, and the short "Final Countdown" recording with the 12-inch extended dance-mix of "Hit Me Baby One More Time". They were seriously hurting him... but he was committed. It couldn't stop until the song ended. The strange fellow I had seen duct-taping an old speaker-cone to the TV took pity and sprinkled "holy water" soothingly on Black's reddened buns. This hideous, yet, strangely, gut-bustingly funny spectacle was climaxed by some TRULY down-home, spirit-filled canned gospel music and ranting by Pope Black - seriously, one of the peak moments of ANY devival I can remember. I got this captured fairly well on video. Pope Black then closed with a Head Launching. He practically missed the Head; it only rolled off the stage, but a plucky African gal jumped forward and grabbed it to earn the 7 years Good Sex. We passed the Bucket of Love, for donations, and then the show was suddenly over.
I briefly met Rev. selfs layer, who had come all the way from France, before having to rush away; the trains stop running at midnight.
Pope Black had vanished after giving bad bus-stop directions to Pope Phil Monty. We followed those bad directions only a little way before getting wise, and following ErRoR in a big hurry to the very last trains back to Harringay.

We re-looked at our photos and videos on ErRoR's computer with him, DJ Chronic, and Pope Phil. Played with ErRoR's toys. Repaired the camera.
Counted swag (40 pounds) and Love Bucket Money (27 pounds)
Got to bed about 3 am.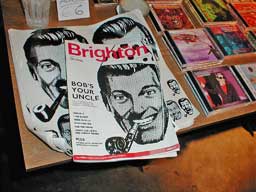 *************************NOW TO PART 7 -- BRIGHTON!
---
Back to document index
---