SubGenius IRC 7-11-99 Post-XX-Day Debriefing
*** Topic for #subgenius: Miss Sakamoto: Having a Baby, Due Dec. 5
*** Topic for #subgenius set by MSakamoto on Monday, July 12, 1999 3:19:13 PM
#subgenius: Stang @NedWreck @Bunnyboy @DrLegume @kevbob @Lilith @PeeKat @andreux @Friday @GGGordon @ChrisLi @geezer @Magdalen @Phloighd @ginsu @RevBro-VT @ICEKNIFE @Modemac @MSakamoto

*** #subgenius :End of /NAMES list.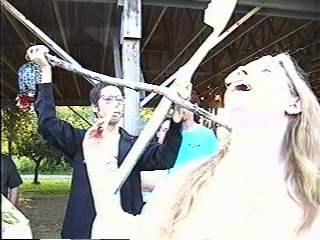 Lilith: Angela's been here for a day, and she's only become more and more ULTIMATE CONNIE since.
Friday: Stinky!
Magdalen: Hi stang!!
ICEKNIFE: there goes the neighborhude
andreux: eek. stang's still alive? i thought he was dead...
Bunnyboy: Stang! Just in time. Bye!
Modemac: BTW, Angela, did you get the tape? You can pop it in Lilith's VCR and snuggle up and watch it.
Lilith: DADDY!
GGGordon: HOW WAS IT?
Stang: How-do!
ChrisLi: two minutes to jambalaya!
ginsu: Legume:that really stinks.
Lilith: Bye Bunnyboy!
DrLegume: It broke down, believe it or not, in the parking lot of DOBBS' COUNTRY KITCHEN
Phloighd: greets oh wise one
GGGordon: HEY SPANGKY, THANX FOR THE PICS
PeeKat: BRB...
Stang: I hope I didn't miss much... anybody logging?
*** PeeKat is now known as PK-AFK
Magdalen: Stang: Sis D, Nickie, Doc Frop are over at our house having a big sex party!!
ginsu: hi
RevBro-VT: Is it the ReAL Stangie, or a Clever Bot?
Friday: Praise the Church Photographer!
Modemac: Why is this Stang at apk.net?
Lilith: Stang: FYI, I've adopted Rev. Angela as my little sister. She's "family" now.
Phloighd: Jesus was logging quite a bit, but he might have come by now
Friday: Modemac - Stang is visiting friends
RevBro-VT: Stang is in CLEVE-LAND!
Stang: This is the real stanky, but I am broadcasting from Spaceport: DNA Level C.
MSakamoto: i've got everything since about eight thirty eastern
GGGordon: STANG LEGUME HAS LOG OR MAYBE STICK
Modemac: Lilith: You remember last year when Angela was my sister?
Friday: Log or boulder
*** Bunnyboy has left channel #subgenius
Phloighd: was that an incestuous relationship, mode?
andreux: can someone with a mp3 player do me a favor?
Stang: Magdalen -- I thought ya'll were gonna go to a movie.
MSakamoto: and i think that there should be a line of baby clothing...like a "bob" onesie or some crap
RevBro-VT: Wot?
Phloighd: yes andrew?
GGGordon: GOT STICK?
Modemac: Phloighd: Something like that.
Lilith: Modemac: Rev. Angela violently denies it. In fact, I should slap you just to make us even. Grrrrrr.
Magdalen: stang: we did, but it's over now
Lilith: I AM A ROCK
ChrisLi: by the way- i'm officially announcing a new Church schism- the Documentarians- for the Subs who feel compelled to carry videocameras, cameras, minidisk recorders et al, around
andreux: http://homes.arealcity.com/ennui -- this is my first time with mp3 encoding. download one and see if it works.
Phloighd: I have *the* stick, not that that matters
Lilith: "Bald-faced lie straight out of Hanoi," Rev. Angela says.
Magdalen: we saw South Park and it kicked ASS!!
Friday: ChrisLi - We LOVE that schism!
*** Mode change "+o Stang" on #subgenius by ICEKNIFE
Phloighd: chris, make sure you don't get your film confiscated by staff like I did
Stang: Andreaux! Where you been lately, boy!
Lilith: Rev. Angela is my little sister, don't you dare forget it!
geezer: andreux, which MP3 is the shortest?
GGGordon: HEY JESUS MAGDALEN AND I HAVE A NEW SCHIZM, WE'RE THE HEADARIANS, WE DON'T ANYTHING BIGGER THAN OUR HEADS
ChrisLi: Phloighd, what the hell where you filming?
Lilith: But if you want to rent her out, we can talk shop later.
andreux: buying property for the church in Chicago. I move in about 2 months. no $$, which means no XX-day for me this year.
ChrisLi: 12 year old titties?
andreux: geezer: black eyed dog.
Magdalen: ggg: don't EAT anything bigger than our heads
Modemac: It's not me you should worry about, Lilith - it's GGG. You know how he gets around little girls.
Phloighd: chris, in '98 at the bobtism I was takin' pictures
*** Lilith is now known as angela
angela: stang: hi daddy
Magdalen: ggg: you haven't backslidden and eaten anything bigger than your head, have you??
ChrisLi: and they took your film? they didn't take mine. huh.
RevBro-VT: Andreux, it's going to take ~35min to DL...
Stang: Andreaux -- well, it just wasn't the same without JHVH Hates PHred.
geezer: 5500K ! I'll get back to you...
andreux: revbro: each are around 5.5M.
Phloighd: yup. Brushwood staff politely asked me to surrender it, which I did, but they sent it to me later
andreux: They're full length songs, but I dont' know how to compress them.
GGGordon: MODEMAC I RESENT THAT, JUST BECAUSE I WAS TALKING TO THAT NAKED ELEVEN YOUR OLD IN MY ROOM FOR SEVEN HOURS DOESN'T MEAN ANYTHING UNTOWARD HAPPENED
RevBro-VT: I'm on Cable, you server is a little slow...
Stang: Hella youngest daughter Rev. Angela
kevbob: server is wicked slow.
Magdalen: GGG: grandpa, you're a bad man
Modemac: GGG: Well, anything you didn't want to happen, anyways...
andreux: kevbob: yeah, I know... I need faster space.
GGGordon: NO i HAD SALADS AND SOUPS
Friday: GGG - I'm sure you were very chasts with that eleven-year-old - you chaste her all around the room!
kevbob: and: contact schabe?
NedWreck: ha
RevBro-VT: Maggie, Did Grandad GGG off you any candy to sit on his lap?!?
andreux: kevbob: why.
Friday: That 11-year-old lent me a riding crop to beat Papa Joe with. What an ANGEL.
kevbob: he runs a server. also, try pscyhe.
DrLegume: That little nekkid girl sure came in handy...
GGGordon: MAGDALEN YOU DIDN'T CALL ME THAT IN THE BACK SEAT OF THE VAN
angela: i think you should officially announce the sacred lineage of THAT........... AUGHHH!!!
Stang: Legume, did you USE that little 11 year old?
Magdalen: revbro: well, he gave me candy, but there wasn't much SITTING involved
Phloighd: I taught a couple naked pagans in the wood the 'great green gobs of greasy grimy gopher guts' song, I felt cleansed
Friday: Stang - Didn't we ALL use that girl??
angela: go ahead lil
ChrisLi: hopefully soon, there will be concrete info on the Documentarians. in the meantime, just send me your photos and videos for the library
*** angela is now known as Lilith
andreux: btw, are pix up on the website yet?
GGGordon: LAP DANCES AAAAAAAHHHHHHH YESSS DEAR FRIENDS
Magdalen: Stang: Sis D says to give Princess Wei a kiss for her
DrLegume: Stang, I took advantage of her only to the extent that she could escape criminal charges in the flogging of Spike Jonez
Lilith: THAT is a damn shame, Gordon.
Friday also clamours to offer the fair Princess a kiss!
Stang: Magdalen -- Wei wants to make out with Sis Decadence too. Hmmmph.
Lilith: You and your underripe 11-year-old girls.
Modemac: One of the more surreal moments of XX-Day was when Locnar was in the hot tub, trying to explain the Church of the SubGenius to that 11 year old girl.
Friday: Let's ALL make out with Wei!
andreux: Modemac: ew...
Magdalen: Stang: you can take pictures...
DrLegume: Stang, how did the GGG lap dance footage turn out?
Friday: Locnar in the hot tub? EWWW!
GGGordon WONDERS WHERE THAT ELEVEN YEAR OLD IS TONITE
ChrisLi: mmmmmm... jambalaya
Phloighd: locnar? eww!
Lilith: Stang: You know, there are surgical techniques which could make it easier to make out with Sister Decadence....
GGGordon: YEAH STANG
Magdalen is sure it's not good
Stang: Legume -- I haven't transfered the lap dance footage but I fast-backwarded through it and it looked clear and well nippled.
Modemac: BTW, Stang - thank Wei again for the poster!
Friday: Many thanks to all those who have posted that GREAT Black Friday footage - since I was not wearing glasses I couldn't see a damn thing. The ultimate sacrifice for art ...
GGGordon: BUT DID I GET WOOD STANG
Lilith: I'm still recovering from XX-Day. Rev. Angela is not helping. I'm not complaining, of course....
DrLegume: Stang, any vidcaps of that on ABS? Or are you gonna make everyone PAY for that?
Phloighd: hay Lilith, are you gonna add something to your site about how to set up and run a devival?
Magdalen: stang: we saw the pics from late last night/early today
geezer: Jambalya!
geezer drools
kevbob: a subgenius optometrist could make a killing selling contact lenses.
Lilith: Phloighd: I've been thinking about an article, maybe for the Stark Fist if Jesus wants it.
*** PK-AFK is now known as PeeKat
PeeKat: Back!
Friday can't wear contacts - too mutated
andreux: stang: I never got paid for last year. send a copy of the 98 video.
Magdalen: peekitty!
Phloighd: yeah, it would help a lot... I'd love to do one but I lack the funding....
Lilith: Phloighd: Not that I'm the expert. I just fake it like everyone else.
andreux: pk: what up?
Magdalen: Friday: you ever think about that laser surgery?
Friday: And I'm sure that if I ever get corrective surgery the doctor will say that I can't fight anymore to spare wear & tear on my retinas ...
Phloighd: true, "Bob" has taught me how to fake lots of things, but not that
PeeKat: Mary!
NedWreck: later all, I'm going to bed early so I can enjoy my last full day of vacation.
*** Signoff: NedWreck (Zyklon B? You're soaking in it!)
Stang: Phloighd -- sorry I have to ask this, but... which one are you?
kevbob: goggles.
*** Signoff: ICEKNIFE (Connection timed out)
Phloighd: which one am I? uh....
PeeKat: Not me for much longer, I'm SO tired. But still I come to hang out with you freaks
Phloighd: long hair, pink flowered hat, annoying...
Magdalen: phloighd: download your picture right now to this irc
PeeKat: SO.... &reaux... you comin' next year or WHAT?!?
*** ICEKNIFE (iceknife@toolshed45.ppp.lmi.net) has joined channel #subgenius
*** Mode change "+o ICEKNIFE" on #subgenius by ChanServ
Lilith: Pee Kitty: YOU'RE STILL HERE.
PeeKat: AND I SHALL NEVER DIE
Stang: Phloid -- well, that narrows it down to about 10...
Phloighd: lemme see if I can find one, brb....
andreux: pk: next year, most likely... I just bought a house in Chicago proper, so my funds have been whacked this past year.
Friday: Magdalen - Yes, but I think it will put too much tension on my retinas. I need to see if the 'insert' method works out in the long run. Plus, the dissatisfaction rate for some of this surgery is like 7%!
PeeKat: Bought a house? Neato
Magdalen: whoah, people can really do that? I was just kidding
Friday rubs PeeKat's sore calf
GGGordon: LEGUME: HOW HOT WAS PHILLY WHEN YOU GOT HOME
andreux: pk: well, it's a 4-flat, really.
Phloighd: I'm the one who wants to use the teachings of "Bob" to run for political office...
Friday: PK - How's the foot?
Phloighd: lemme find a pic, brb
Magdalen: friday: well, you know, the RUSSIANS invented it
DrLegume: GGG bout 100
PeeKat: Fri: Foot's a lot better... I'm hardly limping now. "Bob" has healed me! (Almost - I'm on his installment plan; easy payments)
Lilith: Rev. Angela's annoyed with you all because you're not talking about HER HER HER.
Modemac: Reverend Angela has a great body.
Stang: GGG -- I hear you told Jesus and Magdalen all manner of huge lies on the trip back.
Magdalen: Plil: well, what's the deal with her? What's up? What's she doing right now?
Friday: Angela - Do you accept "Bob" as your savior?
GGGordon: IT WAS 89 DEGREES AT THE DALLAS BUS STATION AT MIDNITE
Modemac: In fact she's sitting in the home of that great body right now.
DrLegume: Damn ya know who REALLY gave me wood at XX DAy? Malibu Barbie Geddyn
geezer: where were the XXDay pix on www.minitru.org ?
Lilith: Magdalen: She's thrusting a black feather boa in my face.
GGGordon: HUGE LIES, NOSSIR I TOLD THE COLD STONE TRUTH
Magdalen: Legume: HELL YEAH
Stang: Lil -- is Rev. Angela there in Seattle?
Modemac: PRAISE BIKERS FOR "BOB!" Those bastards were a MIRACLE for everyone.
ChrisLi: Angela should write an article about monkeys for Quijibo. everyone else should write articles about XX-Day for Quijibo. anything to keep me from writing
Magdalen: geezer: there there somewhere
Lilith: Stang: Yeah, she showed up last night.
Friday: Legume - In the Russian uniform?? Yeah, she WAS a hottie. I bet Papa Joe was PISSED that he'd brought a gal with him
andreux: ChrisLi: can I write one?
Friday: geezer - www.minitru.org/xday99
Lilith: She drove all the way here... to see me... oh, and Onan, too.
ChrisLi: Andreux- aboput monkeys? or XX-Day?
Phloighd: there's a pic of me from '98 titled 'bobbiekiller' but I can't find it...
DrLegume: Barbie and Armand are gonna come for a visit here in Philly soon. I better buy more Mazola
Friday: Those bikers scared the "BOB" out of me charging into the Circle of Pain with Jesus
Stang: Whoa! Well, tell Rev. Angela she's a superstar now.
andreux: ChrisLi: I mean, I was thinking of you all that night... It was just like X-day but without the nekkid people... I was out in the middle of nowhere, though.
Phloighd: bikers for "bob" and minitrue.... they rocked.
Magdalen: Legume: well don
PeeKat: They nearly hit some of us.... but that's just Darwin in action, I figger
andreux: My eyes were looking up to the sky, anyway.
Magdalen: Legume don't mess them up too bad because we want our turn with them
Friday: PeeKat - I was sure they were coming to rescue Papa Joe!
GGGordon: YEAH FRIDAY I HEAR THE PAGANS HAD TO CLEANSE THE DRUM CIRCLE AFTER WE PROFANED IT
Stang: I missed meeting the Gyddons completely! Never hardly properly met Bikers for "Bob" either.
Lilith: She's trying to tempt me away from you guys. That feather boa looks worse than a thrice-fucked pumpkin.
PeeKat: Friday: You nad naught to worry... Dr. T and I had a DEATH GRIP on poor old Papa Joe
Modemac: I'm told the pagans were more distressed by the bike than by the Bible burnings.
Magdalen: Legume: unless you wanna make it a six-some...
Friday: The drum circle is supposed to have (A) No machinery (B) No hitting or violence. Oops!
geezer: ah, thanks
DrLegume: Friday, Papa Joe wouldn't have liked Barbie..y'know, she's a gal...
Lilith: The room smells NICE....
GGGordon: WONDER WHY THAT HAPPENED STANG...STRANGE
Friday: Legume - Well, maybe her date then
Phloighd: found that picture, if anyone wants a face to put with the name
PeeKat: The Gyddons were pretty cool... me and Jewyl hung with 'em for a while before XX-Day proper
Lilith: Screw the pagans!
ICEKNIFE: Friday... why wasn't that whole flap turned into a giant media shitstorm?
Friday: PK - Sure, but I didn't want to do a brawl-with-bikers scene with a blindfolded Reverend as the trophy! It could have gotten messy
Phloighd: awww, the pagans were great.... just a little tough, needed lots of time over the fire
ChrisLi: btw, has anyone heard from Europe? did they try some sort of XX-gathering there as well?
Magdalen: Chris: I hear they did something
Friday: Iceknife - Because nobody cares.
geezer: BRB
Magdalen: I have faith in Pope Black
Stang: GGG -- I was at Susie's tent, reminiscing.
PeeKat: BTW, who here besides VT is gonna be in our Tampa Bay around Novermber 13 for the devival??
Lilith: Stang: Angela says "whatever" and offers a reach-around. She wants me to pass it on.
Friday: ChrisLi - There was an XX-Day gathering in Germany that went well
GGGordon: LEGUME: I GOT POSER 4 IT'S A MOTHER FUCKER D00D
ICEKNIFE: waste of great PR
Lilith: Stang: Angela says you were her first crush... and Gordon's her second.
Friday: PK - If the funds are there I'll consider it
DrLegume: GGG, you get it from RevMo?
Modemac: November 13 - day after my birthday.
GGGordon: YOU CAN EVEN ADLUST TITS AND PUDENDA
Lilith: "Thank God we're family now!"
kevbob: hey, novermber 13th is whoopie goldbregs birthday
Stang: Chris -- Pope Black emailed us that the European XX-Day was a smashing success with a lot of folks showing up, including The Klingons.
Friday: Iceknife - Well why don't YOU run a Devival, get Papa Joe to shut it down, and then DO BETTER THAN ME! Dickwad.
Magdalen: modemac: SisD's birthday is NOv 10
MSakamoto: ahhh pop rocks and hot wings
GGGordon: NAH I GOT IT FROM A FRIEND
PeeKat: The most dysfunctional family in the WORLD
Phloighd: yeah, but still family.
Modemac: Magdalen: If SisD is the same age is me, then I'm really gonna freak.
Phloighd: I'd trust a subgenius further than a human any day.
ICEKNIFE: jeeez, take it personally, why don't ya! I didn't say YOU wasted it! Never considered it your JOB!
Phloighd: all about love, baby.
ICEKNIFE: cuntclump!
Friday: Iceknife - Well why don't you tell me WHO TO BLAME, then, SMARTYPANTS!
Magdalen: modemac: she says 1964, year of the dragon -- I am ALSO year of the dragon, but the next cycle
Phloighd: blame me, I don't care.
GGGordon: NOW I KNOW WHY I ALWAYS IGNORED ICEKNIFE BEFORE
Phloighd: everyone else does.
DrLegume: Mag, I dunno about a sixsome...that's a whole lotta Mazola
Friday: I already blamed Papa Joe and flogged him for it and that's OVER WITH. Now I just want to RELAX!
ginsu: you can trust Legume, I know he is trust-worthy. He's a good kid.
Magdalen: legume: we'll kick in for the mazola
Modemac: Oy, SisD - you're older than me? You sure as hell don't look it? (Born in 67, myself.)
ICEKNIFE: JESUS and STINKY, uv corse, Miss POUTYPANTIES
Friday: GGG - I just started ignoring him now
*** jewyl (ALI64@col-oh35-99.ix.netcom.com) has joined channel #subgenius
Magdalen: modemac: she says thanks
Lilith: Jewyl! You're back!!!
ICEKNIFE: GGG, please put me back on ignore. I HATE old people.
andreux: Damn, I love port.
*** Signoff: DrLegume (Read error: 131 (Connection reset by peer))
*** Legume (legume@modem727.delanet.com) has joined channel #subgenius
jewyl: back again...with a broken keyboard
Legume: damnb!
Magdalen: jewyl: that's a very unusual name for a subgenius
Friday kicks back and relaxes
*** Mode change "+oo jewyl Legume" on #subgenius by kevbob
GGGordon: YOU KNOW FRIDAY SOME SUB SENT ME MY IRC PROGRAM AND IT HAD IGNORE ICEKNIFE BUILT IN
jewyl: its my real name..i'm not very creative..eh?.
PeeKat: Jewyl: The power of #subgenius shall HEAL THY KEYBOARD! HOLD IT TO THE SCREEN
Lilith: I used to feel young, then Angela made me feel old...
Modemac: Friday: I guess no one located that 'Editorial Humor' article. And they don't seem to have their own Web site, either...
GGGordon: DAMMIT LEGUME WILL YOU SIT STILL
MSakamoto: i'm eating pop rocks with my mouth open and my cat's giving me the weirdest fucking look i've ever seen
Lilith: I like being old.
Friday: GGG - Now that was a good program. Maybe I can pre-program it into this one too
Phloighd: so if I don't get promoted this week i gotta quit my job. I think I'm gonna hafta hitch around the country again.
ICEKNIFE: STOP TALKING ABOUT ME!
jewyl: pop rocks and coke will blow up your guts
ICEKNIFE: asshurls!
Phloighd: pretending to be christian (shudder)
kevbob: cats roxor.
PeeKat: Naw
Friday: Modemac - Maybe the Boston Public Library ...? And I wrote the author but he never wrote back.
jewyl: yes huh
geezer blows hair out of Jewyls' kbd
Lilith: Jewyl: You're VERY creative, hon--that painted box you gave me, with the little statuette of me....
GGGordon: SERIOUSLY SEE IF YOU HAVE THAT IGNORE OPTION IT'S GREAT
PeeKat: yeah, and alkaseltzers will make seagulls explode....
Friday: Ken Reeves - Helping Keep Cambridge Safe From Free Speech (election slogan)
Magdalen: jewyl: no, it's cool, you'll be the only one
jewyl: Lil..that cuz i lurve you
Friday: GGG - I do have the ignore option and I just used it. Thanks for reminding me that I could!
PeeKat: I've got a painting/collage sitting on my music keyboard right now to attest to Jewyl's creativity...
Phloighd: One of the books I found at the lib'ry today is about combining politics with religious beliefs... it's perfect for me
GGGordon: AW MAGS YOU SAY THAT TO EVERYONE
jewyl: <agdlaen- that's the way it's always been *grin
Modemac: Dammit, I gotta go to bed. Damn Conspiracy working hours.
Friday: G'night Mode
PeeKat: If any two are alike, ONE must die
MSakamoto: night modemac
jewyl: oops//typoing liek a .
Friday: I need to sleep soon myself
Modemac: Nite all. XXX-Day is COMING!
PeeKat: nite Mod!
Lilith: Jewyl: You can lurve you anytime... except right this second, I still gotta wash Angela's lurve off first.
ginsu: bye!
Stang: Friday, did you get my phone message, sweet-ums?
Friday: XX-Day is Coming - ARE YOU?
Modemac: Hugs and smoochies to everyone. Even Legume. Bleah!
ChrisLi: ha! i just watched the rogue rocket nearly kill a guy!
geezer: 'Night Modemac
GGGordon: MODEMAC: I THOUGHT YOU WERE THE MAN WHO NEVER SLEPT
Magdalen: You guys are missing stuff by ignoring people. Even the biggest dumbass occasionally spouts humor
Friday: Stang - Yes dear.
jewyl: Lil..you temptress
Magdalen: Night mode
andreux: XXX-Day: Live Nude Rave...
ICEKNIFE: not me
Modemac: GGG - It sure felt that way at Brushwood...
Lilith: Jewyl: I'm a terrible tease, too.
jewyl: youare
Lilith: Bye Modemac!
PeeKat steps between Lil and Jewyl defensively
*** Signoff: Modemac (Leaving)
Stang: Chris -- you got footage of the NHGH rocket that went horizontal??? I didn't.
Magdalen: modemac: sleeping pills are not the same as sleeping you know
GGGordon: GO GET REM D00D
Lilith: X X X
Friday: XXX-Day - you bring the portable airbrush, I'll bring the Mehron Liquid Makeup, let's have a body painting party!
Phloighd: were all rockets recovered?
*** cuthulu (cuthulu@cuthulu.shreve.net) has joined channel #subgenius
jewyl: PeeKat shez got a BOA.she do
cuthulu: hi
*** Mode change "+o cuthulu" on #subgenius by kevbob
Magdalen: xxxday is going to kick ass
Lilith: Pee Kitty: Awwwwwww... you're so sweet. Suck on my boa!
andreux: hey kevan.
Legume: Good. Modemac's gone. I think he's queer for me.
ChrisLi: Stang- i miss most of it- focussed on Jesus, but i catch a bit
PeeKat: Hey Kev...
ICEKNIFE: THOOLOO!
Magdalen: Hi cuthulu -- where WERE you??
jewyl: lol
cuthulu: at home
GGGordon: SLEEPING PILLS ARE LIKE FALSE SLACK, BETTER THAN NO SLEE[
Lilith: Aw, Angela just smooched me!
Phloighd: XXX-Day is on a wednesday next year.... will the party start on Friday?
PeeKat: XXX-Day... "WE MUST GET OFF!"
jewyl: i want a smooch
Stang: Mag: xxxday is going to KISSS ass.
Friday: Legume - You're just so MANLY, is all. I'm sure Papa Joe would throw down for you in a second.
Lilith smooches Pee Kitty--"Pass that on to Jewyl for me, OK?"
Friday: Phlogoid - Of course!
PeeKat heads up towards Ohio to relay the message....
cuthulu smooches the channel
Magdalen: stang: you'll probably spend it submerged in a sea of titties
ICEKNIFE: tia carrera is in KULL???
jewyl: hurry baby....
Lilith: "Here comes the kiss-off!" --Fugazi
Phloighd: heh. Rock. Maybe this time I'll see lake erie
GGGordon: FRIDAY iI HAPPEN TO HAVE A VERY NICE AND PORTABLE AIR BRUSH ALL WE NEED IS ELECTRICITY
Legume: Friday, of course, but PJ throws down for ANYONE whose nuts are sweaty enough
MSakamoto: iceknife: you didn't know that?
Friday: GGG - Hmm, there ARE some outlets out there if we ask for them .. maybe plug it in at the pavilion and then send people out into the sunlight to pose/wrestle?
ICEKNIFE: nope
Phloighd: 'k y'all, gotta sleep...
Friday: Legume - Damn! I guess I washed my nuts too often.
ICEKNIFE: woulda seen it before now if I had!
jewyl: Lil i found some dirt from brushwood today..in some of my panties..
MSakamoto: ice: why are you watching that movie anyhow? it sucks ass, and not in a good way.
PeeKat: nite phloighd!
Phloighd: g'nite everyone, and remember, Global Domination Begins With You!
MSakamoto: night phloighd
GGGordon: THAT MIGHT WORK
jewyl: not the panties i was wearing..
jewyl: other [panties
Lilith: PHEW. Angela and I just had our first argument about which one of us was the center of the universe. Had to straighten her out on a few things....
Friday: Night PHL
Magdalen: bye pfleoid
PeeKat: We still have some bottled Brushwood water - genuine HOLY WATER from the SACRED LAND
ICEKNIFE: because it goes well with my Jon Trubee tapes
PeeKat: jewyl: Suuuuuuuure
MSakamoto: i can dig it
Friday: GGG - Ever run body makeup through that airbrush?
Stang: Jewyl -- which one are you? Did we meet?
Lilith: The world revolves around Nickie's ass. We just happen to be *very* close satellites.
*** Signoff: Phloighd (Leaving)
geezer: water from the hot tub?
jewyl: PeeKat - you would know , boo boo
Lilith: jewyl: Did you save some of that dirt?
jewyl: I did
Lilith: Stang: Jewyl gave me the frog statuette.
Legume: Man, XX DAY was something...I never saw so many shaved cooters in all my life
GGGordon: NO BUT IF WE THIN IT ENOUGH THERE SHOULD BE NO TROUBLE
ICEKNIFE: oh fuk... kevin sorbet
PeeKat: Stang: Jewyl was the one wearing me as an accessory for most of XX-Day
jewyl: YOu were showing that baby off, weren't ya lil?33
Friday: Stang - How is Cleveland treating you?
Lilith: I had the very odd experience of... uh... watching Locnar shave his nuts.
Magdalen: but, what would Brian Boytano do?
GGGordon: THE DAYS OF THE SHAVED COOTERS
jewyl: Stang - Jewyl was teh one who was...
jewyl: wait..that was me..
Lilith: I turn around in the shower and THERE HE IS.
jewyl: nevermind
Friday: GGG - There is apparently body makeup designed especiually for airbrushes. I'll have to go grab the article sometime.
Lilith: I'm ruined now.
Stang: Friday -- like a KING instead of a KOOK!
kevbob: ugh.
PeeKat does a TRIPLE TAKE: "Lil, did I hear that right?"
GGGordon: EWWWWWW
MSakamoto: ice: if it makes you feel any better, i think baseketball is coming on either starz or encore tonight
ChrisLi: Arnold Palmer just took his rocket ride
Friday offers Stang a crown
GGGordon: DAMN CHRIS THAT'S NOT FAIR
Lilith: Jewyl: That statuette was my best girlfriend, after you and Angela.
Stang: PeeKitty -- AHHHHH yes! Howdy Jewyl, we were never formally introduced I don't think (tips hat)
cuthulu is talking to a junky on the phone
ChrisLi: not fair?
Legume: Lilith, don't ever look at me with those eyes again
Lilith: Pee Kitty: Yes. Locnar shaves his balls.
jewyl: right after me...*grin....i got PeeK a octopus
Friday: Man, I never even THOUGHT of using Nair on Papa Joe. Now I'm kicking myself.
PeeKat: Stang: Sorry, how rude of me...I shoulda been more proper
GGGordon: WHO THE FEWK IS JEWYL
Lilith: Legume: Don't worry, I'm ripping those eyes out next week and putting in a less-soiled pair.
Magdalen: I am temporarily withdrawing now, but we will be WATCHING you guys...
jewyl: Im jewyl
*** Locnar (Locnar@lex-ts1-42.iglou.com) has joined channel #SubGenius
Lilith: See ya Maggie!
ICEKNIFE: hahahahahahaha
*** Magdalen is now known as MagSisNickaway
jewyl: oh..Locnar
PeeKat: GGG: Jewyl was with me when we were talking on the path near that Coffee Bar...
Friday: Speak of the angels ...
Locnar: Howdy.
Lilith: Locnar: Tell them... you shave your balls, don't you?
PeeKat vomits
jewyl: *laughing....
GGGordon: ALL HAIL CRATER ASSED SUPREME SUPERVISOR
Friday: Howdy Gover'nor.
Stang: Governor Rocknar!
ICEKNIFE: and now, for my NEXt trick...
andreux: there is nothing wrong with SHAVING!
Locnar: Have to. Nair irritates the scrotum too much.
Legume: Wait, ya know who else gave me wood? That gal with the bleached crewcut and nerd glasses.
*** Mode change "+o Locnar" on #subgenius by ICEKNIFE
Friday: Better to shave your balls than to shave another's
Stang: Hail the Crater Ass of the Greater ass!
Locnar: Heya Stang! :) *High 5*
ChrisLi: Locnar into Rocknar- is this some sort of Pokemon-like evolution?
ICEKNIFE: AHAHAHAHAHAHA
jewyl: hi 5 *grin
*** Locnar is now known as GovRocknar
Lilith: I thought Babushka looked pretty good after she got out of her costume.
GGGordon: I SHAVED MINE ONCE WHEN i WAS ON ACID
Friday: Rocknair
Legume: She looked like Drew Carey with a shaved cooter
Lilith: Gordon: Did they reflect the colors better after that?
MagSisNicka Babushka makes great jewelry
ICEKNIFE: YAY! YAY! Floppy rubber swords! Why didn't you bastards TELL me this was SO FUCKIN BAD???
GGGordon: I HAD JUST DISCOVERED I HAD CRABS AS I WAS PEAKING AND THEY LOOKED AS LARGE AS LOBSTERS
Lilith: Pocknar?
*** Signoff: ginsu ((eyes eyes eyes))
andreux: Shaved cooter... the ONLY WAY TO GO.
GovRocknar: Yes PLil?
GGGordon: SO I HADDA SHAVE TO ROOT THEM OUT
ICEKNIFE: uh, maybe you actually had lobsters and weren't trippin at all?
Stang: GGG -- that's more than we need to know.
ICEKNIFE: git da budder, G3 has lobsters!
*** new (acidmax@ip163.jacksonville3.fl.pub-ip.psi.net) has joined channel #subgenius
jewyl: GOvLocnar - whatever happened to your collar? Did you get released ?
kevbob: does he look like the north mid atlantic you dumbass?
GGGordon: NAH THESE LOBSTERS WERE CRABS
Lilith: Rocknar: Just coming up with plays on your name.
GovRocknar: Belongs to Christ-in-a Bucket now.
ICEKNIFE: did you taste 'em to be SURE?
*** MagSisNickaway is now known as DocFrop
*** resop (ircle@207-172-224-47.s47.as1.hrt.ct.dialup.rcn.com) has joined channel #subgenius
Friday: ZPass the crabs please!
ICEKNIFE: crab thermidore.... mmmmmm
Legume: she had these fat little cuntlips...
jewyl: you were a *bad* little subbie
Lilith: Gordon: I would've boiled your nuts and ate the lobsters.
Friday: Craig! Did you appreciate my attempts to give Papa Joe your noble hairline?
resop: hello all!
PeeKat: Craig!
GGGordon: DOC FROP. HAY M'VOICE RETURNED
Lilith: Pastor Craig!
resop: Bravo ms Friday!
DocFrop: Hey you monkey fuckers...who's got the extra frop rockets?
resop: PK!
andreux: Legume: but, were they SYMMETRIC cunt lips? There is nothing better than SHAVEN SYMMETRIC CUNTS.
Lilith: Rev. Angela says you have the best looking ass in the Church.
ICEKNIFE: fat cuntlips are important... they're how Sally Fields flew in that dumb show...
Stang: DocFrop -- thanks for giving me that special "safety" stash from the jar! You probably don't remember... anyway, I still have it ALL!!! But not FOR LONG!!!! AHAHAHA
Lilith: Dok Frop!
resop: Lil!
PeeKat took some home....
*** DocFrop is now known as Jesus
Jesus: Hey stang.
Friday offers Stang a shovel for his frop
GovRocknar: Wassup JC?
*** kevbob is now known as kbaway
Jesus: I have to ask you something real fast
Legume: Andrew, damn right they wuz symmetrical
resop: Lil: Angela did mention that to me.
*** new has left channel #subgenius
ChrisLi: that's it. all done transferring the vidtapes. got some good footage- got the entire creation of Susie's glass vase
Jesus: I'm making a vegatable stir fry, how can I make a good sauce?
GGGordon ROLLS SOME MORE SHITWEED AND MOURNS THE ABSENCE OF DOC FROP
andreux: Legume: you know the difference between scrambled and symmetric cunts, right? Scrambled just don't cut it.
Friday: Resop - PJM REALLY did NOT want your haircut. I don't understand that man at ALL sometimes
Stang: Yeah Lord
Legume: Took all I had to leap off the stage and chow on that puppy
Lilith: I still have about three packs of film to go through....
GovRocknar: Question for all of us, JC?
Friday: Jesus - Turn the crust into sauce, ya mage
Legume: I mean, to stop myself from...
Stang: Jesus: Soy sauce with a bunch of sugar in it.
Lilith: Jesus: Angela suggests garlic.
Stang: Jesus -- then dump in some Pace.
Jesus: Well sure Govener anyone who knows
Friday: I like my scrambled cunts sunny-side-up!
Stang: GARLIC.
RevBro-VT: and corn startch...
Jesus: Ok how much soy and how much sugar
andreux: Friday: scrambled cunts are just damn disgusting and annoying.
GovRocknar: Cause I'd say take some 'frop, cook it with the stir-fry (on low), add some sesame oil, some soy sauce or teriyaki and serve over boiled rice.
resop: Friday: go figure?
RevBro-VT: To taste...
Jesus: Add sugar till it gets thick?
Friday: Sherry
Legume: Hey Locnar, where's MY grand?
geezer: lemon juice
GGGordon: ADD A SPOONFULL OF CORNSTARCH DISSOLVED IN A LITTLE WATER
GovRocknar: Coming Legume.
GGGordon: LEGUME YOU ARE GRAND
Friday: Resop - He was just AFRAID of becoming a SEX GOD. He doesn't have it in him
Lilith: Lemon juice, or a bit of orange pulp.
kbaway: cornstarch is a good simple sauce.
Jesus: Ok ggg
Friday: Spit in it too
GGGordon: ADD SOME BEER TOO JESUS
Legume: Groovy. Then you'll become legend. You'll even be able to defeat Ed Strange
GovRocknar: I'm gonna see if Pizza Hell's medical insurance will re-imburse you if I tell them you're my therapist, Legume.
geezer: sweet and sour sauce: 4 T sugar, 4 T vinegar, 1 T starch, 1 T ketchup, 1 T soy, 1 cup cold water
MSakamoto: wait, let me consult my back issues of martha stewart living
resop: Legume: why aren't you paying Locnar?
RevBro-VT: Corn Starch thickens, you have to warm the mixture with the corn startch for it to thicken...
MSakamoto dies
Lilith: Ginger, if you have it.
cuthulu: agh
Friday brings MSakamoto back to life so that her child can be born!
Stang: 3 Tablespoons of Soy and 2 teaspoons of sugar and then a spoon or 2 of corn starch dissolved in COLD water (about 3 teaspoonS)
Friday: Live, MsSakamoto! LIVE!
*** Signoff: ICEKNIFE (Read error: 145 (Connection timed out))
Jesus: I think I'll try the geezer sauce with a little stang and ggg thrown in.
jewyl: scuse me a minute
Legume: Rocknar, I bet your parents were surprised at the new you, eh?
Friday: Add some eggg white
Jesus: Ok Thanks Stanger!
GGGordon: WHAT THE FUCK IS THIS COOKING WITH THE SUBS
GovRocknar: That they were.
ChrisLi: you're excused
resop: Locnar: how was the sunburn?
MSakamoto: ggg: yes
Stang: Jesus -- or just go to the store and buy some shit.
Friday: I cooked over that bonfire, I thought my shorts would melt
*** Jesus is now known as Frop
GGGordon: WELL ADD SOME FROP FER DOBBSAKE
GovRocknar: resop, got enough skin peeling from my arms to make my own lampshade.
PeeKat: Friday: We were all hoping
*** ICEKNIFE (iceknife@toolshed27.ppp.lmi.net) has joined channel #subgenius
*** Mode change "+o ICEKNIFE" on #subgenius by ChanServ
geezer: in other news, I discovered that 1 T of minced garlic makes for a hamburger of extraordinary magnitude
ICEKNIFE: argh
Frop: All the gals are in a big pile on the floor and Jesus is cooking...thought I'd give this a try.
*** Mode change "+o resop" on #subgenius by ICEKNIFE
ChrisLi: the Quijibo Cartel enjoyed k-"bobs" at XX-Day. peoples jaws dropped when they saw real food.
GGGordon: ROCKNAR...REMEMBER YOU KNOW ROCK AND STICK AND REMEMBER WOT SAINT NICKIE TOLD YOU!
andreux: geezer: try chopping bermuda onions and mixing them IN with the mix.
resop: Thanx Iceknife
Stang: Frop -- take pictures and DCC them NOW!
ICEKNIFE: yup
kbaway: a little cup of liptons onion soup in hamburger, waa laa.
Legume: I walked about an inch from that fire, and gingerly reached into the flames to deposit a gasoline soaked Bible
Frop: Hey Stang, tell Wei we've got the extra room cleaned out for her.
cuthulu: i just got a new bible
Friday: Legume - You are a Man of Steel, no doubt about it
andreux: I've converted to christianity.
geezer: i usually put chopped onion in the hamburger patty. garlic was a nice change
PeeKat: cool
Legume: Friday, evil is my armor
GGGordon: FROP: GET SIVET TO JOIN IN
ICEKNIFE: heh, man of squeal
Frop: Armor is my evil Friday
ChrisLi: btw, i trust all of my Indiana Law Code books got burnt at the bonfire?
Stang: LEAVE MY FAMILY OUT OF THIS.
GovRocknar: *remembering WHAT Nickie told him*
Friday: Legume - Maybe I'm just not evil ENOUGH. I should have gotten out the EMT scissors and gone to town on PJM
*** Lilith is now known as REV
GGGordon: EVIL IS MY FRIDAY ARMOR
Frop: We've already got Sivet moved in.
REV: hi kids
Friday: Hi Rev
Frop: When the cat's away.....
Stang: Damn you Frop!
GovRocknar: Heya Rev.
Legume: Friday, you have a tender and merciful spot. It's quite disgusting.
cuthulu: np: Joes Garage
REV: frop, hi!!!
GGGordon: GO FROP GO
Frop: Is that you Angela???
PeeKat: whozzat?
REV: in the buff
Friday: Legume - I will CORE that spot out like an apple aboard the Saucers. Or split it off into its own person
GGGordon: WHOZZAT SAY WHOZZAT???
GovRocknar: Say Stang, what happened to SubSITE earlier this week?
Friday peers through the channel peephole and whistles
resop: So did anyone ever find out if that 11 year old pagan rock singer chyck was a runaway or kidnapped?
Frop: That's the only way I remember you dear
REV: frop, guess where i am
Stang: SubSIte was down due to a small financial misunderstanding.
cuthulu: I hate subgenii
Legume: Friday, your mercy is a parasite. I will someday SUCK it from the orifice from which it entered
cuthulu: i've schismed
ICEKNIFE: again?
Frop: Probably sitting on some lucky bobbie's head
GGGordon: SHE TOLD ME WHE WAS WORKING HER WAY THROUGH WICCAN SCHOOL
cuthulu: ayup
Friday: Legume - My nose?
kbaway: it's a loop.
andreux: kevan: oh, by the way, I did synch up Meddle that night, did you?
Stang: I should be able to start adding stuff to SubSITE tomorrow after I break into the security box and take the go-codes.
cuthulu: i'm a bhuddist now
Frop: When you going to come see us??
REV: nope, guess agin
GovRocknar: I was worried PJM called Blue Gravity and complained about our "adult content".
cuthulu: which is sorta like a buddhist
Legume: Friday...if you say so...
cuthulu: only spelled wrong
ChrisLi: i'm a Buddhist as well as a Sub.
ICEKNIFE: you don't even smoke bud!
REV: me?
Frop: Well, then sitting next to Lil
Friday: Rocknar - Now stop that! Papa Joe is "cool" now. He wouldn't DARE do anything BAD.
cuthulu: so, instead or trying for sartori
ChrisLi: Homer Simpson Buddhist
kbaway: he's a very bad bhuddist.
Frop: Yes, you
andreux: I've gone back to Catholicism.
cuthulu: i'm trying for satrori
GovRocknar: Okay Friday. sorry
Friday: bhudding bhuddist?
REV: where do you live?
Stang: Andreaux: I've gone back to Science Fiction.
Friday: Rocknar - Forgiven.
GGGordon: HEADARINS ROOL
PeeKat is weaving in and out from lack of sleep
andreux: Stang: same fucking difference, really.
cuthulu: just read stranger in a strange land for the first time
Friday: PK - Go get sleep and heal!
Friday shares water with, er, herself
Frop: Stang, on top of it all we broke into your vault and humped old muleskinner good
ChrisLi slaps Pee Kitty vigorously
ChrisLi: wake up man!
ICEKNIFE: or go to heap and seel...
Friday: I too must soon go sleep.
resop: Well, after watching all of those Indian dancing videos, I've become a hindu. They get the best pussy.
Stang: WHAT!! YOU FUCKED MY COMPUTER!!!
cuthulu: pastor craig
cuthulu: lord
*** Frop is now known as Decadence
kbaway: kev: i have these really cool books you should read, Book of the Subgenius and the principia discordia. they're about the same, you want me to send them?
cuthulu: now i know why i left
PeeKat moves from fatigue to concussion, a happy transition
Stang: Frop must die.
geezer: Hi Sister D
REV: i want yer buut, craig
GovRocknar: Speaking of SciFi, you got that book I contributed, "20 all time Science Fiction movies", STang?
GGGordon: AND THEY SENT ME THE PIX STANG
Stang: Decadence, kill Frop. Seize him and kill him.
Decadence: Frop sez, we cleaned it up as best we could
andreux: DECADENCE!!! one of the reasons I had a twinge of guilt about not being there this year... Ah, your breasts...
GovRocknar: Heya SisD.
Friday: That floppy disc slot will never be the same
cuthulu: damn
ChrisLi: one of the reasons i had more than a twinge of pleasure this year
Friday: Decadance played the theramin with her knockers!
cuthulu: why is it whenever i want to enjoy myself i get busy?
resop: Hi Angela
cuthulu: fuck
cuthulu: bye
*** Signoff: cuthulu (cuthulu has no reason)
Friday: Bye C
Decadence: STang, but I NEED him...he's got the Magical ever-lasting cunnilingus Tongue
andreux: Friday: figures, the one year I skip, it's the GOOD year.
Legume: HEY! I got the theme for XXX DAY! "The year we all fucked Craig's asshole"
Friday: Decadance - Kill him, save the tongue
GovRocknar: Hey SisDecadence, if you're getting a new Digital Camera, will you be selling your old one?
Decadence: Andreux, they seemed to go over well.
REV: decadence: i am happy, i am at lilith's apt. and we are going to go to the zoo
Stang: Decadence -- don't I know it! Doc Frop's tongue is SOOOO good.
andreux: Decandence: thank the gods for internet pictures...
REV: who are you resop?
GGGordon: YEAH YOU CAN HOOK ELECTRODES TO IT AND MAKE IT QUIVER ON CUE
andreux: Dec: I'll spank the monkey a few times in your honor.
GGGordon: ALL YOU NEED ARE SOME BATTERIES
*** resop is now known as pstcraig
Decadence: Yer welcome Andreux!
GovRocknar: Pastor Craig! Lord of Aquatic Calvinball!
Decadence: Friday, now THERE'S a plan....
Legume: Dec rules! Thanks again for working me over, Holly!
jewyl: too much multitasking....night guys
Decadence: Stang, you've HAD the Tongue then, so you UNDERSTAND
REV: i don't just want my HAND up craig's ass, i want to set up home in there!!!!!
GovRocknar: Night jewyl!
*** jewyl has left channel #subgenius
Decadence: Legume, yer welcome, hope it helped!
GGGordon: HAIL PASTOR CRAIG RECEIVER OF 11 YEAR OLD PIGGY BACKS
andreux: Decandence: Next year, I'll just have to "borrow" your breasts for a bit and have me a good old time.
Decadence: Andreux, I would be HONORED
ChrisLi: btw, if any of you geeks still read comic books, check out DC/Vertigo's FINALS. it's kinda a toned down version of life at Dobbstown University
pstcraig: Legume: Sounds like a viable plan. But how about this as an alternative: we hire the ULTIMATE sex god yo MC -- Ron Jeremy!
Decadence: They ARE detachable, after all....had the scientists install these little screws.....
andreux: Come to think of it, nothing gets me off quite like Decadence's breasts.
Legume: Nope. Gotta be Pastor Craig
andreux: They're just so... mmmm.
MSakamoto: i watched a movie with ron jeremy in it the other day...i about barfed
*** REV is now known as evANGELA
Decadence: Ron Jeremy is a gross fat hairy disgusting slob nowadays
Decadence: BLEAH
GGGordon: UNLESS IT'S STANG'S DICK RIGHT ANDY
pstcraig: GGgordan: at least I wasn't video taping her in the shower.
ICEKNIFE: good old Ron Jeremy... he gave half the porn stars in the business venereal warts
andreux: Decadence: and Ron Jeremy is the UNSUNG HERO OF MOST MEN.
kbaway: that was nice of him, ice.
andreux: Decandence: he's fat, he's ugly, and he STILL GETS FUCKED.
Decadence: ANdreux, you can borrow them then...they do work well with that pearl necklace theory
*** RevLoki (Chiba@jas109-10.se.mediaone.net) has joined channel #subgenius
*** Mode change "+o RevLoki" on #subgenius by ChanServ
andreux: GGG: Well, your shrivelled wee-wee runs a quick second.
MSakamoto: well, yeah, if a ugly uncle fucker like that could get laid, any guy could
kbaway: hey loki.
Decadence: andreux, and I cannot figure out WHY
Legume: Andreux, that works for me, too
RevLoki: hey
evANGELA: decadence,
Decadence: Oh yeah, those chicks get PAID to
GovRocknar: There was one Porno bloopers tape I saw, this girl was getting ready to do a scene, Ron Jeremy comes in, she lets out with "You didn't say I was gonna do THAT fat fuck!" and she storms off the set.
pstcraig: lol
andreux: Decandence: it's all self confidence... Even Legume gets pee-shy at times, I'm sure.
GGGordon: YOU SHOULD KNOW ANDY YOU'RE THE ONE THAT MADE IT THAT WAY WITH THAT ALUM MOUTHWASH
pstcraig: oooow
Decadence: Rocknar, you fucking rock my world.
andreux: GGG: AND YOU THOUGHT IT WAS MENTHOL... DUMB FUCK! HAW HAW HAW!!!!
ICEKNIFE: i watch porn bloopers while listening to Wagner
*** Signoff: RevLoki (knockin the bottom out of your mom)
GovRocknar: Rock and Stick, Decadence! Rock and Stick! :)
Decadence: Gross fat fucker
Decadence: Rock and STick up Ron's ass
ICEKNIFE: cheese is porn
ICEKNIFE: but you knew that
pstcraig: And I thought PJM was the only one who jerked off to Wagner
GGGordon: BUT HE HAD A BIG WHANGER
andreux: Decadence: okay... you and me... next year...
evANGELA: craig, baby, there's a moon out, make love to me
Decadence: GGG LOTS of guys have big wangers, so what? Hell, I have a big wanger
MSakamoto: i had a ron jeremy finger puppet once...it had three holes in the bottom to put your fingers through
Decadence: Andreux, can we tape it?
Friday: Pass the whanger, plase
Decadence laughs at Ms S
pstcraig: evANGELA: what about your boyfriend?
andreux: WATCH OUT FOR THE LITTLE GUYS, THEY'LL SNEAK UP ON YOU EVERY TIME...
GGGordon: BUT HE LOOKS LIKE SIPOWICZ ON THAT COP SHOW
andreux: Decadence: sure thing, hon.
evANGELA: hahahahahaHAHAHAHAHAHAHAHAH
Decadence: GGG ANother EUW for him
Stang: I had a whole bunch of big wangers but then I was "promoted" to Sacred Scribe and they took most of them away.
MSakamoto: seriously...i got it from the bloodhound gang hate club newsletter...i about laughed my ass off when i saw it
Legume: Hey, GGG, Bucket says HI
Decadence: God GGG, you are grossing me out
GovRocknar: Seriously though Decadence, if you sell your old digital camera, I could buy it from you.
evANGELA: i have no one boyfriend
ChrisLi: hey Andreux- send me directions to that sushi buffet place
PeeKat: Sakamoto: Damnit, I've given them my address half a dozen times, and they STILL don't send me anything
pstcraig: MSakamoto: you rock
Decadence: Rocknar, you have first dibs...I will let you know when that happens.
GGGordon: BEND BUCKET OVER FOR ME LEGUME
PeeKat: Who lives in Ohio, BTW?
andreux: ChrisLi: Belmont and Lincoln.
MSakamoto: and i was at hot topic, and saw a t-shirt that looked like a box of wheaties, but it said "meaties" on it instead and had a big ole picture of ron jeremy on it
evANGELA: and at this moment i have the king and queen of the prom cooking me dinner
kbaway: what's the bloodhounf gang hate club?
MSakamoto: kitty: i only got the one damn newsletter, and it was like two years ago. those uncle fuckers
ChrisLi: Belmont and Lincoln. check
Decadence: Ms S...EUWWWWWWWWWWWWWWWWWW
PeeKat: kb: The BHG's 'fan club'
ICEKNIFE: shitty one-eyed bastard just put clothing on Tia Carrera, th' FAG!
GovRocknar: That's cool. I do all my digital scanning the hard way, taking regular pics to Kinko's and scanning them there.
kbaway: oh. who are they?
MSakamoto: kitty: i do
PeeKat: Blood Hound Gang!
kbaway: from pbs?
Friday: Getting tired, must go to sleep.
PeeKat: Sak: I'm gonna be in Ohio in September... wanna hang out at all?
GGGordon: GOTTA GO TUCK LIL MIZ AUTUMN IN BACK IN A FEW
*** kbaway is now known as kevbob
MSakamoto: sure...where are you going to be at?
ICEKNIFE: she looks dumb with red hair
Stang: Friday -- I plant a sweet goodnight kiss right between those two little devil horns.
Decadence: Bye Friday!
PeeKat: Not totally sure... msg me your email, will ya?
GovRocknar: PK, Blood Hound Gang had it going on. 3-2-1 Contact was video slack.
Decadence smooches Friday
MSakamoto: kev: oh my god, you remember that...not that bloodhound gang
MSakamoto: white boy rappers
Friday: Good night Stang, have fun!
PeeKat: Rocknar: Nonono, not THAT bloodhound gang
Stang: Ah-OOOOOh-gah!
kevbob: nope, dunno who they are. are they on vh1 at all?
GovRocknar: Seeya Stang.
ICEKNIFE: must be one uh those irish asians
Friday: Good night Decadance!
Decadence: Angela, "Evangela" is the best title...you should keep it permanently
Friday: G'night dear GGG
Legume: Friday, I plant a sweet goodnight kiss right between those two little devil thighs
andreux: night Friday.
Friday: Night Legume, night Craig
kevbob: those damn asian micks, takin jobs away from use blak irish.
pstcraig: I'm so unhip I think b*witched is cool.
geezer: Goodnight Friday
evANGELA: who wants to put in early orders for the long awaited subgenius tiger beat featuring onan, craig, and locnar if he pays another grand?
Stang: What a little devil.
ICEKNIFE: Bye Fri!
GovRocknar: er, Night Friday.
andreux: ack, craig... didn't see you there... allo.
*** Signoff: Friday ()
Decadence: I saw an episode of I Dream of Jeannie today that STARRED her evil sister...she was my FAVORITE
MSakamoto: the roof the roof the roof is on fire
ChrisLi: i got so pissed when those filthy white girls beat those precious, lovely yellow girls at soccer.
kevbob: ben folds?
evANGELA: thanks decadence. i thought of it today
Stang: Decadence -- funny how the "evil" sister is always the SEXY one.
pstcraig: Andreux!
ChrisLi: angered, i was.
Decadence: we don't need no water let eh mother fucker burn
ICEKNIFE: i could STILL fuck Barbra Eden
MSakamoto: ben folds rocks nads
andreux: craig: I still want a rematch one of these days. :)
Decadence: STang, EXACTLY!
kevbob: you should dub some of his stuff and send it to me.
PeeKat: There's a local group called Lincoln Conspiracy. They're like Ben FOlds Five, but better. :)
Legume: I can't help but wonder what went on in Spike Jonez' car during that long ride home...
GovRocknar: ChrisLi, 1.5 billion Chineese and they couldn't come up with 10 who could play soccer? Mao is spinning in his tomb now.
Decadence: Food is on...JEsus made food
*** Decadence is now known as magdalen
GovRocknar: Heya MM.
GGGordon: ME TOO LEGUME, MAYBE SPIKE WROTE SOME MORE POMES
geezer: loaves and fishes?
evANGELA: am i the evil sister?
Stang: Decadence -- so far, EVERYONE who has seen that picture you took of me holding the larval C'thulu root says, "YOU GUYS WERE ON DRUGS."
MSakamoto: i want to get the new ben folds five cd, but that would require leaving the house
magdalen: pastor craig!!
Legume: sad pomes
pstcraig: Andreax: rev Angela is the new wrassling champ.
ChrisLi: actually, those 10 did really really well. double over time and sudden death. damnm those white women!
GGGordon: MOURNFUL POMES
andreux: Oh man, that's it... no more beer... port wine only. pref. 20 year tawny. Mmmm.
Legume: dark pomes of desperation
MSakamoto: i got this great children's book...it's called "something at the window is scratching"
Stang: Those pomes were so mournful, I lakked to died.
ChrisLi: no more beer?!? you... you... BITCH!
andreux: craig: kewlio. I knew she had it in her. Hopefully someone snagged pix. (of course they did).
evANGELA: hmmmmm, church air
GGGordon: STANG DID YOU KNOW THE SINGER FOR MORPHINE DROPPED DEAD ON STAGE IN ITALY
pstcraig: Magdlen!
GovRocknar: Poems? Spike wrote poems?
Stang: Hey, I have to go... must get up early tomorrow!
andreux: Chris: Actually, I've been drinking mostly wine for the past few months.
Legume: ""I am alone on a dark island of despair""
andreux: night stang... send me my money.
GGGordon: FOR WHAT REASON STANG
PeeKat: Later Ivan
geezer: Bye Stang
Legume: Stang, send me some heroin
GovRocknar: Seeya Stang.
Stang: GGG -- surely that was just part of anti-drug propaganda.
kevbob: early shift at the quik e mart.
evANGELA: WHERE MY ONAN???? KILL ME OR GIVE ME THE KEY TO LUMERIA
*** Kiana (kkk@ppp-207-214-220-226.snfc21.pacbell.net) has joined channel #subgenius
Kiana: anyone from San Francisco?
GGGordon: "LOST IN THE NIGHT, I SUFFER AND FEEL THE DARL PAIN OF ISOLATION..."
ICEKNIFE: yup
MSakamoto laughs
Kiana: are you american?
Legume: Hahahahahahahahaha
ICEKNIFE: Hi Kiana
ICEKNIFE: yup
PeeKat: Nope
Kiana: hi, iceknife...
Kiana: i am an aisan
ChrisLi: filthy white american whores!
PeeKat: We're Atlantean, GODDAMNIT!
Legume: Damn right we're American! We aint no FAGZ!
Kiana: hahah
Kiana: ÀÌ.+/-
ICEKNIFE: Why?
andreux: kiana: SEND PIX.
magdalen: so what's up you guys?
kevbob: GIFTS!!
kevbob: er.
GGGordon: "WHAT PROFIT A MAN IF HE KNOWS NOT STICK AND ROCK?"
Legume: Kiana, huh? Ever seen a sea captain naked?
evANGELA: SO YOU ALLKNOW ABOUT WHAT HAPPENED WITH JANOR, BUT WHAT HAPPENED WITH ONAN???!!!!
andreux: and, ICEKNIFE is a STUD. Really. I've seen him. He's a stud.
ChrisLi: i hope the Chinese just KILL them next year!
magdalen: Angela: I have been DYING to ask you about Onan
*** Signoff: Kiana (Leaving)
ChrisLi: some sort of exploding soccer ball or something! just kill the damn white women!
evANGELA: really, miss magdellen, ask away
andreux: damn, I think I skerred her.
kevbob: i've been working on my Light Brite Display for the local art convention.
GovRocknar: Damn, we scared Kiana away.
ICEKNIFE: pretty much, but I'd prefer we perpetuate the myth that I'm an ugly dwarf
magdalen: Andreaux: is your clench still active, and if so how many members do you have?
Legume: Aaaah, chicken shit bitch aint worthy to swallow Yeti seed
GGGordon: GOOD GOING ANDY YOU DUMBASS
kevbob: i have a gorgeos scene of the immaculate conception.
kevbob: i need gree lights though.
magdalen: Andreaux: do you know you live near the Saint Stven Pollack?
kevbob: anyone have any?
MSakamoto: gree or green?
ChrisLi: i'm also Asian, some of the time.
kevbob: um, green.
magdalen: Angela: so what were the hot, wet details?
ICEKNIFE: Mags, members are usually on the other side from the clentching part
andreux: magdalen: we're still active, but we're very insulated. we were all broke for the year. As far as membership, there's apparently about 10-12 people under Mutha Leyaun, but she and I don't talk as much as we used to, so within my clench, there's just about 6 or so.
MSakamoto: i could try and dig up some of those green chili pepper christmas lights
ICEKNIFE: clenching
Legume: Stang, where that kilo of heroin ya promised me? Don't MAKE me come looking for you
evANGELA: ok, here goes, story time
magdalen: Everybody: Jesus says the recipe worked
GGGordon: WHAT ABOUT THE HOT, WET DUCKS STANG???
ChrisLi: 10-12 people under Leyaun?!? busy busy girl
PeeKat: Story?
kevbob: stang isn't here ggg.
andreux: Steven Pollak sounds familiar, actually. Not sure if I met him.
andreux: ChrisLi: so she says, mostly young goth bois that she wants to fuck.
magdalen: where's STANG?
ICEKNIFE: i don't aish much any more. nor do i aish gracefully. asian is for youngsters
GGGordon: WHERE'S MY TAPE KEVBOB???
GovRocknar: Stang said he had a busy day tomorrow.
kevbob: tape?
evANGELA: onan is a virgin to the connie love sucker NO MORE
magdalen: wow
GGGordon: TAPE
kevbob: what tape?
Stang: I'm here waiting to hear the details about Onan and Rev. Angela before I can crash.
andreux: Actually, Phred and I will be separated in a few months when I move. It's up to him to keep it together, but on the other hand, I'll be closer to my clench in Chicago (Rev. Shannon Thundertwat and Rev. Claudia Pussy Porcupine)
GGGordon: THAT TAPE YOU WERE SUPPOSED TO SEND ME
kevbob: um.
PeeKat: No... the unholy duo..... SPLIT APART?
Legume: Fuck all that flexing and posturing. I go where the PUSSY is.
kevbob: oh shit. the latest built to spill?
kevbob: fuck.
ChrisLi: there is no Rev. Shannon. that is a myth
evANGELA: your welcome, all....and i will be entering the semifinals with onan in january, so DON'T miss the action.
pstcraig: Will Phred drink alone?
andreux: PK: I'm buying a house in the city... Phred doesn't drive, and so it's up to him to take the train. As it is, we only see each other about once a week, if that.
GGGordon: UH HUH
GGGordon: TCH TCH
andreux: craig: yeah, he's busy climbing the corporate ladder on the local gambling boats. JHP stopped production earlier this year... no time.
ICEKNIFE: i like that good stone head easter island pussy
andreux: ChrisLi: That's your opinion. She's on the ennui bootleg.
pstcraig: Wow! What a great job for Phred!
ChrisLi: they stopped right after their finest production to date
ICEKNIFE: and so do you
Legume: I'm THROUGH with those damn HOMOcaustals. I'm opening up membership in the Leguminati...
evANGELA: actually, ONAN is the most fantastic lover in the entire church. i was left squirmin in his tent
andreux: craig: he loves it. He's the *best* floor person they have and he knows it.
magdalen: everybody's leaving here, any last messages
evANGELA: waiting
magdalen: ?
GGGordon: WELL AS WE AREN'T GETTING ANY STICKY DETAILS I'M OUTTA HERE
evANGELA: praying for one more of ONAN's songs
magdalen: bye grandpa
andreux: mag: tell jesus he owes me $20 from last year's work I did for him at the sales table. I wouldn't mind a copy of the 98 video.
Legume: Mags kiss everyone goodbye for me and Susi
pstcraig: later magdalen!

Original file name: logfile #subgenius 7-11-99
This file was converted with TextToHTML - (c) Logic n.v.