THE NEW YORK SLACK CRUSADE DEVIVAL
"All the boy-goo talk makes me crave my favorite SubGenius..."
-- Sarah Vowell, CHICAGO READER
>>2/16
>> NY
Wetlands

>> Incredible opening act: Copernicus ("Bacteria!", "Don't let me measure my life in terms of MONEY!") IS HE SERIOUS, that's the question.
>> Throws out real money --$50 in ones
>> Club, managers, workers completely cool

>> Live DK Jones, Bruce Grant, "HUGE VOODOO" with rapper MIKE LADD, excellent... ARISE soundtrack music performed live...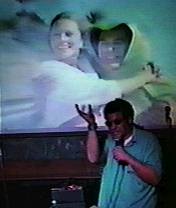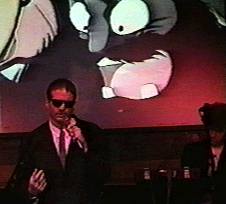 >> Pope D Meyer -- the battle of pink vs slack inspirational
>> "Punk has come and gone, Disco has come and gone, but the COTSG is still on the fringe"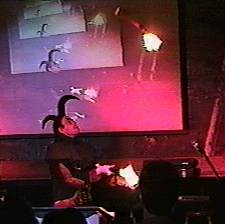 David Apocolypse very nearly set the roof of the club aflame with this little stunt. We were in serious suspense for about 30 seconds there.
The rear-screen projection video feedback on the torches made for nifty imagery.
The SQUEAKING sound made when Andrew removed the nail from his head likewise made for a lovely aural punctuation.
Sew Andrew's mouth shut to create...
InstaMime!



>> Papa Joe Mama, in his executioner's garb, delivers another spellbinding hate rant.



Legume had people weeping with his story of his dead Dad -- all a lie.
Poor wretched Sosodada was healed by Legume, after which he allowed his slave Kid Ginsu to speak.


Rev. Nickie publicly humiliates Clavister in ritual spanking... Clavister had HOPED to be whacked by Nickie but got Legume instead.



Clavister had to PAY Legume to make him stop.
>> Ny Frop the best Frop "Rock and roll drugs"
>> Lost track of time, could not perform simple task of loading the van.
>> Finnally kicked out arount 4:30
>>2/17
Great guy Rev Bleepo Abernathy
>> Mistress (christina?)
>> NYC Blizzard out with Circus A- real stupid will probably pay for it
>> NYC is over priced and over trendy
>> Saw some very neat rats in the subway. Best part of NYC
>>

FAVE MOMENTS:
Discovering that Rev. Bleepo Abernathy lived near the corner on Smith and Douglas, and eats at the Saint Clair restaurant on Smith.



A true PSYCHO-LURKER-STALKER TYPE showing up at the NYC devival and creeping out majorly everybody he talked to, even though he was in disguise, and no one had any idea who he was (until much later). And then having him BRAG to me by email about STALKING us!... it was sweet to learn that that blithering Bobbie creep was BOB DEAN HIMSELF!!

Letter from Idiot to alt.slack about How He Stalked Us
LEGUME'S OPEN LETTER TO "BOB" DEAN

MORE STUPID NY DEVIVAL FALLOUT:

Pastor Craig Digs Deeper Hole
Offical Church ExCommunication of Rev. Nickie
Most Potentially Hilarious Thing About NYC Devival

Revue from ARTIST REVUES in NYC Music Archive INTERNOTES






>>2/14
>> Baltimore
>> Motor Morons-The best!
>> Dave A thinks were going to die, points out spot in gutter where he
perdicts he
>>will end up and direction his blood will flow.
>> Bike Store
>> Collectables
>> Good show
>> Owner thinks were a money grubbing cult.
>> Booking agent quits his job for "Bob"
>> Part owner "Connie" "I'm sick of this shit "connie""
>> Booking agent real good guy, is booked by Atomic
>> Sister M2 shows up molested and insane.
>> Get the hell out of dodge
>>2/15
>> Legumes "girlfriends house"
>> is probably really Legume's
>> Legume Great chef
>> Guinie pigs
>> Go visit legumes "Mom" in obvious rented and set up office meet her
>>"coworkers"
>> Harrassed by police andrew asks if they want to see him shove a
screwdriver up
>> his nose.
>> I expalain we just look wierd because it sells to the kids.. they
understand and let
>> us go.
>> "Come over here boy, it don't matter if your hair is green were not
prejudice"-Cop
>>


*********************