THE MADISON SLACK CRUSADE DEVIVAL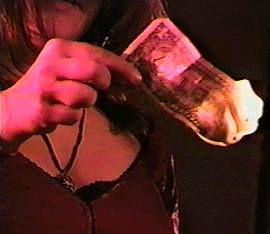 Madison, WI
Club deWash
Feb.3, 1996

BLEEDING HEAD STOLEN!!! CLUB BURNS TO GROUND!!

"All the boy-goo talk makes me crave my favorite SubGenius..."
-- Sarah Vowell, CHICAGO READER
DEVIVAL, THEN FIRE -- Conspiracy Says, 'No Connection'
Laughing Cat Studios recorded our Slack Crusade Devival in Madison (Feb. '96) and it SOUNDS GREAT. Complete, uncut rants by Rev. Ivan Stang, Dr. K'taden Legume, plus the all-grrrrl Psychoaccoustics Preachers (Rev. Velveteen Sly, Spring Herbiage, Rev. Heidi). Devastating box art. Lenny Bruce and Bill Hicks are dead -- WHAT ELSE IS THERE LEFT TO BUY??

NOW -- ORDER BY CREDIT CARD USING OUR NEW TOLL-FREE NUMBER:
1-888-669-2323
FROM JESUS DEVILACQUA'S DIARY:
>> Club De Wash
>> Small place
>> Sold out w 200 people -- they lied (said would hold 300)
>> Opening band, FEAST OF MAXIMUM OCCUPANCY, like cross between Negativland and Drs. 4 Wotan. Uses kids' toys, computers, trash as instruments. Stang loved it. Others didn't.

>> Morality play by
>> Sisters Velveteen Sly, Rev. Heidi, Rev. Spring Fresh Herbage

>> Stayed at Monkey Hole house -- great SubGenius collage decor

>> Set up Circus with married woman, ha ha
>> Rev. Ursula
>> Pumpkin fucking w/squirrel
>> Les Loki
>> More Joe
>> Janor, midgets, siamese twins, 144,000
>> Dick to dick? or Dick to taint?
>> SubGenius Demolition Derby recommended
>> Johnny Cash
>> Legume "the world is our pumpkin and the people are our squirells.. and
"Bob" ,
>> "Bob" holds that pumpkin."
>> SubG gold cards...maybe
>> Fetus nads
>> Rocky Mountain long pig
>> Infant strap ons
>>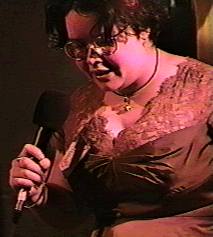 >>2/4
>> Tattoo parlor -- saw "Bob" Tattoo
>> Co-OP saw "Bob" painted on outdoor wall
>> Coffee shop, vote for bad art
>> Ella's Deli!! Circus hell, very cool
>> WORT radio station
>> Sybil worked hard, good promotions, nice friends and food
>> Good porn at monkey hole house
>> Amputee
>>Club De Wash burns to ground
Before you click on that link, know this:
1) the club management told Jesus that it held 300 when it BARELY holds 200
2) THE BLEEDING HEAD OF ARNOLD PALMER was stolen from the stage that night
(Don't worry, it was just a $500 replica-head, not the True Head -- obviously, elsewise you wouldn't be here to read this)
3) a man dressed as a very pretty woman put "her" hand on Legume's person in the restroom, without his permission, and he had to tell "her" to get "her" fuckin' hands off him
**************************************
((Posted to alt.slack:))
Monday the 5th of February, 2.5 B.X.
Hello, Rev Devilacqua here. I'm real tired due to the amazing amount of sex that has been involved along this crusade. Hell, I just got in it for the money and not only did we pay off the tour in two nights we have to actually pass out numbers to the SubGenius groupies in order to allow us breathing room. In fact sometimes we dont even know who, or what we're having sex WITH. It's a sick flesh parade, and we don't care. And after five days in the tour bus it doesn't matter! Even Legume is starting to look good. However, he sleeps with a bat....... Oh except, of course for Rev Stang, as always he's faithful, except for maybe the pumpkin...but that's different. And, well don't tell anyone, but we've discovered that he's with child. It turns out what we thought was his second nut, is actually the beginings of a new Janor. Speaking of Janor, we discovered something strange while he was back stage getting dressed.
Stang: "Hey Janor....What the hell is that!"
Legume (looking up from torturing a cockroach with a lighter) "Holy fuckin'shit, is that a midget?"
Dave A. "It is! I fucked a midget once, I should know! That's a midget stuck on the end of Janor's dick."
Janor: "It's nothing, ignore it, you're beautiful baby, don't ever change... your shorts."
Stang: "Why the hell do you have a midget on your dick!?"
Janor: "My pant's are on fire! Preacher help me!"
And with that he ran out of the room; we're still putting the pieces together but we believe it's a sign of the end times.....
Well got to go, I'm about to have another ORGASM in my moon pants.
What are MOON PANTS you may ask?
Well they're the pants the astronauts wore to the moon!
See you at the show, probably back stage, come early to get your number.
-- DEVILACQUA
+++++++++++++++++++++++++++++++++++++++++++++++++++++++++++
PROPHECY ALERT!!!!
Looking through the original Book of the SubGenius (orange cover), I discovered that there was a misprint in the Dateline for Dominance. The dates 1996 and 1998 were REVERSED. Now this could very well be merely a misprint. But we cannot ignore the possibility that this is a new PROPHECY REVEALED. It could be that Dobbs , in his infinite stupidity, wrote the WRONG DATE on one of those moldy pizza napkins or motel receipts. But because "Bob" is such a lucky sonofabitch, the ineptitude of the publisher worked out in Dobbs' favor, correcting this important flaw in the Prophecies. I cannot claim this is a fact; it is merely a theory. Dare you take the chance? The shit is hitting the fan, brothers & sisters. The newly saved are leaving our devivals in droves. We may well pass our goal of a million new memberships by Friday. I predict that the Big One is coming. The signs are in the sky and burning cursed scars of land lay ahead like your rotting carcass stretched across the asphalt, slowly cooking on the hot sticky asphalt of Route 666. July 5, 1996. Minutes away, yet a slow agonizing eternity for the unsaved. The Church is in a turmoil. We must SAVE SOULS like madmen. The clock is Ticking.
LEGUME
+++++++++++++++++++++++++++++++++++++++++++++++++++++++++++
HELP! WE ARE BEING HELD CAPTIVE BY THESE "PREACHERS OF BOB" OR SOMETHING LIKE THAT. WE DONT KNOW EXACTLY WHERE WE ARE OR WHAT THESE GUYS WANT WITH US. THEY MAKE US SLEEP ON STICKS. THEY TRIED TO FORCE MY FRIEND DAVID APOCOLYPSE TO DO SOMETHING WITH A PUMPKIN, I DONT KNOW. THEY REALLY HAVENT TOLD US MUCH, OR EVEN FED US, BUT THAT DEVIL-AQUA VELVET GUY KEEPS GIVING US PILLS. IF THIS TRANSMISSION ACTUALLY GETS OUT, PLEASE STOP THESE CREEPS. THEY HAVE SOME SYMBOL OF A GUY WITH A PIPE THAT THEY WORSHIP. IF YOU SEE ANY OF THESE SYMBOLS, FIND THESE CRETINS, AND RESCUE US. MY NAME IS ANDREW THE IMPoh shit here they come
+++++++++++++++++++++++++++++++++++++++++++++++++++++++
STANG HERE... Heh heh, that Andrew, what a card. It IS true that Devilacqua gives us drugs every morning and then we do what he says. But that's GOOD, that's what his 10% is for. Supposedly the drugs are just vitamins and hypnotics.
ANYWAY -- that, and the progress of this tour, such as the sold-out show in Madison the other night, are immaterial. (Though it's good to know that a group CAN sell out, SIMPLY BY...SELLING OUT!!) The important news is that we're taking this "1996 X-Day" theory quite seriously.
THE NEW DOKSTOK, THE NEW X-DAY End-o'-the-World DRILL, IS NOW SLATED, SCHEDULED, COMMITTED, and CONTRACTED. There WILL be a GIGANTIC SUBGENIUS EVENT on July 5-6-7 of THIS YEAR at the Brushwood campground and "folklore center" (eh-eh) in western rural New York. THAT'S RIGHT, it's HAPPENING WHETHER YOU OR ME SHOW UP OR NOT. From now till X-Day 98 -- assuming it DOESN'T happen THIS YEAR -- we're throwing what might as well be "DOKSTOKS" at Brushwood every year. THESE ARE NOT DEVIVALS. These are SUBGENIUS GATHERINGS SANS SCHEDULE OR "SHOW" -- in other words, "Dokstok" in every way except that they're up north instead of in Arkansas, and some of the old Dokstok Hierarchy have probably gotten too fat, happy and Pink to attend. BUT BY GOBBS I'LL BE THERE and so will YOU if you have any kind of a DICK or PUSSY, you FAITHLESS BASTARDS!!!
Brushwood is the no-holds-barred campground kinda near the Eerie and Jamestown (or was it Jonestown?) airports, just outside Sherman New York, where you can run around nekkid and play amplified music all night long, with only the BAREST attention from County Law. Sterno's been dragging his ass for too long on Dokstok so me and these Yankees decided to JUST FUCKING GO AHEAD AND DO IT. And it won't even be very expensive. And if you want to come and "rant" or deflower dogs onstage or whatnot, why HELL you CAN, we won't care. We might not WATCH... but we COULD. Mainly it's just a party, whereby we debrain ourselves until the Xists come or not. We haven't worked out all the details but in a couple of weeks you'll be able to call the Devival Hotline and find out where this thing is, etc... all the poop. Of course, by announcing this in this manner, it pretty much guarantees that a shitload of embarrassingly lame Bobbies will be there, BUT THE REST OF US CAN TORTURE THEM. And if we're lucky the pagans that show up at most any Brushwood event will be there too, for our mockery fodder, as well as to show their bare titties for the lonely loser Bobbies who never get to see titties otherwise. Perhaps even some FEMALE pagans will be there as well.
This is YOUR BIG CHANCE to unleash your Inner Preacher in front of a crowd of fellow simians, perhaps leading to a career in the lucrative field of SubGenius Hierarchite Preacher. You may even get the chance to join a future tour ( if you flood me with e-mail on this subject, or beg and plead and pester for a shot, you will NOT be considered. No Bullshit. You have to show us how big your scronads are).
(That was actually Legume typing that last paragraph, pretending to be me, but it's still true. BUT HELL -- for that matter -- GO AHEAD and flood me with email. I'm about to change my email address anyway, soon as I get home. NO ONE WHO ISN'T MY GOOD PAL WILL EVER BE ABLE TO CONTACT ME AGAIN EXCEPT THROUGH A FORTRESS OF SECRETARIES AND AGENTS!!! (You think I'm KIDDING? -- the NEXT tour will be the "YOU HAD YOUR BIG CHANCE AND BLEW IT" tour. Nenslo's right; I've been jacking with this fanzine shit for too long, time to quit answering Bobbie blather and get back to BIG BUCKS COMMERCIAL PROJECTS or JUST FUCKING KILL ME!!!))
The Madison devival was CHOCK FULL O' BABES from the Madison Monkey Hole, and YOU MISSED THAT ONE TOO. You COULD have driven to Madison -- WE did -- but you decided that you'd rather stay there in Florida watching MTV. Except for Rev. Kessler, who DID fly from Florida to see the Madison show, and had WILD SEX ACCORDINGLY! So WISE UP, you jackasses. We've been pretending to be "nice folks" LONG ENOUGH. We're getting TOUGH from this point out. No more autographs, no more reach-arounds, no NOTHIN' unless you pay CASH UP FRONT. We're tired of waiting for the weakest members to CATCH UP. We are NOT WAITING FOR YOU any more. You can WALK the WALK or just fucking SHUT UP. Not that we're selling out to the Conspiracy; quite the opposite. We're just building NEW ARMOR. And this little "tour" may very well be the last time you get to see Legume's dick, my zits or Circus Apocolypse's LIPS SEWN SHUT, UP CLOSE... from this point onwards, you're gonna have to see us through BINOCULARS. And it'll SERVE YOU RIGHT. $30 a seat from now on. Membership goes up to $500 when I get back to Dallas. In '97 it goes up to $5,000. And so on.
And you probably think I'm joking. Try sending the PO box your measly buck in couple of months. JUST TRY.
You won't even get WILL much less me. We're BIG STARS now. You Little People DON'T COUNT anymore because you didn't FORK OVER when we REALLY NEEDED IT. FOOEY ON YOU! Only rich fucks get to join up after... March. Let's make it March when the price goes up again. I'm tired of answering mail and complaints about the mail order. BYE FUCKING BYE.
Unless every last one of you BUYS A PLANE TICKET and flies to one of these devivals. Minneapolis is tomorrow night. St. Louis the next night with the Love Corpses. And so on... see the website. It MAY VERY WELL BE your VERY LAST CHANCE.
We love you. You're our people. You're beautiful, don't ever change, now get outta here.
--- STANG et al
Whew! Only one more night of these guys in our livingroom. All the pumpkins are gone, we can't find our daughter's pet squirrel, they keep asking for our watermelon. And the car has run out of gas 5 times since they got here.

Faustroll and D. Perfecta, Church of the Headless Peewee
*****************************************
******************************************
ROAD NOTES
RONAJ the AntiJanor --
his tiny, evil, rich, smart, humorless lawyer Siamese Twin asshole brother.
Once joined at the dicks... separated but with Ronaj's balls hanging off the end of Janor's first dick.
Janor's OTHER dick still has a twin attached at the dick (ONE of the dicks, since all Janors have two)... but this one is very small and lives inside Janor's pussy. This second Janor has yet a smaller Janor twin attached to one of his dicks and hidden in his pussy, and so on to 144,000 Janors. The 144,000th Janor is the smallest particle in the universe. When the seal on the foreskin of that Final Janor is broken, the 4 Horsemen of the Apocalypse shall ride out and X-Day shall begin.
ABORTION SUCKS!!!
We're against abortion of freaks, pinheads, dwarfs, etc.... because "Bob" is an Abortion Survivor. After her visit from the 3 Wise Guys in Black, Jane Dobbs attempted several times to have "Bob" aborted. His tiny Pipe however kept clogging the suction tube -- they finally laid her out in a field in the path of a tornado, and that finally vacuumed him out at the age of 3 weeks... he was only a few thousand cells. But when Jane saw him she instantly loved him, and was remorseful that she'd tried to end his life.
Dobbs started a VacuMutilation Survivors Support Group (free coffee).
Thus we are anti-abortion.
(Pro-abortion of HUMANS, of course, up until 50th year.)
C> IDEAS:
Dobbs' Vow of Wealth
being a child's BOBFATHER
Change healing to SICKENING -- using Short Frank??
Add to disasters and EotW rants: along with comets, famine: defaulting on the Federal debt
*****************************