Authentic "Bob" Holy Icons
by Papa Joe Mama

Now you can order your very own Authentic "Bob" Icon. These religious relics are lovingly painted by one of Bob's most faithful firebrands: The Reverend Papa Joe Mama, self proclaimed "Minister of Propaganda" for The Church of the SubGenius. This Dobbsian writer, ranter, and artist creates every painting via direct inspiration from "Bob". Each Icon is a full sized, full color reproduction of the original. It comes framed in a 5" X 7" solid wood frame and is ready to hang in your home. Icon Operating Instructions are included with every order, free of charge.
How much does one of these masterworks cost? In some fancy pants art gallery with limp-wristed sales personnel, you might expect to pay thousands. But through this special SubSITE offer, you pay only $6.66.
That's right. Just $6.66 (plus $3 postage).
---
Here's what the critics are saying:
"They're not just Icons, they're investments. You know what happens to the value of art when the artist dies? Well, Papa Joe has a motorcycle and he likes to ride it real fast..." -- Rev. Legume
"James Earl Watts was right. Why save the forests when the End Times are just around the corner? These Icons are not only masterpieces, but when nuclear winter strikes, you can use the frames for firewood." -- Janor Hypercleets
"All of Papa Joe's Icons have eyes that follow you wherever you are in the room. It isn't just art. It's religious harassment!" -- Ivan Stang
Dieting Dobbs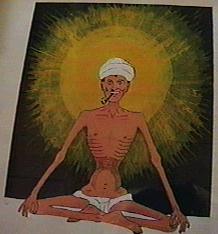 Alien Bob

Burning Bob

Hail Bob

Also Available (photos are on the way):
Abducted Dobbs
Grinning Dobbs held captive in a glass tube by a Metalluna Mutant-looking alien
Bulldog Bob
'In this unusually surreal work by the veritable Grandma Moses of SubGenius artistes, a Dobbs-headed bulldog grins and glows while the Flea of the Reich and the Tick of Judaism hover nearby, also glowing.' -- commentary by Rev. Ivan Stang
$9.99 each plus $3 postage! (don't multiply postage for extra orders)
To order, send check or money order to:
Mystery Playhouse
3202 Enterprise Drive
Tallahassee FL 32321
Allow 6 to 8 weeks for delivery.
For additional info, papajoe@subgenius.com
OTHER DOBBS ICONS of FATHER JOE MAMA

(From the private collections of The Stang Foundation and The Legume Trust)
Spider Bob
(After Rev. Mike Duggins)
Anti"Bob"
(After Dr. Howll Robins)