This War Shit Is Freaking Me Out
From: "Rev. Ivan Stang" <stang@subgenius.com>
Newsgroups: alt.slack
Date: Tue, Sep 25, 2001 10:56 AM

I was laying in bed watching a Batman movie. Couldn't pay attention at
all. Bumming out over EVERYTHING. Guilt tripping over yelling at friends.
Thinking about what a jerk I was. Thinking I'd be a fucking dumbass if
I didn't go out first thing in the morning and buy a year's worth of
water and food and firewood. And water purification stuff.
I think this war shit is getting to me.
Bad dreams, feeling threatened, checking 15 news websites every 2
hours, bad temper... yep... what that one guy said... we're getting all
schizzy.
And I've been avoiding ALL NEWS for 2 years!! I guess I must have been
paying attention prior to that, though, 'cause it's all coming back to
me in a big awful rush, from Jonestown to BlowjobGate, which is where I
dropped out.
However, I understand that the best thing that a small businessman like
me can do in a situation like this is MAKE AS MUCH FUCKING MONEY AS I
POSSIBLY CAN, and SPEND IT AS FAST AS I POSSIBLY CAN. And FORNICATE and
JACK OFF and MAKE NUTTY PICTURES and EAT as if my very life depended on
it!! I will turn up the music and run up my credit card and say FUCK
IT!!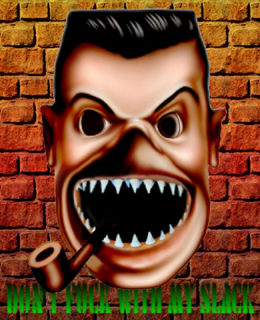 In other words I feel it is now my patriotic duty to get OVER it and
Slack Off. "DON'T FUCK WITH MY SLACK" , like in that picture that
Artemia Salina did -- that's my new motto. I'd be putting all that
stuff on SubSITE right now except that I fucked up my own neck bones in
the shower just SHAMPOOING -- see what I mean? It's got me so freaked
out I'm fucking up my own self. Spazzing out. Acting like a fucking
dumbass.
And I'm a pampered civilian. There's a shitload of soldiers who are
probably a shitload more scared than I am right now, so FUCK ME IF I
CAN'T TAKE A JOKE.
I shall henceforth consciously strive to eat the hell out of that
hamburger, make a lot of noise or whatever, and appreciate to the
fullest the Slack I have, and figure out how best to use it to SERVE MY
SUBGENIUS COUNTRYMEN, CONTINENTMEN, AND PLANETMEN. And COUNTRYWOMEN,
CONTINENTWOMEN, AND PLANETBABES.
And their domesticated animals. And stop fighting with my fellow
SubGeniuses and kooks. I have been a dumbass. Easily losing
perspective. Goes with the territory. *SLAP SLAP SLAP* Thanks I needed
that.
--
4th Stangian Orthodox MegaFisTemple Lodge of the Wrath of Dobbs Yeti,
Resurrected
P.O. Box 181417, Cleveland, OH 44118 (fax 216-320-9528)
A subsidiary of:
The SubGenius Foundation, Inc. / P.O. Box 140306, Dallas, TX 75214
SubSITE: http://www.subgenius.com PRABOB
---
Back to document index
---