All Kinds of Miscellaneous New News
New Upcoming Devivals, New Hour of Slack stations, New SubG Web Forums & Sites, New Swag, New Year.
***
VOTE DR. HOWLL'S JOB BACK!
This is in the long, proud tradition of nepotistic SubGenius election-fixing.
The Great SubGenius, Dr. Howll, whose rants delight the ear and whose drawings titillate the eye, from The Hour of Slack to Revelation X, HAD a great job doing the Official Announcer Voice on a cable TV show called "Conspiracy Zone." "Conspiracy Zone" was hosted by Kevin Neelon, concerned itself with conspiracies (broadly defined) and was recently canceled. No matter how aptly the show was named, in more ways than one, it was a GREAT JOB for Dr. Howll. Good pay, and all he had to do was TALK LIKE DR. HOWLL.
There's a website where it is possible to VOTE to keep Conspiracy Zone going. DO SO! As Dr. Howll put it,
"It might (possibly) help it from flickering into extinction if you could persuade some of your minions, the vast, malleable throng of Bobbies, to cast a positive vote...
http://www.savemyshow.com/shows/theconspiracyzone.htm
You see, disappointingly and insultingly, those who went to the site voted by 80% - 20% not to endorse the show-- indeed, to take it off the air. I can't fathom their hostility. Why such a passionate rejection? (If you can't persuade your Myrmidons, you could still add your vote, if so inclined. Even if it has no effect, changing those percentages might ameliorate the profound disgrace.)"
As you can se, Dr. Howll enjoys clinging to the fiction that "minions," "malleable throngs," and "Myrmidons" exist within this august assemblage of freethinkers.
Let's face it, the show has not always been up to SubGenius expectations, no fault of Dr. Howll. BUT EVERY OTHER SHOW SUCKS. Futurama was canceled and Anna Nicole Smith was renewed. The devil owns this world. But we don't need to just GIVE UP because of that. This sucky show is different from all the others because it means AN EASY PAYCHECK FOR A SUBGENIUS.
So, not because the show is good, not because we're good minions, not even because it will DO any good, but simply because we're UNABASHED FAN-GEEKS OF DR. HOWLL -- me being Howll Fanboy #1, front row center -- LET'S VOTE FOR HIS CONTINUED EASY PAYCHECK.
Dr. Howll is also available to preach at Devivals sponsored by generous SubGenius promoters, I am sure.
****
WEDNESDAY JAN. 22 -- ANN ARBOR, MI
DEVIVAL with Host Reverend DJ Bud Sonic & The Church of the Miraculous 10mm Box Wrench
-- DJ Isophonic, Nights of the Roundtables, Thousand Monkeys Typing Orchestra, open-mic rants, performance art, "Bob"tisms & more.
Diverse electronica, live performance, and visual arts
18+, doors 10-2, free before 11, cover cheap
at
The Club Above The Heidelberg
215 N. Main St.
Ann Arbor, MI
http://www.theheidelberg.net/club.html and http://saturate.org/unwind
***
FEB 28, ROME, ITALY -- REV. ESPIRA and REV. PLASTIC MEDIATOR
aka S.E.C.T.
at RITUAL Club
Sonar, 7c, Via dei Conciatori, Rome, Italy
"It will be full of fun, games and genital bloodletting. Kind of a continuation of the legendary London X-day happenings.... PURELY ONE FOR THE HOLOCAUSTALS!" -- Rev. Espira
http://www.ritualtheclub.com
espira23@hotmail.com
See alt.binaries.slack and the SubSITE Art Mines galleries for ASTOUNDING recent art & photo-art from Revs. Espira and Plastic Mediator!
***
March 20-23 WINTERSTAR Symposium
Devival with Rev. Ivan Stang, ESO Space Jam
Atwood Lake Resort, Dellroy, Ohio
"This four-day event offers a unique opportunity to experience spiritual growth and good company in luxury-resort surroundings. It features a "village" of fully equipped cottages, free access to resort amenities (including indoor pool, spa and sauna), and top-name presenters discussing Magickal, Social, New Age, Consciousness Exploration, Health-Oriented, and Political issues with Drumming, Dancing, and Chanting workshops, Slide and Video presentations, Films, Rituals, Parties, and Musical performances." That's their generic blurb.
The famous hippie guest this year is Wavy Gravy (a great SubSymp who puts out very lively show). These events are like a much smaller, indoor version of Starwood, crossed with an sf con, but more New Agey/pagan-y. Don't worry though, you can hang out in the cabins like we do, instead of attending workshops. The ESO Space Jam Cabin, for instance, stays open most Winterstars all night long for two nights. Our friends with the Cult of the Living Bull do their thing all night likewise, in another cabin. Winterstar is a worthwhile social event for many Yankee SubGenii.
http://www.rosencomet.com/winterstar/index.html
***
6-X-DAY JULY 3-6 -- Brushwood, Sherman, NY --This year you can become as involved as you want, way ahead of time, via the
NEW X-DAY FORUM:
http://groups.yahoo.com/group/Xday/
This is one of several new Yahoo "clubs" that have sprung up for specific SubGenius SlaClusters in the last few weeks. If you have ever joined one Yahoo club, it's easy to join others. If you never have joined one, it's REALLY EASY to join the first one. And free. The clubs feature a discussion board that can be emailed to you a couple of different ways, or can be viewed and used entirely with a web browser.
NEW EURO-SUBGENIUS FORUM!
http://groups.yahoo.com/group/Euro_SubGenius
This was started by the Amsterdam-Germany devival regulars, but is growing.
(SCROLL DOWN FOR INFO ON NEW ALMOST-FREE DVD or VHS VIDEO OF THE EUROPEAN 5-X-DAY CELEBRATIONS)
NEW ESO FORUM
http://groups.yahoo.com/group/swampradio
For those interested in Chas' new band Stardust Outlaws, the ESO Swamp Radio shows, Einstein's Secret Orchestra.
The largest SubG e-list is
http://groups.yahoo.com/group/subgenius
It was started for people who didn't like the sometimes brutal nature of the unfettered alt.slack newsgroup. It soon developed its own trolls and is now becoming the only moderated SubGenius forum.
But much bigger than that list is this one, centered on one individual SubGenius, Sister Decadence
http://groups.yahoo.com/group/sisdecadence
Also, there is a Usenet newsgroup just for friends of the individual SubGenius, IrRev. Friday Jones: alt.friday
AND you can use any Internet Chat program to join the main SubG chat channel, #subgenius on the FEFnet servers. )Any FEFnet server. If you're new to this, find the list of "servers" or "connections" in your program, and try any one that has "FEF" in the name, then when you've connected, type in "subgenius" for the channel to join.) Sunday nights are the main scheduled "online devival" so to speak, but you'll find Subs loitering there almost any time.
AND of course there's the techno-art-geek's alternative to alt.slack, alt.binaries.slack, my personal fave. It has better music and pictures than the other forums.
AND Dr. K'taden Legume has his own website now, mainly as a repository for his truly startling artwork:
MUTANT PORN GALLERY.
http://kickme.to/DrLegume
***
NEW STATION PICKS UP HOUR OF SLACK
CKUW, Winnipeg, Canada 95.9 fm
Every Saturday night at 3am (technically Sunday morning), Starting Feb. 23.
http://www.ckuw.org
This Canadian station broadcasts the uncensored "Internet Version" of the show.
"I see no reason why intelligence may not be distributed throughout the planet by means of electricity." -- Samuel Morse, 1850
"I see no reason why intelligence may not be eliminated throughout the planet by means of electricity." -- J. R. "Bob" Dobbs, 1950
***
If you didn't catch this news before:
WCSB radio back streaming online (ESO Swamp Radio, Hour of Slack)
Go there are click on "live stream" and if you have WinAmp, Audioactive player or RealAudio (Mac users: Real Audio works great. In Prefs/Helpers, set .pls files to play in Real Audio.)
The ESO Swamp Radio show is on Thursday nights from 11 pm to 1 am, EASTERN time; Chas plays just music the whole first hour and a half; the yabbering with Lonesome Cowboy Dave, Princess Wei, callers and yours truly only happens from 12:30 a.m. to 1 a.m..
You can call in and yabber too.
The Hour of Slack is on Sundays at 9 pm, EST.
Friday nights around midnight on WCSB is a GREAT barrage-call-in-tape-collage show called "669" from our friend Rev. Sweet Ass Sassafras... check that of a Friday night, it's intense.
***
Here's a funny celebrity-bashing humor webzine: http://yetihead.home.mindspring.com/alert2.html
***
ALMOST FREE VIDEO/DVD of 5 XDAY EUROPE
Very slickly edited by Pope Crop Circle Maker, who says:
"Scenes of porn and depravity are abounding. See Pope Mickey Finn pissed as a fart. XDay at sacred Avebury Stone Circle. Electroworkz devival. Papa Joe Mama and the only known appearance of the indecipherable Rev Morningside and much much more. All the thrills and spills you would expect from all the Euro Subs on a pilgrimage.
It runs at about 1 hour 50 minutes. Audio is Dolby Digital Ac3 2.0 format 4:3 full screen, PAL Interlace. It works on most DVDs, havent found one yet that cant play it. Oh yes because its region free it should even play fine on NTSC machines which will convert the PAL signal to NTSC and allow your to copy it to USA VHS decks. Best yet, it has no region coding, no disk encyrption and no macrovision which means you can copy it to VHS as many times as you like!

Copies available for a slacktastic $9 U.S. -- Pound4 in the UK by sending a cheque - postal order or cash (be careful I cant be responsible if it goes missing etc etc)... I also have a pay pal account to send it online (which is also handy because it converts your currency to mine). Overseas orders add Pound1.

Please pass on this info to your slack friends if they want copies. I'm not adverse to people copying it and passing it on anyhow. Slackness rules.

cheques to:
Matthew Williams (aka Pope of all Crop Circles)
3 Bourton Lane
Bishops Cannings
Devizes
Wiltshire
UK
SN10 2LH
Tel 01380 860994
email: truthseekers@ntlworld.com
***
NEW SUBGENIUS SWAG AT CAFEPRESS -- http://subgenius.com/scatalog.html --
SEE NEW PHOTOS of actual SWAG! PLUS:
Those ordering SubSwag could also shop at one of
these fine cafepress stores run by SubGenii and feturing Dobbsheaded products:
http://www.cafepress.com/foolspress/ (Popess Lilith)
http://www.cafeshops.com/artwars (Dr. Legume)
http://www.cafepress.com/ridetheory
http://www.cafepress.com/abusement
http://www.cafepress.com/fuckirony
http://www.cafepress.com/bumpercar
http://www.cafepress.com/octopusride
http://www.cafepress.com/FridaBobbleHead
***
I am working gradually on a Stark Fist mailing, better late than never; also on Stark Fist reprints, and a History of the Church of the SubGenius book. And SubSITE and Hour of Slack, which are both a bit late too. And some other stuff, I can't remember offhand. The alt.binaries.slack folks did mountains of staggeringly gorgeous art over the last couple of months, and I want to upload some of that to SubSITE. I have to upgrade my computer system and replace the CD burner first, at any rate. I had that nasty flu, and did some computer animation while too zonked to write, but the mucus flow is lightening up this week. This has been the 6th MegaFisTemple Lodge News. Achoo, and Amen.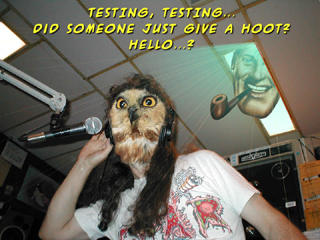 Stang
---
BACK TO NEWS UPDATES PAGE
---
ALSO SEE: