CONTINUED
refreshed on 8-15-99

---
THE END IS SURELY NEAR: DOBBS HIMSELF CAME ONSTAGE IN PORTLAND AT THE LEMURIA RISING DEVIVAL! See the fuzzy long distance shots and grainy blow-ups and see for yourself. OUR EPOPT WALKS THE EARTH IN THESE LAST DAYS! It's all in:
PORTLAND 99: LEMURIA RISING DEVIVAL REPORT


Lemuria Rising -- Onan's Report


JUST in -- a rant-report on the all-star preacher-thon, with photos:
POPESS LILITH's SEATTLE 99 DEVIVAL REPORT
---

News, articles, porn! Too much for this page! June 99 MINI STARK FIST
Includes latest Stang and Jesus Reports, last LAST minute XX-Day event news, new rants, articles, kooks, X-Day stories, SLACK! Even a HUMOR SECTION.
---

New Section! SubGenius HISTORICAL ARCHIVAL SCANS
50 lovely hideous photos and artworks from the dim dim past... startling yet ALL TRUE. SOME NUDITY.
---

GROTESQUELY ILLUSTRATED, NARRATED REPORT on IrRev. Friday Jones' recent BOSTON SUBGENIUS UNDEVIVAL DEBACLE TRIUMPH!
To make a long story short, our big preachathon scheduled for Boston was so un-P.C. that it was banned before it ever happened -- then we did it anyway on the steps of an old church while the cops and lawyers stood by. The long story is profusely illustrated, and builds to one of the most bizarre flame wars in alt.slack's 13 year history. Did you know that the Church of the SubGenius is RESPONSIBLE for the Trenchcoat Mafia?
Only 14 some-odd days left to the best party in this old SubGenius universe, culminating in the end of Earth Farm One and the ESCAPE of the SubGenii. See this new page for instructions, how to get there, links to the RIDES BOARD, and even a preview of the FLEET OF ROCKETS built by Commander Chas Smith that will be launched into near Earth orbit to attract Xist attention!
How about some grainy looking RealVideo clips showing the WEIRDEST MOMENTS of:
X-Day 1998 Countdown and X-Day Animation by Rev. Vito Codini!
(Note: You must have a RealPlayer plug-in to view these. (And even then, they'll look like crap! But what the hell, that's INTERNET VIDEO in this year of our Ord 1999!)
2 hours --$20 -- all the nudity, violence, madness! ORDER NOW! We take plastic!
GET IN PRACTICE FOR XX-DAY AT THE WEST COAST DEVIVALS! -- Seattle, May 29, and Portland, June 10! View the truly SLACK-GUSHING posters. (Here's a recent interoffice memo that should give you some rough idea of how these holy-ghost shows are stacking up!)
---

EINSTEIN'S SECRET ORCHESTRA MEETS CREEPY CLOWN -- in this RealAudio clip from a recent ESO radio show. This was Creepy's first appearance outside of the graphic arts.
SECRETS OF DON TATRO'S SINISTER CREEPY CLOWN REVEALED!
SubGeniuses who don't download all the artwork on alt.binaries.slack every week can now catch up on the best kept secret in PURE HORROR: Don Tatro's CREEPY CLOWN. The relationship of Creepy Clown to J.R. "Bob" Dobbs remains one of the most puzzling enigmas of our time. Dozens of other artists now contribute to the Creepy mythos. Has Dobbs been abandoned? Who cares. I still have a year's worth of a.b.s. PURE-DOBBS-ALL-ONE GALLERY ART to thumbnailify. IN THE MEANTIME:
CREEPY CLOWN : www.creepyclown.com
---
A NEW GIFT FOR KOOK WATCHERS, FROM DR. LEGUME:

THE ANSWER
Folks, Dr. Legume and I have both admired tire-biting-mad preachers, ranters, and other fellow kooks for our entire adult lives. Both of us agree that THE ANSWER is hands down the post bloodthirsty Christian end times screed we've ever seen. THE ANSWER is a BOOK -- a very rare, out-of-print, self published paperback -- by Harry Walthers of Philadelphia, who has since vanished from the planet. Perhaps he was the only one Raptured. Legume has scanned the entire contents, and we offer you the complete text in this ZIPped file. Download it, pop it open, start skimming. Have a fire hose ready. This man's vision of the Apocalypse has more fiendish torture and spectacular mass killing than even the most fevered SUbGenius X-Day fantasies, and it will really heat up your computer
---
WE MOVED! -- the SubGenius Foundation's original MegaFisTemple Lodge #1, my office, that is. In April. Actually, we simply moved it deeper underground. Here's an amusing profusely captioned pictorial which will probably be of interest only to Stangophiles and old friends who remember the old Lodge Office and the Young Stang.
---
Until we reorganize things, here's a load of very interesting text files, among other things. (Keep on Scrollin'!)
Most Important News to All Active SubGenii:
Jesus Christ's OFFICIAL SUBGENIUS UPDATE 1/19/99
Better Sex for Mutants: New SubGenius Message Board!
(to tide us over until the attacks on alt.slack end)
---
NEWS FLASH! REPAIRED NEW BOBCO FONT SET FROM ATOM FUNWAY! Bug Fixed... now works in Windows
Download MACINTOSH version now !!!! !!! !!!! Download WINDOWS version now!
See here for the 3 previous BobCo font sets! ALL WILDLY DIFFERENT!
Re: old bobCo 10 font problems
---
HILARIOUS BRUSHES WITH NORMALS:
SubGenius and the CIA
"Bob" promoting Satanism!!!
Graduate Thesis on Church -- hilariously earnest!
SubGenius Home Addresses
RANTS:

PROPHECIES by Popess Lilith von Fraumench
Sometimes, They Really Are Out to Get You -- by Rev.Nickie Deathchick
NEWS, SCIENCE:
Elizabeth Clair Prophet -- "Alas! Another one bites the dust!" by Papa Joe Mama
MARS CLIMATE ORBITER MISSION STATUS
Sex and the 'Married' Monkey -- behavioral science dept.
Filth, Kooks, Dobbs, X-Day, Y2K
BLOBOB -- a filthy Connie Sex Confession by Nenslo
A Message from Bob (as opposed to "Bob")
Y2K Back Pay
Y2kkkkkkkk -- >The Year 2000 For Revolutionaries (Kyle Holbrock)
Lonenuts roasting on an--OPEN FIRE! (JFK-Assassination Xmas song)
CHAOS WEAPONS from: warpshadow@disinfo.net
Re: Rev Stang and RAW in Austin
Turd techs rule! (something really sick)

---
ART MINES growing again! Added 12-23: STANG'S LATEST 3D "BOB" ATTEMPTS and the DR. K'TADEN LEGUME ART GALLERY.
Discordian/SubGenius hero Kerry Thornley R.I.P.

REPORT: Robert Anton Wilson / SubGenius / Fringeware event
includes SECRET LINK to "DUH!"
NEW MACINTOSH SUBG GAMES/UTILITIES in FUNHOUSE!
SubGenius Profundities Generation Matrix
Revenge Planner
The Call Of EeHeeg-EeHeen

LOST ORIGINAL DOBBS X-DAY MEMO DOCUMENT FOUND!!
Important New X-Day Xcuse: re: the Holocaustal Problem

Nfilter: A Spam Filter for fighting the alt.slack Forgery Flood
HOUR OF SLACK on SHORT WAVE!
Negativland - OTE radio is live on the Web
Web News from JESUS!
ALTERNATE IRC NETWORK FOR SUBG CHAT DEVIVALS?

Sick of our OUTDATED WEB LINKS PAGES but don't want to volunteer to redo it yourself? Here's a vastly more better SubGenius links page from POPESS LILITH.
CHURCH OPERATIONS REPORT 12-3-98

Mark Mothersbaugh on "BOB"
Message from Dobbs
BILL GATES VS. "BOB" DOBBS (a Stang rant)
Celibacy

RANT from Hour of Slack 661 -- CHRISTMAS DEPRESSION SPECIAL

Hour of Slack 662 -- KERRY THORNLEY R.I.P. -- w/ Thornley and ROBERT ANTON WILSON on Discordia, SubGenius and the JFK Assasination

Seattle SubGenius Union of Clenches & Crackpots -- regular meetings

Pinochet's Extradition
Psychohistory Prediction of War
EL GORDO RESCUES STANG-HAT!
A Warning About "Friday's Bra"

Some audience feedback about the Nov. 8 Cleveland Devival: An evening with Stang and ESO
SLACKULIFIC NEW WEBSITES:
CREEPY CLOWN : www.creepyclown.com
REVISED: KING OF SLACK, BILL T. MILLER rockin' SubGenius audio pages!
Lots of MPEGs of NEW OBE/Kings of Feedback/ King of Slack/ Slackbangers!! AIEEEEEEE!

FIREZINE: FIRESIGN THEATER FAN WEBSITE! FINALLY!
plus: OFFICIAL Firesign Theater site
NEW HAL ROBINS, PAUL MAVRIDES WEB COMIC -- DARK HOTEL

Sverre H. Kristensen Memorial Website -- sick graphics from a dead Sub Master
Free Dobbs-NHGH Ouroborous Screensaver HERE (from Dr. Legume)
Sacred Newsgroup News:
The Alt.Slack Forgery Flood HOWTO v1.3 -- Living with the spam
Radio tragedy! You can help! WFMU axes Hour of Slack
HA! FOOLED YA! You thought we were dead, or Ruptured, right? Or at least lounging on the Riviera with the stolen Church funds. IF ONLY! Maybe we were overly optimistic. BUT WHO CARES?!? WE'RE RELIGIOUS NUTS! PRAISE DOBBS! WE'LL DO IT AGAIN NEXT YEAR! We'll do it EVERY YEAR until the world ends RIGHT, if that's what it takes! In fact, one of these days, we'll change the FRONT PAGE of THIS WEBSITE! Maybe even add the latest 100 megs of art and rant. It's not like anyone now living could possibly ever read or see everything that's already here.
Meanwhile, LETS SEE HOW THE NEW STREAMING TRICKS WORK!
THE SUBGENIUS M-TV VIDEO in REALVIDEO! Financed by MTV, diected by Stanky, rendered for RealVideo by Modemac!
PLUS! The Moment of Rupture (7 am 7-5-98) at Brushwood, audio recorded by Onan Canobite in RealAudio... and... The 19th Killing of "Bob" by Jesus at the '97 X-Day Drill (RealVideo). AND! Pope David Meyer preaches, Boston '98 (RA). Or howbout this audio SERMON?
INSANE REAL AUDIO NEWS FLASH!! REV. SUSIE THE FLOOZY and LYMPH NODE INSTITUTE's "BOB's" SLACKTIME FUNHOUSE (and Hour of Slack) are now on RealAudio at WREK's SITE! HAIL CONNIE! Saturdays at MIDNIGHT! GO GO GO!
AND!
Puzzling Evidence Show Now Live via RealAudio ! FINALLY! Famous SubGenius Dr. Howll on the INTERNET, LIVE! (At 4 am on Thursdays... see details.)
Hour of Slack also sounds GREAT on AudioActive from radio station WCSB's website, on Sunday nights, 9 PM, EST!
And!! MOST ACCESSIBLE OF ALL -- at 11 p.m. EST on Thursday nights, tune in to EINSTEIN'S SECRET ORCHESTRA Swamp Radio -- the FINEST in Radio-Church MADNESS and MUSIC, with Hour of Slack co-conspirators Lonesome Cowboy Dave, Rev. Bleepo Abernathy, Rev. Ivan Stang, Princess Wei R. Doe, IrRev. Friday Jones, CANTOR CHAS SMITH -- and YOU!! (Call in live!)!
Yes, it's true, this website was ABANDONED for a bit. SORRY! We had MORE IMPORTANT THINGS on our minds. Among other things, I, your dear personal pal and prayer partner, Rev. Ivan Stang, to end an inner ear infection that produced INTENSE FEELINGS OF VERTIGO and more than the normal amount of dizziness, underwent a third Third Nostril Opening operation. This attack by NHGH did not prevent a devival at the DEATH EQUINOX 98 con (see PICS n' PORN!), nor the ALL-BABE-PREACHERETTE ATLANTA DRAGONCON HAPPENING (see PIX), NOR did it stop us from EDITING THE HELL OUT OF THE X-DAY AUDIO AND VIDEO, resulting in a SHITLOAD OF GREAT NEW TAPES AND VIDEOS YOU CAN BUY!! And it won't stop us from editing YET MORE and MORE -- for which we have some technical NEEDS, if you can help us with a donation. See our latest report, NEEDS N' NEWS.
NOR did illness stop our brother, Rev. Dr. BILL T. MILLER, from releasing the greatest yet KINGS OF FEEDBACK CD!
Kings of Feedback: _Rules_: Review by Rev. Pee Kitty
Bill T. Miller RULES rulz! (Follow-up from BTM himself!)
CURRENT NEWS OF BANDS YOU MIGHT FIND SLACKFUL TO A 'T':
HEMORRHOY ROGERS ATTACKS YOU NOW!!!

Incidentally, the artwork on these pages is, as usual, by that irrascible IrRev. Friday Jones.
Here's a great SUBGENIUS COMIC BOOK by Dr. Legume!
Many are still studying the original sloppy, hurried X-DAY X-CUSES REPORT, with hundreds of pictures, and all the feedback from the alt.slackers and the UnRuptured SubGenii at large.

POST-X-DAY REPORT PART 2! Includes TONS more nekkid pics, the master lists of all the EXCUSES, MUCH MUCH MORE!
X-DAY GRAPHICS GUSHER! VIDEO STASH 6 and X-DAY VIDEO SPLURTS!
Art hounds will VOMIT with ENVY AND DISBELIEF at TUNNEL 13 of the ART MINES -- our 'FAREWELL EXTRAVAGANZA' boasting a slick new format for displaying the very best NEW AND OLD CRAZED SUBGENIUS GRAPHICS from ALT.BINARIES.SLACK. PLUS! All new VIDEO STASH 6!!
AND!!!, Praise Dobbs, the new STEVE JACKSON GAMES INWO / SUBGENIUS GAME SET is OUT and IN STORES NOW! This boxed set includes 100 color reprints of the most psychedelic SubGenius art EVER IMAGINED; it can be played either as a stand alone or as part of the Illuminati New World Order game! Wherever role playing games are sold-- or BUY 'EM FROM "BOB": $16.95 each plus $3.50 shipping and handling! THE TRIUMPH OF ALT.BINARIES.SLACK! NEW SAMPLE ART (thumbnailed!)
See also STANG'S FOLLY.
Despite the vertigo, and the shattering failure(?) of Dobbs prophecy on X-Day, your noble Scribe NONETHELESS went to preach at the post-X-Day STARWOOD neopagan event; here's a STARWOOD DEVIVAL REPORT. It was such a good show that we'll probably release a CD of the recordings.
SOME "NEW" WEBSITES
Phineas Narco's SubGenius Radio Tape Catalog
Popess Lilith von Fraumench | Fools' Press
KING OF SLACK BILL T. MILLER
The *NEW* ORGY OF SLACK Sub-section
BOB'S SLACKTIME FUNHOUSE RADIO
Our many SOUND pages have just been moved to yet ANOTHER server; in memory of our old one, here are some RealAudio treasures:
SOURTH POT (parody mimicry of the popular filthtoon South Park -- by Rev. Bleepo "Ken" Abernathy and Sister Zuckerman)
THE BRAG OF THE FEMALE SUBGENIUS (penned by Batrix (former SubGenius), bespoke by Rev. Unibomber, recorded by Modemac)
I AM A SUBGENIUS (song sung by Dr. Onan Canobite)
---
SUBGENIUS HOTLINE NUMBER CHANGED!! IGNORE ALL OTHER VERSIONS! NEW NUMBER:
1-900-226-5715 ext. 123

$2 a minute, 5 minute maximum. Rants by great SubGenius preachers (Janor Hypercleats, Father Joe Mama, Ivan Stang, Dr. Howll, Pope David Meyer, Dr. Legume). Under 18 need parent's permission. Touch-tone phone r'q'd. Maximum call, 5 min. Mystery Playhouse, Bradenton FL
---
The perfect thing to usher out the old era, FROM "BOBCO," THE SUBGENIUS FOUNDATION and ATOM FUNWAY:
YOUR 1998 LAST YEAR'S PRESENT:
THE SUBGENIUS SYMBOL FONTS: BOBCO!!!
NEWLY REVISED!! Available in Mac or Windows! And now there's a NEW SECOND GALLERY OF BOBCO FONT ABUSE BY THE ALT.BINARIES.SLACK CRIMINALS!!
---
SECOND SubGenius IRC Channel: #subgenii on irc.fef.net
---
HAPPY LAST YEAR!
We're on yet ANOTHER NEW SERVER! We have moved the whole huge, heaving, massive bulk of SubSITE from its old comfy, FREE home at UNC's SUNSite, to our new DOBBSCO-OWNED www.subgenius.com! (However, it'll exist on both servers for awhile as we finish ironing out the bugs and Conspiracy eavesdropping devices -- so don't work from old "bookmarks.") If you run into inexplicable problems -- REPORT 'EM TO STANG!
---
Must MOVE ON. You would not BELIEVE how much INSANELY COOL TEXT and ART there is stored here that I HAVEN'T had time to html and prep. But we ENDED the HARD CORE DEADLINE PANIC on the Steve Jackson INWO/SubG game, and the Stark Fist newsletter, and the SECRET PROJECT, and we had all these devivals, and I have to whip out another SHOW by noon tomorrow and... and... well what the hell, I did manage to auto-html an uncategorizable little assortment of truly MISCELLANEOUS text oddities. It's so unfancy it's even called "MISCELLANEOUS CRAP." Maybe soon I can link in the 18 jillion new website listings, and finally finish prepping the big stack of rants and Heironymous Zinn stories. And upload the latest 100 mb of Art Mines... AIEEEE!!! However, I REFUSE to go TOTALLY insane, and for Slack (and the INWO game) I have been learning and practicing 3-D COMPUTER GRAPHICS PSYCHEDELIA and PHOTOSHOP FILTER TWEAKERY. (These pictures have nothing to do with Dobbs, but might make good screensavers for those of you on drugs.) OOPS, I just realized that in the new X-Day section I forgot to include my OLD X-DAY TEST GRAPHICS. But I ain't gonna try to fix it now.
---
43 Days LEFT to X-Day! And things are HEATING UP around here! Nowhere near as hot as it'll be for the little Pinkie Winkies come Judgement Day. But we're wading up to our knees in the blood of the baptism of the mighty fist-face of "BOB"!!!

FLASH --
In mid-May, the Church business manager, Jesus, managed to get one of our many press releases about X-Day onto a "weird news" service called Newsflash, which goes to everyone from Morning DriveTime Radio Jock in Po'Bunk, Texas, to David "Chickenshit" Letterman. 12 hours later I was on the phone to drive time jocks in South Africa and the Lord was schmoozing a talk show in New Zealand. Yesterday I did 5 morning radio shows in various U.S. cities, did two this morning and have 4 or 5 more next week. Generally these are cutesy-haha short and smarmy 5 minute "stupid culture blips," but I always manage to get in our contact info and some delayed-reation anti-God time-bomb one-liners... maybe it'll help the potential last-minute Savees to RECOGNIZE "Bob's" word the NEXT time they encounter it. (Tony Hamilton's "Wake Up Show" in Knoxville, TN on WWST was one of the better ones, since the clueless host let me debate the hostile representative of the "Expose Bob" anti-SubG movement, a Mr. Kuersteiner. SEE THE HILARIOUSLY MISGUIDED EXPOSE BOB WEBSITE!)
BOB LARSON interview w/ Rev. IVAN STANG
Scroll down to the section entitled "We're all adulterous radio preachers on this bus!"

If you want to learn about Larson, head over to http://www.bitsmart.com/boblarson
THE COMPLETE INTERVIEW IN REAL AUDIO: "BOB LARSON vs. IVAN STANG"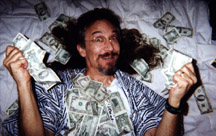 PRAISE THE LORD for this DISGUSTING P.R. BLITZ!! I just wish I didn't have to get out of bed so early. This is really cramping the indolent lifestyles of Jesus and myself.
AND!!! PRAISE JESUS, the 32-page NEW STARK FIST magazine has been PRINTED, BEAUTIFULLY, and has been mailed out to EVERYONE who renewed or at least confirmed their existence to us.


Incidentally -- don't be discouraged if alt.slack seems utterly chaotic to you at first. It IS utterly chaotic, and I have no idea how anybody finds time to read it all. But amidst all the trash and detritus is a lot of excellent writing and truly bizarre educational opportunities. Most of the interior of this website is a sort of alt.slack "best of" -- but the text mass hasn't been updated in months, and we're still looking for a way to somehow condense and categorize it for display here on an ongoing basis. We've discovered that that's practically a full time job.

A newsgroup is a very different animal from a website. In the case of alt.slack, it's like a big "family," with all the attendant fights, brawls and inside jokes. As you lurk there you'll start to identify the "regulars," and sort out those whose posts you like to read and which ones you can generally skip over. While this website is ruled with iron hand and velvet glove by yours truly, and will probably eventually go COMMERCIAL, alt.slack is governed only at the whim of J. R. "Bob" Dobbs himself, and is certainly more democratic because of that.

Just warning you ahead of time...

Stang on AOL CENTER STAGE 5/5/96

And if you really want to DELVE into the dark past, see Rev. Stang's Internet Diary.