Tunnel Fork 11

Updated 11-12-0 BX
The Church of the SubGenius may not be the best dressed religion in the world, but it is surely the best illustrated. Our not so humble little "faith" has better artists working (slacking, actually) than ANY OTHER CULT or WORLD RELIGION. Not even Heaven's Gate comes close. I'd say we even beat the Hare Krishnas, and they have some KILLER artists painting those four-armed blue guys.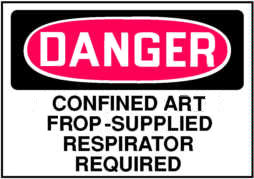 You won't believe what is hidden one simple mouseclick away. Lurking just behind THIS LINK are over 1400 art files -- all the best stuff emailed to our office or posted to alt.binaries.slack during 1997. It took over 24 hours solid to upload it. It took days just to separate the pornologically illegal from the merely sick.
Here's this week's PICK 'O THE MONTH as an example! ("Desperation" by Poindexter)

YOU'LL LOVE OUR NEW "NO FRILLS" DISPLAY FORMAT
I dug the first few Art Mines tunnels myself. An Art Mines Updating volunteer lasted for one tunnel. When he vanished, I, Stang, took over again. However, I ended up spending all mt time downloading, sorting, uploading and linking the other artist's goods, instead of doing any of my own. So I crawled off down my own tunnel to dig for my own gold. Nobody updated the Art Mines for 6 months.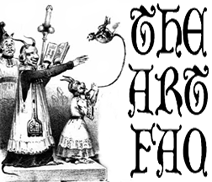 Meanwhile, thanks to S.P.U.T.U.M., alt.binaries.slack (see Art Faq) became infamous for trouncing spammers, attracted more miners, and the art started to pile up. I dutifully downloaded everything posted on that newsgroup. I did not always compliment the artists on their fine work. But, by gobbs, I DID preserve it, and here it is, all gathered in one place. (ARTISTS -- if I missed something that you think should be here, email it to me! Just don't send more than about a meg's worth a day.)
I was bitching to Fernandinande about what a pain in the ass it would be to link all those hundreds of titles, as the other Art Mine tunnels are done... and he suggested, "WHY NOT JUST DO IT FTP STYLE??" And I said to myself, "DUH!!!" (I say that to myself a lot.)Just make the link to each artist's directory... people can pluck the files right out of the bucket without having to go back and forth between an index page. You don't get any fancy-schmancy TITLES or DESCRIPTIONS or THUMBNAILS of the art, or my personal faves placed at the top of the list, just the mysterious file names in alphabetical order... but YOU ALREADY KNOW IT ALL KICKS RETINAL BOOTY.

This is the way our favorite porno sites present their pics, too. And who knows image delivery systems better than pornographers? So, FORGET the stupid LINKED TITLES! When you click on an artist's name below, you'll be peering DIRECTLY INTO THE RAW ART DIRECTORY. Click on any file title and the gorgeous full-color picture or movie will FLY onto your screen, and possibly even crawl straight up to your eyeballs to lay eggs in your tear ducts. (Hit your browser's BACK button to return to the index... but if we have to explain THAT to you, you probably have no business looking at this website at all!)
Yep, we're throwing you the keys to our basement. WHAT COULD BE SIMPLER. (Actually, another way to enjoy this eye candy, without waiting for each piece to load, would be to just FTP the whole lot while you sleep, and then view it all tomorrow, slide-show style, on your favorite art viewing program.)
(NOTE: SEE ALSO THE PSYCHEDELIC PORNO STASH over on our other site for the HOT stuff by these same artists -- IF YOU ARE OVER 18!!)
ABOUT THE ARTISTS:
I, Stang don't know a damned thing about most of these characters. What I DO know, I don't want to tell you.
All the artwork on this page except the one directly above, is by IrRev. Friday Jones
Rather than list the artists alphabetically, I am ranking them according to prolificness.
FERNANDINANDE is by far the most prolific of the a.b.s. art maniacs. In fact, he's SO damned prolific, his work takes up SIX DIRECTORIES! (And that's AFTER CULLING OUT THE LESSER STUFF!)
FERNANDINANDE 2
FERNANDINANDE 3
FERNANDINANDE 4
FERNANDINANDE 7
FERNANDINANDE 8
FERNANDINANCY

THE ATOM FUNWAY SUBGENIUS TRADING CARD SET
150 virtual trading cards from this LIVING ART MONSTER, this veritable MAN MOUNTAIN of talent! Small files, quick downloads, but TOTALLY PURE. Collect 'em ALL!
ATOM FUNWAY PLASTICO
Larger pieces, background tiles, all manner of magic from this Giant among men. You'll CRAP YOUR LOAD when you see the FUNWAY Dobbshead mutations...
THE FUNPLASTIC SubG TRADING CARD SET
As if his first set wasn't enough, the Mighty Funway OUTDID HIMSELF with a YET GREATER set of STAGGERINGLY RICH IMAGERY!
POINDEXTER
Earlier Poindexter
POPE STERNODOX
Newer Sterno
SPECIAL SECTIONS:
And now... presenting.,.. for the first time on the World Wide Web...
SELF PORTRAIT BY J.R. "BOB" DOBBS!!


Rev. Noah Stewart saw through the blatant Con propaganda built into the Hollywood movies,
INDEPENDENCE DAY
and
MEN IN BLACK.
These illustrated articles have been moved here from Noah's website for permanent safekeeping.
Rev. Morvus Thenu whipped up this artful rant-page, PUNCH WWW.
LOST AND FOUND
These are some gorgeous pieces of art. Unfortunately, they aren't signed and I dunno who did 'em. If you know, tell me.
BobAssasination.jpg -- The classic shot of "Bob" Dobbs being shot by Puzzling Evidence at the Victoria Theater, San Francisco, 1984
BONOBO!.jpg -- homo bonobo sex from chimps we consider mascots
SlackInc.gif -- Corporate logo of FALSE Slack
BULLDADA -- a special collection of sacred clip art, knick knacks, 'found' 'art' and worse.
DEVIVAL shots:
Austin Fringeware Devival -- Photos by El Diablo, Rev. Craig Mitchell of the fringeware sponsored Austin devival starring Dr. Legume, Pope Angus, Rev. Nickie Deathchick, Booger 9000 and I, Stang.
The LastSupper -- some tweakings of The Last Supper photo from the 1997 X Day Drill
HANDY DOBBSHEADS! -- ready to your own SubArt. Includes the bedotted Classic, the Huey Photorealistic Dobbshead, the two Atom Funway Greatest Dobbsheads ever (HARD and SOFT), the Mavrides Color Dobbshead, more.
CONNIE -- we're starting a collection here.
Here's some stuff that's TOO HOT for SUNSite! When you look at THIS part of our art stash, you'll actually be at another site (and it might not run quite as fast).
THE PSYCHEDELIC PORNO STASH (YOU MUST BE 18 or older)

NEW GIFMOVIES!
These are mostly small, gimmicky, and extremely clever. By everybody. (Other copies are in each artist's individual directory.
NEW SUBGENIUS MOVIES
Larger files -- Quicktime videos, MPEGs, AVIs and the like. Mostly short animations.
MORE GREAT ART BY MORE GREAT ARTEESTS!
BOB JOHNSON
SubGenius Portraits has been updated.