STAGGERING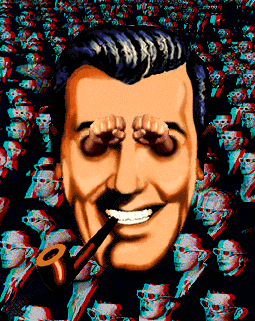 YOU'LL SHUDDER IN HORROR
and wonder what could DRIVE such talented people to use their gifts for... THIS.


MOVIEBOB.GIF by ATOM FUNWAY

---


GIRD YOUR LOINS BEFORE YOU DAST GAZE UPON IT!
If you take heart medicine, TAKE MORE NOW.
THE MOST TERRIFYING DOBBSHEAD THE WORLD HAS EVER KNOWN
116k -- by REV. KENNETH HUEY
Rev. Huey painted the cover of the Simon/Schuster BOOK OF THE SUBGENIUS. He has now taken the Dobbshead... a step farther.

BAD DOBBS
50k -- By JIM THE PROPHET
Shortly after he sent in his $30 Membership Hate Offering, certain scales suddenly flaked off The Prophet Jim's eyes and he learned one of the most important lessons about Dobbs.

PIPES
50k -- By POPE STERNODOX
That foul-spouting squidfisherman once again proves that an Original Apostle of Dobbs can do more with a Vic 20 in ten minutes than 50 Bobbies or Pinks with Crays and college degrees can pull off with a huge budget, a 5 week schedule and a committee.

THE SACRED DOBBS POG
33k -- located and scanned by John Kenny
A rare find indeed -- even the Foundation has been able to track down only two of these artifacts, evidence of an early Dobbs novelty product.

HAD A BAD WRECK
33 -- By ATOM FUNWAY
A tiny preview of the vast acreage of EYE-BLASTING GREATNESS you'll find in a new page devoted to:

The ATOM FUNWAY PLASTICO ALTAR OF BARBIE SACRIFICE
A brand-new, HUGE collection of some of the most impressive Dobbsfetish computer graphics yet unleashed, from a mysterious Hell-Collective of Unknown SubGenius Masters.

The FOOL'S PRESS COLLECTION
Popess Lilith von Fraumench has been producing Dobbssign through FOOL'S PRESS for many years now... this is quite a digital library of Holy Clip Art.