The ART MINES
SUPER-STASH III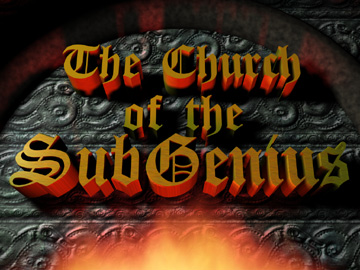 by Rev. Eric Knisely
---

THE PROPHET JIM enters the arena of visual pain with these two sophisticated graphical rapes, which'll have you flopping in your Vandewalkers:
DOBBSTOWN cover story from NATIONAL GEODESIC
SOUVENIR
---

The Most Recent Horrible Variations on Dr. Hueyoid's "PhotoReal Dobbshead":
Smoke Not of Dobbs' Pipe by Rev. Jan Arthur Johnson
EYDOBB.JPG by Dr. G.Gordon Gordon
BLIND "BOB" by " "
---

CHEESY yet EFFECTIVE 3-D "MAGIC EYES" graphicals!
Call 'em up... stare at 'em... defocus your eyes... SEE and BE BLINDED.
Jan Johnson's 3-Dobbs
4 quickies from Rev. Stang:
Psychebob Magic Eyes
MagicEyes BlurBob
(If you can get any 3D from these coming two, let us know! 'Cause we sure can't. They look kinda cool anyway.)
Vortex2
MagicEyesVortex1

AN OPTICAL MARVEL
3D MAGIC EYE STUMBLING PIPE GIF MOVIE by JAG -- 66k
This one takes some explaining. What at first looks like moving static will be clearly seen (by those experienced with "magic eyes" "Stereogram" "3D ScrambleVision") to be a 3D Static Pipe rotating amidst the background static.
---

There's some new stuff in the ATOM FUNWAY PLASTICO gallery -- CHECK IT OUT!!
---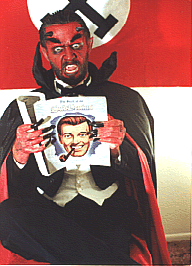 The DOBBS ICONS of FATHER JOE MAMA

Spider Bob
(After Rev. Mike Duggins)
Anti"Bob"
(After Dr. Howll Robins)
Dieting Dobbs
Hail "Bob"
Alien "Bob"
Burning "Bob"

---

Sister Susie the Floozie's informal masterpieces, as displayed at the X-Day Drill:
X-Day Postcard
EarthVomit
The Dobbsajackomellon
---

Young What's His Name showed up at the X-Day Drill sporting this
tattoo



---

Some classic STARK FIST art has been rescanned by Rev. John Searcy that we might see:
Mavrides' Portrait of Stang
Funway Plastico's CONNIE1-.GIF
Rev. Jeanine Sih's DobbsMadonna
Rev. G. Don Trubey's PIPELESS
St. Joe Riley's STOOGES
A CLASSIC by St. JOE SCHWIND