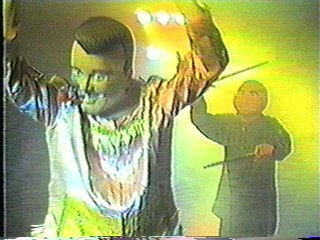 Craven coward J.R. 'Bob' Dobbs flees vengeful OverMan. (Puzzling Evidence vid-shot, from Swinging Love Corpses Atlanta Dragon Con concert)

Some X-DAY MEMORIES from Rev. Michael Whelan:
BOYSKAMP
FROPICAL.
MOTEL
See also Rev. Stang's Snapshots of Dobbstown.

A special Photo Experience:
The Women of DR. LEGUME
DR. LEGUME'S WOMEN in HEAT
A Candid Camera style shot of Rev. Ivan Stang and Rev. Susie the Floozy backstage, getting ready to preach at the Atlanta DragonCon SF devival.
Supporters of THE HOUR OF SLACK radio show parade through downtown Dallas to protest the show's being cancelled from Dallas airwaves by Caucasian-hating racists:
MARCH 1
MARCH 2
ALTAR-KID -- a small child worships at the Altar. If only this happened more often.

REV. STEVE CHECKEY'S X-DAY DRILL '96
The Great and Good Rev. Steve Checkey has been partaking in SubGenius events near Cleveland (the best kind) for years, mostly Starwood and lately the X-Day Drill. Like I, Stang, he recently starting making digital frame-grabs from his videotapes and converting them to JPEGs for Web use. These are his recordances of the 1996 X-Day Drill Devival. We'll try to organize 'em later but for those who were there or wished they had been, it's a glimpse...
drum.JPG
ass.JPG
baptz.JPG
a+nail.JPG
andrew.JPG
burn.JPG
burn1.JPG
cros.JPG
dave+and.JPG
j+carrycross.JPG
j+cross.JPG
J+hammer.JPG
J+stang+cross.JPG
jesus+davehope.JPG
jesus+head.JPG
kevin.JPG
legumue+needle.JPG
nail.JPG
sax.JPG
screw.JPG
screwd.JPG
squ+male.JPG
squid.JPG
stang+Jesus.JPG
stang+pipe.JPG
stang+squid.JPG
stang-light.JPG
stang.cross.JPG
stang.JPG
Rev. Checkey also covered Starwood '96, at the same exotic locale as the Drills (Brushwood Folklore Center in Sherman, NY) and copped these pics, mostly of the Chameleon Club's unstage perf, and Rev. Ron Slabe's "weirdness art" performance-event-fireshow. SEE THOSE PICS HERE.
---
Photo Essay 3

INEXPLICABLE IMAGERY lifted from Rev. Stang's home movies from The Mall of America, Minneapolis

The Lego Fist of Removal

Most Hideous Lego Monster of All

MONSTROUS PHOTOS of LIVE SUBGENII in ACTION!
The Swinging Love Corpses Photo Essay
Those loveable hipsters wowwed the crowd at the '94 Atlanta Dragon Con SubGenius Devival... and now, YOU ARE THERE!! (You DO have to select -- that is, 'click on' -- the names of the photos to see them, however.You probably already knew that. We certainly hope you did.)
Dobbs and the OverMan face off on stage, right in front of everybody. When things got hot, Dobbs ran away. This occured during the Love Corpses song, This Is Our Best Song.
Dobbs Vs. Dobbs -- 'Bob' apparently prefers a more familiar enemy. Wherever there are two Dobbses, one must die. The real (?) Dobbs consults the real (?) OverMan before setting after the False (?) Dobbs.
OverBattle -- after vanquishing Dobbs, the sorely beset OverMan must do battle with yet another pretender (?). This sort of thing seems to happen at most Love Corpse shows.
Floppin' In a Bag, on stage, right in front of everybody. The audience, which you can't see, is also flopping in large garbage bags. This always happens during the Love Corpses song, Floppin' in a Bag.
Philo BEFORE: Almost Human -- a very rare shot of pre-transfiguration Philo, seen for once without his surgical mask.
Philo AFTER: OverMan -- his post-transfiguration physical appearance. The change is a very painful process; trying to play the sax while it happens is not easy.
False OverMan -- we used to sell these masks, but nobody ever bought a single one, so we put them on Bobbies like this one before we kill them.
Guitarist Dr. RAY HEY on stage, right in front of everybody.
Lead singer Col. SPHINX DRUMMOND on stage, right in front of everybody.
The Swinging Love Corpses on stage, right in front of everybody. Somehow our close-ups of bassist LAFE COWABUNGA and drummer SKIPPY 'MOJO' BUTCHER got lost. Too bad; they were really studly poses. But I'm not gonna try to find those particular video frames AGAIN.
Ray Hey JAMS STUDFULLY on stage, right in front of everybody.
Dr. HEY strikes yet another noble rock-star-like pose. Still your hearts, girls.
SPHINX belts out his song, Combat Jones.
MYSTERY PHOTO!! Figure it out and win the big prize. You might want to download this and send it to friends with NO EXPLANATION.
Puzzling Evidence shoots all the other pictures except this one. Well, not all of them. I shot the clearer ones.


Photo Essay 2: DOBBSIAN VANDALISM

These pictures were taken by Rev. Noah Stewart in Canada, and WOULDN'T THE MOUNTIES LIKE TO GET HOLD OF THE CULPRIT! Neither Rev. Stewart nor the Church can take responsibility for these heinous criminal defacements of public property. He only took the pictures. We only displayed them. (NOTE: There are hundreds of photos like this in the Church archives, but we don't have a scanner yet. SEND US YOURS! The scanner, that is. But if you only send the pictures, JPEG-'em TOO, if you can.)
NEW: ELEC-BOB