art by golly

OLD SUBGENIUS VIDEO CLIPS
These will play on either Macintoshes or PCs. The clips range from 15 seconds to one minute; each consists of an MPEG movie and its WAV soundtrack. Download both the picture and the sound. The sound .wav must be in the same folder as the picture mpeg to play.
The standard MPEG viewer for Macs is the shareware Sparkle 2.4.5 (older versions don't play the sound). If you don't have it, you can download it right now from:
ftp://ftp.ncsa.uiuc.edu/Mosaic/Mac/Helpers/sparkle-245.hqx
PC users will need VMPEG1.7 (older versions won't do). Three new sources for this common shareware:
Univ. of Delaware: http://www.udel.edu/ps/sw/vmpeg.htm
TO FTP IT NOW: http://www.udel.edu/ps/sw/vmpeg.exe
OR from:
http://www.cs.ucla.edu/csd-grads-gs2/jperry/WWW/vmpeg17.zip
OR from:
ftp://ftp.spry.com/web_server/downloads/win95/utility/viewer/vmpeg17.exe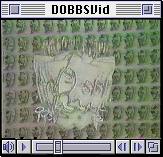 DOBBSVid
pic: 1.4mb
sound: 281k
This fine video dingleberry runs about 30 seconds. It's a collage of some of the most psychedelicized moments from our DEVIVAL VIDEO BACKDROP footage, which is itself a toasterized version of the more visually crazed bits from ARISE. You'll want to crawl through it frame by frame. Looks (and sounds) especially good in reverse.
Wanna see a CHEESY, SILENT GIF-Movie PREVIEW?


PSYCHEBOB 1
pic: 3.3 mb
sound: 347K
Exactly like DOBBSVid, but completely different.


PSYCHEBOB 2
pic: 2.5 mb
sound: 347K
Precisely similar to PSYCHEBOB 1, only utterly dissimilar. You might enjoy our multiscreen silent GIF-Movie PREVIEW.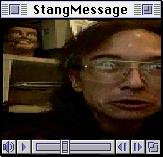 A Personal Inspirational Message to YOU from Rev. Stang
pic: ONLY 726 k!
sound: 198k
Our shortest download, making this one a painless experiment if you're not sure how all this video crap works.


Janor Hypercleats Vs. The Swingin' Love Corpses!!
pic: 644 k
sound: 297 k
Another short, easy download. St. Janor Hypercleats joins THE SWINGING LOVE CORPSES to perform the classic SubGenius spazz-hymn, Dobbs Approved, at the Atlanta Dragon Con Devival, 1994.


GWAR Collage
pic: 5.8 mb
sound: 693 k
A full minute of the most sickening moments from GWAR's amazing Ragnarok tour. (For more details and another video, see the SubGenius GWAR MEDIA COLLECTION.)


We need to hear feedback from users telling us how this highly technoid process is actually working. So RANT BACK AT STANG, or BUY MORE SUBGENIUS VIDEOTAPES!!! (Remember -- they're NOT COPY-PROTECTED -- so when you buy one, you're getting potential copies for all your friends for COST OF TAPE ONLY!!!)