SubGenius VIDEO STASH 5

'FIXED' on 3-26-1BX (SCROLL DOWN FOR LOADS OF NEW GIFMovies!)
---
New SubGenius VIDEO DINGLEBERRIES
(plain MOV files -- will run on any platform).
PLAY ALL OF THESE ON "LOOP"!!

---
"BOB" 2.mov by Leo Aman
1.3 mb -- AND WORTH THE WAIT! This is some gorgeous 3D animation w/ sound.
PRAISE "BOB" .mov by JAG 200k)
FUCK EM .mov by JAG (200k)
FIRE MOUNTAIN QTVR by JAG (83k)
JHVH1.MOV by Leo Aman... 1.7 mb!!
---
FROM REV. NUMEN REMISSIONIS:
UNIVERSE OF "BOB" .moov at highest resolution: 1.8 mb
BobUniv.sit -- Stuffed version of the above,1.4mb
UNIVERSE OF "BOB" 314k -- lower quality but much faster download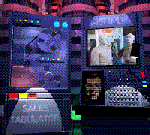 MINI- Xist ACCOUNTING DEPT. 182k -- lower quality but much faster download
Xist ACCOUNTING DEPT. 800k moov file
A brief clip, converted to a Quicktime movie, from a stolen security videotape revealing some of the inner workings of the X-ist accounting department annex, reportedly housed deep below ground at Dobbstown. Procuring this intelligence, many lives were lost. Well, at least made inconvenient; I think some people missed appointments, and I have been told one waylaid agent didn't even make it to Blockbuster before it closed. Another missed a rerun of "Cheers".

Yours in slack,

The Barely Referenced Numen Remissionis
By claw and qwerty of Archdeacon Torquemada Converter
---
From Don Buckley:
BOBBALL.MOV (150k)

SAUCERS.MOV (240k)

Both of the Above, in One Zipped File (250k)
PYRAMIND.AVI (a repost of another Buckley mini-vid that should work better for you this time. (PC only))

---
GET A LOAD OF THIS:
A "virtual world" from Louis Atkinson. You'll be ASTOUNDED by the interactive Spinning Massive Pipe and the antigravity Shields of Slack. If you have the Voyager plug-in or another that allows your browser to read .wrl files, click above. If you don't, but have some other app that will run .wrl files, you can download the 450 k package for later.
---
Don't miss our page of INSANE SCENES in QUICKTIME VR SWIVEL-VISION

(MOV files that will run on your friendly neighborhood QTVRPlayer, and display bizarre 3D scenes in 360 degrees as if you were a camera on a tripod, panning around and up and down, zooming in, etc.

---
The rest of these are all PLAIN CROSS-PLATFORM VIDEOS that should run on PC or Mac once downloaded. ALL are made specifically to be played as LOOPS, so always set your movie player accordingly!
SMOKING PIPE by Rev. Charles Mangin
2.2mb
This is the classic ever-smoking Bowl, as seem in "Bob's" SlackTime Funhouse as Director and GIFMovie files. IT NEVER GOES OUT... unless you forget to set the player to 'LOOP.' Maybe that's Dobbs' secret -- his REALITY is set to 'LOOP'.
See Here for a GIFMovie preview.
---
THE GOO MUCH SERIES
Thanks to a donation by Rev. Friday Jones, we came into possession of a cute little program called Kai's Power Goo. It has endless possibilities and can be SIGH-KEE-DELIC as HAYELL even in the hands of beginners. The original "Goovie" files which it produces have to be seen to be believed. Needless to say, the starting image we use for any experimentation with a new graphics program is the full-color Vreedeez Dobbshead.

One can save these mega-morphing images as QuickTime/AVI files, but they're HUGE. We have gone to some effort to reduce these incredible loops down to manageable cross-platform all-purpose files... movies which still run smoothly, with good detail, but they're only about the size of a playing card on your screen.

Our premiere Dobbshead Goovie, "Ob Took Goo Much," was done in four parts during a long 'jam session' by Princess Wei "R." Doe, Queen of ALL the UFOs, and Rev. Ivan Stang. The versions offered for download below are what we consider the best quality-vs.-shortest-download-time compromise:
froppin3.mov -- 1.1mb
pinchbob3.mov -- 677k
surprisebob3.mov -- 740k
extremebob3.mov -- 970k
All four of the above have been editted together and then reduced even farther down in size and motion into ONE SINGLE ENDLESSLY-WARPING DINGLEBERRY, which you may prefer. It's not quite as large or pretty, but it's the whole thing:
Ob Took Goo Much -- 1.2mb
Wanna see a GIF MOVIE of it? GooMuch.gif
It would also be possible for us to offer here the really high-res, large-screen versions of these, as follows, and we will IF ANYONE REQUESTS 'EM:
GooMuchbig.mov (3.5 mb) GooMuch.MPEG (3 mb) extremebob2.mov (1.7 mb) froppin2.mov (1.9mb) pinchbob2.mov (1.1 mb) surprisebob2.mov (1.4 mb)
---
BOSCHORGY -- 850k
This was originally a static if SICK photo collage by CUTHULU; Rev. Friday Jones rendered it into a pulsating porno-motion mess.

X-Files -- 347k
I, Stang will admit that the very first thing I GOOed was a random porno binary .
---
The Hundredth Bonobo -- 1 mb
Half a dozen different graphics programs were used to produce this rather abstract but obviously sexual Cosmic Fuck between the Souls of two True Yeti Mates. Useful as a self-hypnosis device; not really prurient on any level. I, Stang put this together one night after a rock concert. Technically, it's my first piece of computer animation.
For Mac users, or PC users who can UnStuff StuffIt docs, a smaller version is:
100th Bonobo.sit -- 726k

Here's a JPEG of the original psychedelic image and a GIF MOVIE , by way of previews. Speaking of which...
---
GIFMovies
I LOVE these low-res little boogers, and they've been coming in from all quarters at a mile a minute (579b/sec). We'll find inappropriate places to display these tiny movies on other SubSITE pages, irritating the hell out of those with slow modems and old gear, but in the meantime you can grok 'em one at a time in their simplest form, below. Unfortunately, Explorer doesn't automatically loop GIF-amations... bummer.
PipeMorph by JAG
ColorX_Day by JAG
talkingBobDeath by JAG

BOB/JAG morph by JAG

More madness by the mysterious JAG may be found at
Http://www.eden.com/~arena/jagshouse/jagshouseone.html
and the download site is:
Http://www.eden.com/~arena/jagshouse/Shareware.html
---
GIFMovies by Irreverend Friday Jones:
---
This one's a total mystery. It was sent to Jesus and He doesn't know who did it. It's a real brain-splitter:
BOBWORMM.GI

STERNO's GIRL-PIPE GIFMovie

Two new warpos by Rev. GUY HOYLE:
BOBSCAT.GIF
STRETCHB.GIF

By Rev. Charles Mangin:
pipe_movie.gif (a GIF version of his mighty SMOKING PIPE)

The Giant Dobbs Goovie in an endless GIFMovie form:
"Obs Took Goo Much"

FIST -- 17k from Jeff Bearden

BOBMOVIE.gif by JAG -- 35k

bobripplemovie.gif by JAG -- 130k

UNIVERSE OF "BOB" (Small Version) -- 150k
by Rev. Numen Remissionis

UNIVERSE OF "BOB" -- 495k
by Rev. Numen Remissionis

XIST ACCOUNTING -- 297k
by Numen Remissionis

TUMBLINGPIPE.gif by JAG -- 66k

We just LOVE peeback from users telling us how these highly technoid processes are working. So RANT BACK AT STANG , or BUY MORE SUBGENIUS VIDEOTAPES!!! (Remember -- they're NOT COPY-PROTECTED -- so when you buy one, you're getting potential copies for all your friends for COST OF TAPE ONLY!!!)