X-DAY XIV
JUNE 29 - JULY 5, 2011,
Wisteria Event Campground,

about 20 minutes from

Athens, Ohio
NEW (as of 7-23-11): Detailed Photo Essays, Text Reports and Audio files (of which the collection has just begun, with many more to be added, plus videos):
The 14X-Day Photo/Gossip/Recordings Stash
PREACHERS/PERFORMERS/EVENT-MAKERS/CHEFS:

This is THE SubGenius World Destruction Event and Annual Migration to our spawning grounds!

ARISE, MUTANTS!

HOW MUCH??? Only $30. The cost is not very brutal. $30 for the whole week -- for ordained SubGenius Ministers. If you aren't ordained yet, you'll have to spend another $30 to become ordained. A CHEAP PRICE for SALVATION, if you think about it. Also a cheap price for ANY weekend-long, totally spectacular and weird campout -freakout-musical/religious event. You can register at the event (after 1 pm each day).
NOTE: CAMPING is another $10 per person, paid to Wisteria. There are motels nearby, in Athens, Pomeroy, Ravenswood WV, and Carpenter.

All art this page: Dr. K'taden Legume except "Get Excited," by Rev. Bruce Perry
---
It's time to KISS ALL CALENDARS GOODBYE!
There'll be


Full Immersion Mass Bobtism!

SubGenius Costume Ball / Beer Tasting!
(This year's theme: AN EVENING OF ANACHRONISTIC ANOMALY)
SPOUTING! with spewing

Dr. Dark's BULLDADA BADFILM DRIVE-IN of the Damned ! Featuring the LOST SKELETON duo, BIG MAN JAPAN, PLANET TERROR and MACHETE (poster here)


THE BADFILM GRINDHOUSE -- nonstop bulldada movies and shorts for 6 days, presented by My Inner Spoiled Child (See partial list)

THE BULLDADA AUCTION! Bring weird stuff to be sold!

MASS SHORT DURATION MARRIAGE!

LIVE HOURS OF SLACK every day with Stang, Dr. Hal, Rev. Susie, Dr. Legume, Ministry of Slack, many more!

MASS EATING! Scrapple Toss, Pancake Orgy, 'Frop Beating, Time Killing!

THE BOBBIE AWARDS! SIDESHOW MARVELS!
TUBS AND TUBS OF PURPLE KOOL-AID!
ALT.SLACK TROLL SHOOT!
SPONTANEOUS DOKTORBAND COMBUSTION!
TRAINED PRAIRIE SQUID GIGGIN'-PARTIES!
(Free Debeaking Tools to first 5 giggees)
SPORTS FIGURE BODY PART LAUNCHING!
NUDE CHAINSAW JUGGLING!
'FROP ENHANCEMENT WORKSHOPS!
ACUBEATING!
PSYCHIC SURGERY!
HUMANFIGHTS!
LIVE FREAKS OF NATURE and ACID CASUALTIES!
FACE FUCKING BAT SPERM ANTIDOTE PUDDING COOK-OFF!
BOBBIE ROPING!
PRIVATE ADULT SEXHURT SEMINARS!
BONOBO CHIMP GOBBLIN' CONTESTS!
SELF-MUTILATING PREACHERS!
ODDLY NORMAL-SEEMING PEOPLE!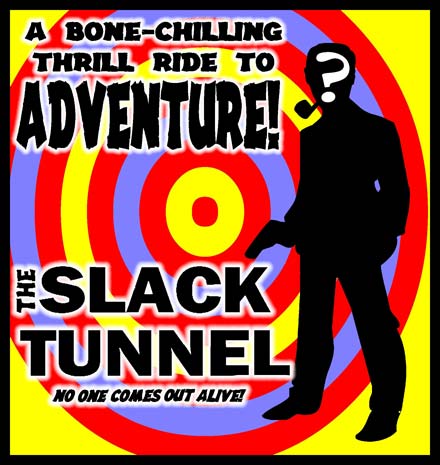 SEX GODDESSES, ELDER GODS, and XISTS!!!

IMAGINE -- the SHEER POWER TO BE BULLIED BY FAMOUS SUBGENIUS ZEN MASTERS FOR THE LAST TIME!!
IMAGINE -- YOUR BIG CHANCE to BUY EVERY SUBGENIUS TRINKET, ARTIFACT and GEEGAW EVER MADE by ANY SUBGENIUS at the "Final Fire Sale Black Fleece Market of Slack SALES SHACK".
IMAGINE -- YOUR BIG CHANCE to meet those amazing, intriguing individuals you've heard on the radio, seen onstage, or read in alt.slack and the holy Church books -- AND, POST-RUPTURE, ATTACK THEIR ESCAPE VESSEL BATTLE PLANETS WITH YOURS!
IMAGINE -- YOUR BIG CHANCE to WIN BACK YOUR SOUL!!!
You'll be able to tell your great-great-great-great-great-great-great grandkids, "I was at the X-Day Final Gathering in legendary Wisteria... Yep! 'Fropped up with the great Dr. Legume hisself there... even fucked Connie Dobbs! And "Bob" fucked me -- right good, I'd say!"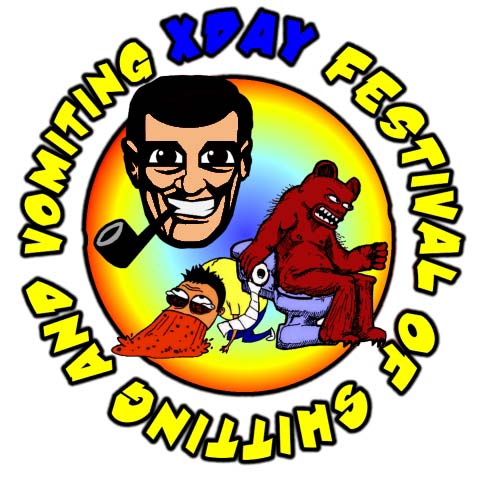 "The X-Day house party and fin d'seacle freak show "parade" is something even the back-to-gabbers do, with a pumped up number of beats per minute, ten pils down your gob for 20 hours of chomping your bit, no ambience save for a couple of yellow cube lights haven't been able to kill.
"Also consider the fact that bouncing around on bad 'frop (probably Lunk, if nothing worse) or bad Church Air (probably jenkem, if nothing worse) is considered a definite no-no, never mind what you heard. And then, is it really your idea of fun to stand around some crossroads with no clue as to your whereabouts, with an Ohio map in hand which has snakes for roads crawling about, because you're hallucinating like an oilslide? Well then, simply get to know a few people first, which is not such a hard thing to do at X-Day Drill, and all kinds of possibilities will, if need be, arise by their own accord. In the meantime, remember: there's much more to be discovered!" - X-Day Guidebook (well actually from an Amsterdam guide book, but it works)
IT HAPPENED BEFORE!
Some of it, anyway
Check out these in-depth adults-only photo and text reports from alt.slack and beyond, by the SubGeniuses who lived through it
VIDEO FROM PREVIOUS X-DAYS:
ALSO: The entire edited new 6X-Day documentary is now available in our catalog AS A FINISHED DVD

THINGS WE NEED:
HELP from people who are not totally incompetent. We offer "JOBS" like trash clean-up, stage decoration, tech help, airport and bus station runs, product sales, etc., whereby you can work off your $30 entrance fee. This is called SLACK BARTER. Email Priestess Pisces, who is in charge of that and just about everything else.
---