6 Xaviera's
We took a tram to where Hal and Rocknar were staying, St. Xaviera Hollander's Bed and Breakfast, just in time for the grand Thanksgiving Dinner, American Style, that Rocknar had arranged and provided with St. Xaviera and her husband, Philip de Haan.
http://www.xavierahollander.com/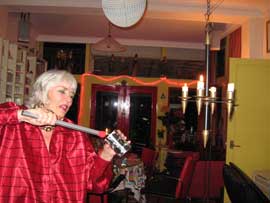 Xaviera Hollander has had a most illustrious and colorful career. (http://en.wikipedia.org/wiki/Xaviera_Hollander) I, and everybody else alive in the U.S. then, read her book The Happy Hooker in the 1970s. Something she said in that book keeps me brushing my teeth regularly. In various movies she has been played by Joey Heatherton, Lynn Redgrave and Martine Beswick!
Rocknar's Mad Scheme Worked!
The Thanksgiving dinner was a better-than-traditional U.S.-style Turkey Dinner, served up by Xaviera's assistant Marvin (from Philadelphia, if I recall correctly). Rocknar conceived of this big party for the SubGeniuses and Xaviera's friends, and some were skeptical, but, by gum, it came off just beautifully!
They managed to feed the whole posse of SubGenii. The meal was memorable and so are Xaviera's friends. I think I scared a lesbian couple when I was called upon to "explain" the Church, but we got on well with their charming friend Gloria and a Pleasure Coach (!) named Victoria Vesta. http://www.divinefemininetouch.com/
And, thanks to Joseph Daddy of Jesus, I now own a FEZ! Not a Shriner fez, which I already had two of, but a real Moroccan fez, brought back from Fez, Morocco by Joseph. It looks sexier on Wei, though. Hal got one too... we modeled them at Xaviera's. Wearing a fez makes me feel like a regular Occultist.
Carl and Suzanne already knew Xaviera and Philip, and Pope Black had already ordained her as a SubGenius Saint when he had been hired by her as a cook.
Xaviera is a skilled and gracious hostess! Rocknar and Hal still had buckets of Cannabis Cup entries that they couldn't take home to the U.S., so everyone but the lesbians were happy to help go through that material. (The lesbians seemed to be horrified by everything happening around them for some reason!) When Rocknar brought out his stash of "space cakes" and hash muffins, handing them out while devouring more than a couple himself, I worried that he wouldn't be able to awaken for his plane trip home.
That happened to Wei and me instead, two mornings later.
Among the samples:
Sahara Fudge
Alegria
Brainstorm Haze
Kalasjnikov Haze
Amazing Haze
Mazari Moroccan Ice
Kushage
Rifman's Habibi
White Dolphin
Bubble Gum
But in my opinion, the best "frappy" of my whole trip was home grown, not from any of the commercial outfits.
I wouldn't want to get anyone in trouble, though.
That Philip de Haan is one cool stud! He even drove us and Bubble Man home after the party.
Once we got back to our room, we started trying to calculate what rate of abuse would be required for us to finish off our own stash in our final 24 hours. Our friends went to Soundgarden, and then some other bar, for what I understand to have been fiendish and injurious partying.
---
FULL-SIZE PHOTOS PAGES******************* TO PART 7, THE LAST DAY
Back to Amsterdam Main Index
---
---