Feb. 16, 2010 - Atwood Lake Resort, where ACE has held Winterstar for the last 27 years, is going out of business, so this may have been the last Winterstar at this particular ski lodge. Because of changes in ACE membership, Princess Wei put in a lot more of the organizational work for this year's festival than she normally does. I used it as a deadline to finish up my microbe studies and videotaping. I was interested in finding a way to make my shordurhobby entertaining to a not entirely scientifically-minded audience.
I worked obsessively on five MICROSCISQATSI videos and some ambient Artmatic gloopmation for about a month. I burned it all to DVD last Thursday, and mailed a copy to the musician, SPEED CAVE, for approval -- which I have just gotten, so I guess I can put some of them on YouTube.
MICROSCISQATSI Part 1: "The Seahorse King"
MICROSCISQATSI Part 2: "Lament"
MICROSCISQATSI Part 3: "The Story of Stubby Stenostomum"
We threw together minimal swag and food supplies on Friday morning, and left the Slackermansion for Atwood Lake (a ways outside Canton, Ohio) Friday afternoon. It snowed the whole way. Light snow. It left beautiful patterns on the evergreens and everything else lining the highway.We got to Atwood about 7 pm, late due to the weather.
Some of Winterstar, such as the devival part, is held in a big fancy ski lodge, but much of it takes place in cabins that line a lakeside road, where most of the attendees stay. Various parties traditionally take place all Friday and Saturday nights in their respective cabins: the Space Jam Cabin, with electronic music (and my ambient videos), the Drumming Cabin, the Bardic Pirate Cabin. This year registration was taking place in Cabin 17, the Drumming Cabin, as was a huge pot luck dinner, accent on the luck, as well as a collaborative art project, so that is where Wei and I spent much of Friday night.
Considering that this was an indoor event for the most part, it had as Starwoody a vibe as possible. The Drumming Cabin featured constant sizzling drumming and extreme use of Xmas lights. A ring of candles and opalescent marbles ("gruples," a form of pagan money) in the center of the floor formed a symbolic bonfire around which to dance and cavort, and for me to spectacularly trip over trying to get back from the bathroom. Because Valentine's Day was Sunday, our friend Rev. Linda Murphy (of The Cult of the Living Bull) had turned her cabin suite into a movie-set's worth of Valentines gaudiness, all pink and heart-y and rose-y. Despite this lovey-dovey setting, many SubGenii found Slack in that room. One of these was Dr. AgonFly, who is currently dating the youngest/cutest ACE organizer. [I have now officially lost count of the SubGenius-pagan match-ups and matings that have occurred due to ACE events.]
My pal and rival cult leader Dennis Murphy showed me a book he had been reading, called PRONOIA by Rob Brezsny. He directed my attention to a blurb on the back cover that, to my great flabbergastment, went like this:
"Brezsny holds his own place next to other cultural shamans such as Robert Anton Wilson, Timothy Leary, Reverend Ivan Stang, William Burroughs and Ken Kesey." -- PopMatters
I was excited to see my own name included among those illustrious ones, until I reminded myself of two important facts: a) the other names are of infamous DRUG FIENDS all, although drug fiendom is not all they are known for; and, b) they are all, technically, SubGeniuses. Pope Bob and Kesey both actually joined, and Burroughs and Leary, though too cheap to cough up the $30, each voluntarily contributed at least $30 worth of writings or recordings in support of the Church.
That blurb slightly blew the minds of some of the newer ACE members who only know me as Wei's husband, That "Bob" Guy.
We also met many new weirdos, most of them friends of Rev. Phat ManDee. One of them owns a 33-room hotel in the wilds of Pennsylvania, which he uses for giant parties. Maybe that'll be the site of the next Winterstar! A SubGenius named Rev. Janus came all the way from Boston. And I met perpetrators of an excellent instrumental band called MAYAN RUINS ( so named because their music sounds like it would go with walking around in Mayan ruins.)
The Space Jam Cabin never opened on Friday because one of the principals had car trouble. So I was up all night long in the Drum Cabin, dancing. NOT in the circle, like a pagan or caveman -- I don't do that. I stand back in a corner and vibrate. Wei spent most of the night jawing with her many girlfriends. I suppose they were oohing and ahhing over fabric-related subjects and other womanly things. Big dicks and such.
---
On Saturday, I woke up at 1 pm, as I do most Saturdays, which are most days now. ManDee and I were supposed to provide the main entertainment that evening, starting at 8:30 pm. And we did. But I was feeling so drained from dancing and blathering the night before that I just bided my time most of the day, hiding out in Cabin 23 rewriting my rant materials, reading monster nostalgia magazines and biology essays by Lewis Thomas, and checking the video projector system. At 7, Wei, ManDee, myself and Rev. Steve Scynic started moving all the various crap to the lodge meeting room, which unfortunately involved a lot of slogging of heavy gear through high snow and down long corridors and stairs. Setting up just the basics of something like this is surprisingly strenuous. There's the video camera and tripod - the projector and DVD player - the P.A., speakers and amp - and mic stands - and sound checks - the swag table - the costumes - the set dressing. The being polite.
As often happens, there was no non-destructive place to hang the Giant Vinyl Dobbshead, but the meeting room had a screen, so the DOBBSEDELIASTESES visuals were shown on that, in lieu of the usual single large static actual Dobbshead.
The room filled up with damn near everybody, and we did indeed start at 8:30, with the 1-minute SubG/MTV commercial. (Coincidentally, I was in preproduction on that when I attended my first Winterstar, in 1991.) Phat ManDee sang two jazz torch songs, then introduced me; I did a half hour of newer SubGeniusly one-liners, a quickie SubG 101 for the newbies, and the latest one-paragraphers from Dr. Onan Canobite, "my speechwriter." (His website here.) It being almost Valentine's Day, I performed the old ShorDurMar mass wedding, which had lots of couples and triplets groping each other, and since the previous day had been Phat ManDee's birthday, I led the crowd in singing the Happy Birthday song to her and then SPANKING HER BUTT. Her almost-BARE butt. It was clothed only in black fishnet, once she bent over and flipped her dress up. Rev. Anomie with her long black suede whip and I with my big stiff medical wrist brace did the whacking. I was startled to find that Phat ManDee's butt is HARD. She's a pretty hefty gal and you'd think a butt like that might ripple at least a little, but apparently she does exercises to make her butt-cheeks dance independently, so she is quite the hard-body despite her roundness. And god damn, can she sing.
After two more ManDee songs, Princess Wei joined her (and her prerecorded band) in two duets: "Dona Nobis Pachem," which I at first mistook for some kind of sinister Jewish ritual chant, and John Lennon's "Imagine." The latter had the whole audience singing along and half of them weeping, including me. I can't IMAGINE "Imagine" being sung at a SubGenius devival -- "Sympathy for the Devil" has always been more up our alley - but by gobbs, it happened.
Then it was my turn to unveil my special presentation, a narrated showing of three of the MICROSCISQATSI shorts followed by my 1976 porno Martian microbe claymation sex-education nature film, REPRODUCTION CYCLE. I was a bit nervous about this; I wasn't sure if this material could be made interesting to the non-initiated. But evidently it could. Many people told Wei afterwards that they loved all the microbe videos and gags. A few even told ME that! Anyhow we got no complaints. And we sold a decent amount at the swag table, thanks to swaggart Rev. Steve Scynic. I had donated $ to the event, but it was almost precisely what I made from swag -- so we broke even!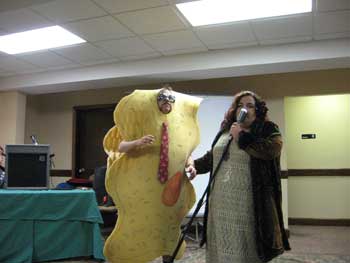 When my flea circus was finished, ManDee and her husband Tommy Amoeba closed the devival with a truly spectacular ending act, similar to what they did last X-Day Drill. THIS WAS NOT SOMETHING I FORESAW, but Tommy Amoeba performed a whole amoeba song ("Tommy Amoeba… the lowest form of life") -- IN AN AMOEBA COSTUME!! -- and very little else. In fact he was almost nekkid by the end but for a star-spangled thong.
ManDee climaxed the show by singing The Star Spangled Banner with her entire fist crammed into her mouth. I was surprised how few people stood with their right hand over their heart. Most just sat and laughed! Go figure.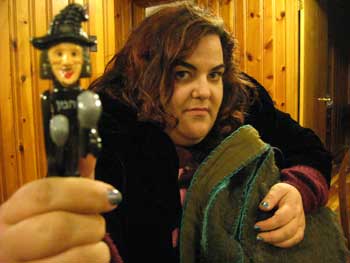 After the show, exhausted, Wei and I hung out in our secret hideout cabin with ManDee and St. Stymie de Bergerac. ManDee showed off her Boxing Hamen puppet-pen. I will strive to get some of the video highlights, such as this moment, online somewhere.
Finally we hauled ourselves out to Cabin 20, the Space Jam Cabin, where my ambient "oilslide" trippy-vids from last year were used as decoration for excellent improvisational instrumental jamming by Drummer Bob Mozik and Ron Slabe of Pyrosonic, along with other part-time drummers and dancers.
I videotaped the craziest part of this. Bob and Ron had activated a cool sound filter that, first, echoed anything coming through the mic, and then mutated the echoes so that they snowballed into madness. This sound effect was conducive to audience participation, as any hoot or laughter in the room would build in intensity. On one of the cabin day-beds there formed a "puppy pile" of women, women of all ages, and the occasional brave guy, who were basically laughing insanely at the echoes of their own insane laughter -- FOR AN HOUR!! And I don't think any of them were actually tripping. They might as well have been. After a while they started talking about forming a "LAUGHING CLUB" -- and then, when they realized they were taking the Laughing Club idea SERIOUSLY, they cracked up again. The signature slogan of the evening was, "STOP! YOU'RE HURTING ME." (From Princess Wei's comment at the beginning of the "SubGenius Numa-Numa Song" video.)
I crawled back to our cabin alone at about 3 am. There I devoured TWO of a dozen Banquet TV dinners which my gourmet cook neighbor Joe had inexplicably brought to the event. I love those things; they're the ultimate guilty pleasure and cheap thrill. They haven't changed in hundreds of years, not since my childhood. So SALTY! I crashed while Wei stayed up, carrousing in the Space and Drum Cabins until 7 a.m.
I pried her up at 1 pm Sunday, packed by 2, and then we hung out illegally in Cabin 17 until 6 on 2/14, eating and drinking up all the leftovers. (Numbers-kooks should take note of this paragraph!)
When we got home, we finished watching GRIZZLY MAN, the great Werner Herzog
documentary, which Rev. Modemac gave us on DVD for Xmas. That is a MUST-SEE for kook-watchers. It is a penetrating portrait of well-meaning kookdom gone grotesquely out of control. The subject, Tim Treadwell, reminds me uncomfortably of some of our more seriously disturbed Bobbies and Imabobs. Very similar mindset. Treadwell was a five-bodied kind of guy, and all five of his bodies were eaten by a bear.
On Monday, we recuperated. What we spent all day doing, which I was too coy to describe on alt.slack previously, was the watching of blaxploitation classics. First we enjoyed the modern homage/take-off, BLACK DYNAMITE, which is astoundingly accurate and very funny. Then we started in on the complete masterworks of the late Rudy Ray Moore. Last year, Dr. Legume donated a stack of ALL the RR Moore films and live concerts on DVD. First we watched Moore's last film, SHAOLIN DOLEMITE, which is a very, very sad piece of utter shit, truly pathetic. Then we watched his first film, 1974's much-imitated and highly inspirational DOLEMITE, which transcends an extremely tiny budget in many ways, and which proves the great Rudy Ray Moore was truly an insane SubGenius at heart. 
(I had the lucky opportunity to work in the 1990s with Rudy Ray Moore on the filmed parts of a video game, Duelin' Firemen, which sadly never was finished. But I had the privilege of showing him my glowing write-ups of his party records in my old book HIGH WEIRDNESS BY MAIL -- in which I compared him to Shakespeare -- and THE BRAG OF THE SUBGENIUS, which was about half inspired by Moore's masterful of "prison toasts" and folk tales -- the same underground tradition from which sprang rap music.)
SPEAKING OF WHICH:
Yesterday I got this email:
Subject: lock up the women and hide the children and tape up yer ass
"Stang, I thought you should be the first to know, before its even been officially announced.
Certainly, the endtimes are nearer than ever.....