X-DAY DRILL '97
COMPLETE PICS LIST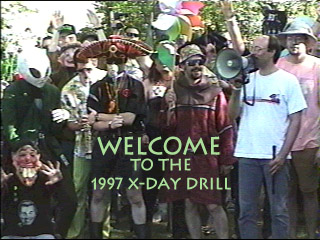 A RECREATION OF THE DRILL (like last year's report):
STANG'S ILLUSTRATED LOG
(OF THE VIDEOTAPES)
NEW PHOTOS JUST IN (July 26)!! From Wandarer, Rev. Chekey and Rev. Kim
Or, you can view every damn photo ONE AT A TIME:
The Baptism of the Shining Path of Least Resistance
panorama from TheCharlie

Panoramic Baptism Shot from TheCharlie

SubGenius Baptism
Sven's Baptism
Legume Reaches Out
Nude Baptism
Stang Speaks in Tongues

Rev. Susie the Floozie and the Saucer! (courtesy of TheCharlie)

Hate Bonfire
Susie Fries
Burning High Weirdness
The Burnproof Book
Jesus in Hell
Bonfire of Hate
We Will Burn You
bonfire1.JPG
P-Lil and Friday

The Last Supper
Jesus Ponders Jon-Benet's Head
Jesus Sells Jon-Benet's Head
Nickie, Matt, Friday, Dynasoar, The Lord
Bad Fish Sticks -- a Failed Miracle
THE LAST SUPPER PANORAMA
Knowing What Must Come to Pass, The Lord Ponders His Fate
Judas Joe Mama fingers the Christ
Jesus pleads for Help but Rev. Sakamoto denies Him
The Lord is harshly hauled away by modern Centurions
Jesus arrested; His followers laugh

The Crucifixion
The Stunt Jesus drags the Cross
Nail that Jesus
Medium Shot, Jesus on Cross
Medium Wide shot, Crucifixion
Close up of suffering Jesus
Detail of Bloody Hand
With Pipe
The Defiled Child Rachel Crowns the Bloody Jesus
Crowd mocks the Lord
The Fly Jesus
Long shot of 'Calvary'
And Lo they mocked Him
Dead Jesus in a car trunk

Some Movies
Papa Joe Mama GIFmovie
Same Papa Joe Mama contortions, as a QT or .mov

GIF Movie of The Bleeding Head of Arnold Palmer launched with a catapult made from a lawn chair
PalmerHead Launching MOV

Hot Oil Wrestling Matches
Susie the Floozie bites Stang's ear
Butt Spank (note brand of shorts)
Oops!
Friday Jones vs. Rev. Ivan Stang
IrRev. Jones rides greased preacher
Stang shamed beneath Sister Jones
Victory of the Bitches
Stang's Punishment
Jesus H. Christ Devilacqua vs. Pastor Craig
Rev. Pee Kitty vs. The Redneck Stunt Jesus
Jesus vs. Pee Kitty
Pastor Craig and Pee Kitty cheat, doubling up on Jesus Christ
The two Jesus Brothers crucify selves in triumph
Dr. K'taden Legume vs. Rev. Ed Strange
Rev. Nickie Deathchick vs. Miss Sakamoto

Secret Map to the X-Day Drill Site

On Stage
The King of Slack Monster
Bill T. Miller
Sister Susie the Floozie preaches
A SCARY HEALING!
The lovely Dr. Dynasoar sings
JHVH HATES PHRED
Steve Slack
KILL 'BOB' in concert
YOU RANG (Stang, Miller duet)
Stang preaches or yells
The Audience
Rev. DK Jones rocks out
Modemac and Stanky
Dancer with Zurround
Singer with Zurround

The Time Machine
Rape of the Sabine Eloi
Friday's Blind Date

The Ugly Parade
Separated at birth?
Pastor Craig, Ugly King
The Grand Parade
NHGH
This is a Mutant
The OverMan and his UnderMen
Crashed Saucer!
Saucer Crash and Alien, frame 1
Saucer Crash and Alien, frame 2
Saucer Crash and Alien, frame 3
The Mutant and Jesus
Rev. Nickie Deathchick's death march
Jesus's Hair done by TransDobbs
Misc. Parade
Aliens 4 "Bob"
Misc. Sights:
The Ugly Parade
The Launching Catapult
Jon-Benet Ramsey in a Box
Susie's Happy 5th
Jesus runs over Dobbs
Legume attempts cardiovascular ressuscitation on Dobbs
Susie's Vomit Altar
Dobbs and his Saucer
7 a.m. Countdown
Kool-Aid Mass at 7:00 am
Legume and The Old Dobbs of the Sea
HOT TUB!
How S.P.U.T.U.M. handles Spammers
Burning Cross
Cross Burning

Anomie
Drill Organizers Dynasoar and Jesus
IrRev. Friday Jone$
KING OF ALL SLACK, Bill T. Miller
someone else
Col. Buford Zaius
Legume's Fucked Up Dobbs
someone else too
Legume and his Drunk Uncle "Bob"
Catfish Legume
Dr. Dynasoar, Yeti Warrior
Friday Jones, about to get Head
Jesus and A False "Bob"
Rev. KimBob
someone else too too goo
Rev. Nickie Deathchick
The Transexual Dobbs
Pope Phred, Rev. Steve Checkey, and Rev. Nickie
Rev. Pee Kitty and Rev. Unibomber
Legume
Legume preaches
Rev. Dave Lynch
Popess Lillith and She-Dobbs
Stang shows tittie
Rabbi Heather and Rev. Ed. Strange
Rev. Shining Path of Least Resistance
Rev. Toth Wilder and 'Catherine'
Rev. Unibomber's leg
---
PICS FROM THECHARLIE!
INDEX OF SOME of these PICS 1
INDEX OF SOME of these PICS 2
St. @ndrew4
St. @ndrew
Jon-Benet
Bill T. Miller
King of Slack onstage
Carry
Pastor Craig
The Cross
The Cross 2
DK Jones live
DK Jones
Dyna's dress
Pope of Berea, Lou Duchez
Dr. Dynasoar
Dynacuth
Rev. Susie the Floozie
IrRev. Friday Jones
Group Grope
Healing
Rev. Jack's representation
Jesus and Jon-Benet
Jesus with knife
Jesus 7
cuthulu/aramchek
Keys
Legume
P-Lil
Lurch
Lynch
Lynch 4
Papa Joe Mama
Modemac
Modemac on stage
Stang-money
Myrkury
NAME
Revs. Nickie and Matt
Cold Kevan Smith
Pope Phred
Phred 3
Pied
Emmanuelle
Rachel
Pee and Uni
Dave Lynch
Miss Sakamoto
someone else
Rev. Spike Jonez
Stang
Baptism of Stang
Rev.Steve
The Last Supper
Hot Tub
Rev. Unibomber
Emmanuelle's Chest
Wandarer
WHIRLPOOL IN THE BAPTISMAL FONT!!


STREAMIN' X DAY DRILL '97 REAL AUDIO SLACK!
HOUR OF SLACK X-DAY DRILL EPISODE NUMBER ONE, IN REALAUDIO!
HOUR OF SLACK X-DAY DRILL EPISODE NUMBER ONE, IN REALAUDIO, PART 2!
---