X-DAY DRILL '97

"...a LITTLE TASTE of DOBBSTOWN!!!"

Brushwood Folklore Center in Sherman, NY -- July 4-5-6
To prepare for the Rupture and the Arisal to the Saucers of the Sex Godesses from Planet X.
This is THE LAST X-DAY DRILL -- the LAST JULY 5th before we KISS ALL CALENDARS GOODBYE! -- the last chance to join with other demonimations, double wise full bore kooks and True Believers of all Dobbsworthy faiths and anti-faiths, to scare the shit out of the norm-worms... and PROBABLY OURSELVES TOO!!
"My parents went to the X-Day Drill and all I got was this lousy chip at
the base of my skull."
*****************
FROM DR. LEGUME
IF YOU ARE NOT PLANNING TO ATTEND THIS, THE FINAL DRILL BEFORE X-DAY, THEN YOU WOULD BE WISE TO FOLLOW THIS ADVICE: KILL YOURSELF RIGHT FUCKING NOW! STICK A GUN IN YOUR MOUTH, CRASH YOUR CAR, OR MIX PHENOBARBITOL WITH VODKA AND BAG YOUR FACE LIKE THAT OTHER STUPID UFO CULT, BECAUSE THIS YEAR'S DRILL WILL BE THE MOST INCREDIBLE EVENT EVER TO OCCUR ON THIS MISERABLE DIRTBALL OF A PLANET, BETTER THAN THE DAY YOU LOST YOUR CHERRY, BETTER THAN THE DAY YOU PUSHED YOUR FIRST PINKBOY IN FRONT OF A SPEEDING TRAIN, EVEN BETTER THAN THE DAY YOU FIRST FOUND ''BOB''!!! THIS DRILL WILL MAKE LAST YEAR'S DRILL LOOK LIKE A CHRISTIAN BARBECUE, BECAUSE THIS YEAR WE WILL BARBECUE CHRISTIANS FOR REAL!!! THERE WILL BE PUMPKINS FILLED WITH TOOTHLESS, DECLAWED SQUIRRELS TO FUCK, WIRE-CAGE HELMETS FILLED WITH FACE-FUCKING BATS, NAKED SUBGENIUS BABES LOUNGING IN POOLS OF LIVING JELLO, GIANT VAGINAS THAT WILL SWALLOW YOU WHOLE AND THEN REGURGITATE YOU. THERE WILL BE FREE SURGERY BY NOTED SUBGENIUS DOCKTORS, FREE NUCLEAR BEER SUPPLIED BY St.@NDREW OF CHICAGO, FREE BLOWJOBS FROM WHOEVER WANTS TO GIVE ONE. SHITFIRE, BROTHERS AND SISTERS, THAT ALONE WILL MAKE IT WORTH THE TRIP... BUT THAT'S NOT ALL!!! TRY YOUR HAND AT THE ''BOX OF DESTINY,'' TAKE A TRIP THROUGH TIME AND SPACE TO THE HOLY LAND AS YOU SIT DOWN TO "THE LAST SUPPER" WITH JESUS HIMSELF! WILL JESUS ESCAPE CRUCIFIXION AGAIN THIS YEAR, OR WILL WE FREE BARABBAS AND NAIL HIS ASS TO THE TREE OF WOE? DO YOU AGONIZE CONSTANTLY OVER WHETHER YOU ''MEASURE UP''? LET OUR BEST AND BRIGHTEST SUBGENIUS HEIRARCHITES STAND IN JUDGEMENT OVER YOU! WE'LL PUT YOU IN YOUR PLACE! ATTEND THE FIRST EVER SUBGENIUS MASQUERADE BALL, YOUR BIG CHANCE TO FIND YOUR TRUE YETI MATE WHILST BEDECKED IN YOUR WEIRDEST SUBGENIUS FINERY, SURROUNDED BY MUTANTS SO GODDAM DRUNK THAT EVEN PASTOR CRAIG WILL LOOK GOOD ENOUGH TO GET LAID. DID I MENTION THE FREE BEER THAT ST@NDREW IS SUPPLYING? OR THAT "JHVH HATES PHRED" WILL BE OUR OFFICIAL PARTY BAND? JOIN ME, DR.K'TADEN LEGUME, IN AN EXCITING JOURNEY INTO THE HEART OF DARKEST MEXICO, VIA THE ''QUANTUM TUNNEL''. EXPERIENCE A REAL DOWN HOME WITCH TRIAL, BUT BE CAREFUL...IF WE THINK YOU MIGHT BE A WITCH, YOU MAY WELL BE BURNED, BEATEN, DROWNED, HANGED,AND SPAT UPON. THERE WILL BE FIRE AND BLOOD THIS TIME KIDDIES, AND I OFFER FREE ADMISSION TO ANYONE WHO PROMISES TO COMMIT A GORY SUICIDE FOR THE ENTERTAINMENT OF HIS OR HER FELLOW SUBGENIUSES.
SO COME ON DOWN, YOU SICK FUCKERS, WE'RE PAINTING BRUSHWOOD RED AND CHANGING THE NAME TO ''HELL''. I KNOW I'M COMING, AND I PLAN TO HAVE A SEX GODDESS HANGIN' FROM MY EVERY DICK...AND SO CAN YOU ...IF YOU HAVE THE GUTS.
XXXXXXXXXXXXXXXXXXXXXXXXXXXXXXXXXXXXXXXXXXXXXXXXXXXXXXXXXXXXXXXXXXXXXXXXXXXXXX LEGUME OUT
*******************
We expect double or triple last year's attendance, now that everybody knows we REALLY DO hold the Nude Baptisms, Public Prairie Squid Love, Scourging of Jesus and Crucifixion/Burning of Dobbs, etc. Last time, we delivered EVEN THE OUTRAGEOUS SHIT WE PROMISED!! (Lurid photographic proof of last year's X-Day Drill debauchery -- full accounting of all acts of unnatural companionship.)
Latest (5-5) StangReport w/ musings re: X-Day
The Dallas vs. Brushwood Final X-Day Argument (from alt.slack) in progress
X-DAY DRILL RIDES Board
Latest Drill Rides News from Dok Dynosoar
BUT! -- this isn't the sleazy poebucker set-up that The Pink Inside You fears. Brushwood is COMFORTABLE -- the site of frequent pagan all night drumming and dancing festivals, 180 lush clothing-optional acres of rolling hills and majestic woodlands, with indoor hot showers, flush toilets, a roofed swimming pool and hot-tub area, a giant pavillion for devivals, and enough electrical power to keep TEN THOUSAND DOKTORBANDS CRANKING OUT THE HITS USING ALL THEIR EQUIPMENT, WHILE BREATHING CHURCH AIR, AND PERFORMING NASAL SEX, STARK NAKED, RIGHT THERE IN FRONT OF EVERYBODY, ALL NIGHT LONG!! The situation is SECURE. We will have our OWN "police." The folks who run the site, and the town nearby, are COOL with "BOB"! THIS IS THE PERFECT PLACE to PRACTICE and DRILL for the UTTER MOUTH-WATERING SLACK we'll be FORCED to undergo come 1998!!
NONE MAY STOP US -- and NONE MAY ESCAPE ONCE THE GATE CLOSES!!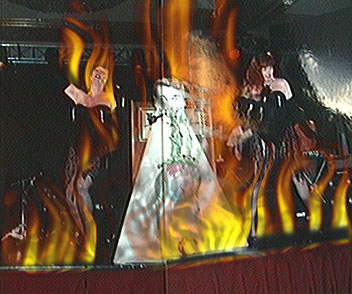 ALL-HELL DOKTORBANDS! STEEL CAGE GRUDGE MATCH TAG TEAM PREACHING ROUND THE CLOCK!
The stage and the audience will be DESTROYED TOGETHER and there will BE NO DIFFERENCE! The earth will open up and swallow ALL attendees!! FINALLY -- More Teats than Suckers of the Teat!
FINALLY... you'll
"Have Intercourse With A Beautiful Live Girl -- Or Damn Near Anything Else!"
Defeat the Conspiracy. Become the Conspiracy. FUCK the Conspiracy. We shall pound our FLESH one upon the other, and it will be SWEET SWEET MUSIC unto "BOB"! All that can be fucked, shall be fucked, until only the unfuckable remains. And then we'll fuck THAT!! We'll fuck the color blue, the moon, the smell of a daisy!
WE WILL SUMMON THE XISTS!!!!
********************
Humans to Do and Things to Kill
At the 1997 X-Day Drill You will see and experience things that may SHOCK you... that may even PERMANENTLY TRAUMATIZE and SCAR you. That's OKAY; it's all part of Dobbs' UNDERPLAN.

Camping and Worship Activities CLENCH SHUT YOUR EYES AND STRUGGLE WITH ALL YOUR MIGHT, TREMBLING AND SHAKING, SWEAT POURING OFF YOU, TO TRY TO IMAGINE...

SAUCERS SCREAMING OVERHEAD! GREYS SKULKING in the BUSHES! ACTUAL LIVE YETIS MATERIALIZING by YOUR CAMPFIRE! SIDESHOW MARVELS! SPONTANEOUS DOKTORBAND COMBUSTION! BULLFIGHTS! 'FROP ENHANCEMENT WORKSHOPS! ACUBEATING! BOBBIE ROPING! PRIVATE ADULT SEXHURT SEMINARS! ODDLY NORMAL-SEEMING PEOPLE! INSANE, IRRITATING BOBBIE ASSHOLES WHO WON'T SHUT UP!
NAKED BAPTISM with LIVE YETI BIRTHS! The swimming pool shall run pink with amniotic fluid!

CORRECTIONAL PHRENOLOGY
CLUBS and BLUNT INSTRUMENTS

Mixed doubles LOVE GOLF and Pagan Sacrifice -(Sacrificing pagans to Dobbs)

SUBGENIUS POTLATCH -- Moon-Calf and Rubber Novelty Item Cook-Offs
Special Award for Most Creative Use of Winking Lizard Sauce


COMPETITIONS:
Melon speed spitting; Wet T-Shirt Contest; Wet Boxer Contest; Wet Hair Contest; Psychic Condom Bursting; Virgin Neuron Deflowering; Law Breaking; Glossolafellatio; Best Headlauncher Catapult; Breast peeling; Grey Baiting; 100 yard Cookie Toss; Most Artisticly Shaved Spot on a Body contest; Best Stigmatic Hate-Casting; Most Extensive Elective Surgery; Origami Penis Folding; Freehand Cattle Mutilation; Long-distance Eyeball Popping; Cow Chip Upchucking; Psycho-Bestial Copronecrophilia; Bone Marrow Stump-Fucking; Aura Fencing; Dobbshead-Stencil-in-Sunblock-on-White-Belly Skin Art

MASS PEE-IN

BAD JOKES

The Human Pinata
Blindfolded Nude Dobbshead Hunt
Kirilian Pornography
Nude Oiled Beefaroni Philosophy Wrestling
FIFO Buffer Overflow Surfing
Strip Polka, Polking
23 hour hot-coal barefoot dance marathons
Bleeding Cancerous Organs of the year's deceased ShorDurPerSavs Launchings
Rain dances, frog and other spontaneous precipitation dances
Nine-Inch Worm Stand-up Comics

THE BATTLE FOR PASTOR CRAIG ISLAND/SubGenius SPIT FIGHT
-- No Weapons, but Any Bodily Fluid Allowed

The First "Goodbye" to A Day That Shall Be No More (in this case, July 6th)

Discussing the weather

******************

FREAK OUT the STUFFED-SHIRT "RESERVED" SUBGENII until THEY TOO JOIN THE "ORGY"!

THIS IS IT! This is where things start getting REALLY REAL! You'll notice we haven't mentioned any PREACHERS, BANDS or "SHOWS" yet. That's because those things will be YOU on X-Day!!! You wanna RANT?? Get up there and RANT! Audition for the next Slack Crusade Tour! You wanna show off your COOL SHIT?? The stage is YOURS. You want to get SO DRUNK that you waddle around with your pants around your ankles, drooling, before toppling over into the pond? THIS IS THE TIME AND THE PLACE FOR IT!! WE aren't gonna plan a GOD DAMNED THING!!

You bring the self igniting Bobbies and I'll bring the binoculars! OK, you bring the candy warheads and I'll bring the real ones! OK, you bring the pipe cleaners and I'll bring the cornstarch! OK, you bring the great big wooden cross and I'll bring the Hill of Skulls! You bring the Messiah and I'll bring the nails! You bring the pit bulls and I'll bring the pit! You bring the soda pop and I'll bring the tactical nuclear weapons! You bring the Greys and I'll bring the bug spray!

What do you have to lose, other than the Fear Of The Gods?

WE AREN'T KIDDING!! This is THE legendary yearly event! So what if the world is destroyed during the third one? This "Northern Dokstok," this "Brainbeau Gathering," ALREADY IS a thousand times cooler than Woodstock. You'll tell your great-great-great-great-great-great-great grandkids, "I was at the First X-Day Drill... Yep! 'Fropped up with Jesus hisself there... even fucked Connie Dobbs! And "Bob" fucked me -- right good, I'd say!"

DIRECTIONS:

Buy a map, locate Sherman NY.

BRUSHWOOD is just outside the village of Sherman in southwestern New York state, an hour from the Erie airport and about 2.5 hours' drive from Cleveland or Buffalo.

It's off Rte. 17, west of Chautauqua Lake in the southwestern part of the state, at the very tip, where it's reaching for and almost touching Ohio. 430 runs through it; 76 crosses through it, Rt.17 also. Go to Sherman.

Sherman's only one block long. Main Street = 430. Go to the west end of Main (Ford dealer on the corner) and turn south onto Co.Rd. 15. Take 3 miles to first 4-way intersection, which is Bailey Hill Road. Turn right (west) on Bailey Hill and go 1 mile. Brushwood is on the left, with a sign. If you get lost, you can call Brushwood at (716) 761-6750.

WHAT TO BRING:
This is a semi-developed camping facility (no RV hookups). Bring EVERYTHING YOU'LL NEED. NO ONE WILL BABYSIT YOU. There may be food for sale at the site, but there may not. Bring tent, sleeping bag, flashlight, food, cookstoves, first aid. (The water there is ok.) Nights can be VERY COLD even in July, so bring warm stuff. NO PETS OF ANY KIND.

VENDING
If your idea of true Slack is relieving others of the incredible burden of material wealth, then you are welcome to vend. There is no extra fee to vend, and you can sell anything allowed by State Law. Mind readings, Yeti-Love Massages, 'Zines, Psychic-Pstench-Portraits, it's up to you. Except Official Licensed SubGenius Merchandise: Of course "Bob" and the SubGenius Foundation are the only ones permitted to sell their merchandise at the X-Day Drill.

COST
Now you're saying,
"I want to be part of the SubGenius Gossip Grapevine, too! HOW DO I MAKE
ABSOLUTELY CERTAIN THAT I'LL BE A PART OF THIS ONCE IN A LIFETIME EVENT,
THIS VERITABLE "MIRACLE OF FATIMA"?? I DON'T CARE HOW MUCH I HAVE TO
SPEND!!"

You don't have to do a DAMN THING and neither do we. All you have to do is BE THERE, CASH IN HAND! (CREDIT CARDS or MONEY ORDERS ACCEPTED. NO CHECKS!! Hit the ATM FIRST!!) Or to by-pass the lines and rioters at the front
gate PREREGISTER (see Below)

$25 for ORDAINED SUBGENIUS MINISTERS
(MUST HAVE MEMBERSHIP CARD! We WILL have our computerized Sacred Mailing List records at the gate as well as a MWOWM v.1.0.2b4 Pstench Scanner.)

$40 for THE UNSAVED

PLUS $10/day for camping!

PREREGISTRATION FORM
PRINT IT OUT, MAIL IT IN
-----------------------------------------------------------------

NO one-day passes! * NO one gets in free or for a discount -- NO ONE, not even us!!!! Everyone pays! (Exception: we need a sound system. Whoever brings a sound system will have the event fee waived. )

Admissions will be closed each night between 1 am and 10 am. PLAN TO ARRIVE
OUTSIDE THESE HOURS. Parking is located at the front of the site; vehicles must be parked there after unloading inside. To insure privacy, security, and a plague-free event, you must sign a waiver and wear the ID triage tags given you. Brushwood is clothing-optional.

* Anyone wanting to put on something special, rant, or play, JUST SHOW UP AND DO IT. We DON'T plan on "organizing" this one AT ALL. Preachers or bands planning on ranting, etc., should let us know only so we can add you to the p.r.

Figure on your car or truck for storage of instruments. Also remember that there IS NO DISCOUNT for playing or showing up with equipment, unless you are one of the two groups donating your complete sound system to the event, and have contacted Jesus.

NEW DRILL RIDES WEBSITE!!
X-DAY DRILL RIDES Board -- Dr. Dynosoar is coordinating rides, car pools, etc.
Or email:
dmcclain@runet.edu
(@ @)\DynaSoar\___, Doktor DynaSoar Iridium, Scienfictiontologist
ll ll Yetii Genetii Research InstiToot, Somedamnwhere, VA
Clench of The One True Pipe Dream, ElectroChurch of the SubGenius
Field tested: Manufacturing doesn't have a test system.

Any other problems or questions: Email Jesus:
slack@subgenius.com
X-DAY'S A-COMIN'!!!

We had a great time with the Brushwood Staff last year. We
managed to brainwash and convert almost all of them. They
welcomed us back this year for two big reasons: 1. We weren't
assholes (at least not like the ones they're used to) 2. We kept
the site clean. Bring a trash bag with you and plan to take it out
with you. Brushwood isn't equipped to bring in industrial
Conspiracy waste control trucks, so it's a big help if you take your
garbage with you and put it in a dumpster at the first BIG 6 you
see.

********

DR. K'TADEN LEGUME!! PAPA JOE MAMA!! CIRCUS APOCOLYPSE!! CIRCUS OF DR. LAO!! REV. NICKIE DEATHCHICK!! LONESOME COWBOY DAVE!! EINSTEIN'S SECRET ORCHESTRA!! THE LORD JESUS CHRIST, SON OF GOD!! KING OF SLACK BILL T. MILLER!! REV. IVAN STANG!! SISTER SUSIE THE FLOOZY!! DR. PHILO DRUMMOND and THE SWINGIN' LOVE CORPSES!! THE SEXICUTIONER!

*************************************

Black Heliopter Shuttle Service from the nearest airport to the Drill site
Remote time controls for everybody!

*******

Art on this page is by IrRev. Friday Jones and Rev. Ivan Stang from photos by Mr. The Floozy and someone else