HOUR OF SLACK SubGenius™ Radio BROADCASTS
In the world of plain, ordinary FM radio,The Hour of Slack can be heard on (and bootlegged from) the following:

CALIFORNIA - SANTA CRUZ

COLORADO - BOULDER
KFBR 95.3 FM, Sundays 10 am
CONNECTICUT - STORRS
WHUS 91.7 FM, Saturday nights at Midnight
OHIO - CLEVELAND
WCSB 89.3 FM, Sundays 9 pm; 10 pm: Dr. Sinister's show with live SubGenius call-in
OHIO - Kingsville

FLORIDA - DADE CITY (near Tampa)

GEORGIA - ATLANTA
WREK 91.1 FM, Saturday nights at Midnight, followed by "Bob's" Slacktime Funhouse with Rev. Susie the Floozy and/or Lymph Node Institute.
Atheist Network, Tuesday, Thursday, and Sunday 10 am &11 pm ET (7 am & 8pm PT)
ILLINOIS - CHAMPAIGN
WEFT 90.1 FM, Thursdays 11 pm, as part of The Mental Vortex, 10 pm to Midnight.
INDIANA - KENDALLVILLE
WXEY 99.7 FM, Friday nights, 10 pm
MAINE - PORTLAND
WMPG 90.9 FM, Friday nights at Midnight
MINNESOTA - MINNEAPOLIS

PENNSYLVANIA - STROUDSBURG
WFZR 90.7 FM, Thursday, Friday, Saturday & Sunday at 1 am.
TENNESSEE - SEWANEE
WUTS 91.3 FM, Thursdays 10 pm
TEXAS - AUSTIN
KAOS 95.9 FM, Sundays 5 pm. Also tune in Slander Bob's Slacktime FropHouse, Sunday 5 to 9pm Central (repeated Tuesdays 11 am to 3 pm).
WISCONSIN - MADISON
WORT 89.9 FM, Thursday 10 pm with Rev. Velveteen Sly's PsychoAccoustics.
WISCONSIN - MILWAUKEE
WICA 92.9 FM, Sunday 2 pm with Rev. Yukon Jack
N. CAROLINA - GREENSBORO
WQFS 90.9 FM, Friday nights at midnight
ALASKA - ANCHORAGE
KWMD 90.7 FM in Kasilof and 104.5 FM in Anchorage, Saturday nights at 10 pm
CANADA - TORONTO
CKLN 88.1 FM, Sunday nights at 2 am (with St. David Bachner's show!)
CANADA - WINNIPEG
CKUW 95.9 FM, Saturday nights at 3 am
CANADA - VICTORIA
CFUV 101.9 FM, Thursdays at 3 pm
CANADA - VANCOUVER, BC
CJSF 90.1 FM, 93.3 cable FM, Thursdays at 11 pm

(Call the stations for new times, if airtimes have changed!)

And on SHORTWAVE: 6.955 MHz "on weekend nights," we've been told!!
---
Getting The Hour of Slack on your local station

Playing THE HOUR OF SLACK on your local station is REAL EASY. We'll send show copies on cassette to any station that wants them for $6.50 each. Stations (or individuals) are billed in advance, quarterly. That is a total of $78 for 12 Hours of Slack. To start your subscription, send check to: SubGenius Foundation, Inc., PO Box 204206 Austin TX 78720. You will be sent an invoice at the beginning of each quarter. If you start running the show, we can help publicize it to the SubGenius™ subscribers in the area.

AMAZING TECHNICAL BREATHROUGHS!
HEAR The Hour of Slack RIGHT NOW, THIS VERY INSTANT!
COMPLETE SHOWS
right here at SubSITE! -- in Ogg Vorbis or MP3, any time day or night; your choice of episodes!

or
LIVE NEW WEEKLY show streaming on WCSB, Cleveland
---
Playing THE HOUR OF SLACK on your local station is REAL EASY.

If you start running the show, we can help publicise it to the SubGenius subscribers in the area.
---
THE HOUR OF SLACK is STILL, as always, on MP3 CDs.
Scan the LOGS of the last few hundred shows!

BEST OF HOUR OF SLACK -- $7.50 A good one to start with -- the most requested bits from radio, media barrage tapes, and SubG music tapes. More or less 'explanatory' of the Church basics.

Don't hesitate to send us your own weird tapes for possible airplay! (But don't barrage us, and please put the GOOD STUFF at the BEGINNING, OK?)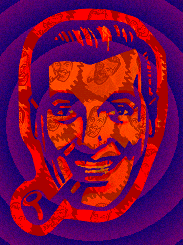 art by funway

"I CAME NOT TO BRING PEACE, BUT AN OBNOXIOUS RADIO SHOW."
-- J.R. "Bob" Dobbs, 1956-ecclesians 6:14.

Listen Also To:
---
The Puzzling Evidence/Dr. Howl Robins SHOW is still heard over most of Northern California. (KPFA in Berkeley, 94.1 FM, now on at 3 am Friday mornings following Over The Edge)
---
"Bob"'s Slacktime Funhouse
WREK 91.1FM Atlanta GA, 1am Saturday Nights


Featuring The Reverend Suzie the Floozie and Lymph Node Institute.
---

All art on this page is by Friday Jones, except the background and the bottom Dobbshead, which are by FUNWAY.


Back to Page One!
Back to Hot Church HQ News!
Back
to EARS of "BOB"!