They may be watching you...
ACT LIKE YOU AREN'T READING THIS!
Then YOU ARE ONE OF THE CHOSEN -- and that's why this pamphlet has "accidentally" fallen into your Web browser!


EVEN MORONS KNOW:
We have reached the juncture in history at which two previously impossible things have become technologically feasible: the destruction of all life on Earth, or Infinite Slack for everyone forever. Hopefully, these are two different things; but it's never too early to start being pessimistic.

ONLY J. R. "BOB" DOBBS STANDS BETWEEN " THE CONSPIRACY " AND TOTAL PLANETARY FREAKOUT!


A r e Y O U i n s h a p e f o r t h e "F I N A L S ?"


Then
YOU MUST BE SAVED
-- EVEN IF IT KILLS YOU!!


ETERNAL SALVATION

-- OR TRIPLE YOUR MONEY BACK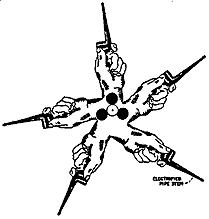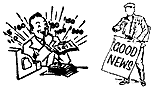 AT LAST -- IT HAS COME --
the final Do-It-Yourself
END TIMES RELIGION
for SWINGING MUTANTS &
TERMINAL ABNORMALS!!


The World's First Industrial Church
LIVE WITH YOUR SINS!!
-- "Bob" Dobbs Can Show You How!
Caution -- May Be Habit Forming
Do Not Operate Heavy Machinery While Under The Influence Of This Tract
©1985 by THE SUBGENIUS FOUNDATION
DOBBS-APPROVED
---