THE BOSTON SLACK CRUSADE DEVIVAL
"All the boy-goo talk makes me crave my favorite SubGenius..."
-- Sarah Vowell, CHICAGO READER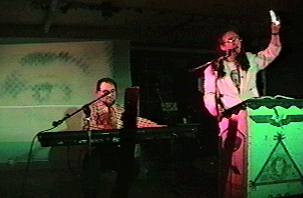 >>2/18
>> Cambridge, MA
at The Middle East

Rev. Friday Jones' shocking coverage of her life as a SubGenius and Horror Fan
http://kalypso.cybercom.net/~friday/index.html
Includes gushy detailed write-up w/ pics of the Boston '96 Slack Crusade Devival

Modemac's report on the BOSTON Devival
Friday Jones' Boston Slack Crusades - Part 1


FROM THE DIARY OF JESUS: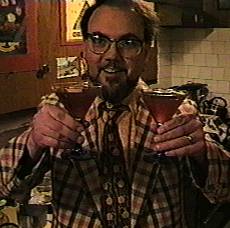 >> Brother Cleve, Sister Diane -- true SubG, they are great, made me feel like an old friend
>> Swank Pad! God of Lounge Music
>> Too much cool stuff to look at. almost overloaded like Mall of America
>> Records, barglasses, clowns, wrestlers
>> Drank half Cleve's El Splendito, drunk off my ass
>> Started arguing philosophy with Andrew and Diane, "where do "WE" come from
>> nature or nurture" somebody kill me.
>> Great sales table help by Friday Jones
>> Modemac dares to call Stang a "regular guy," I put him in place
>> No Legume
>> Good Show, but short between 2 punk shows??
>> Paid in full

>> Brother Cleve Dunkan, great and versatile musicain, need him for tour to come.
Can we afford him? When he's not touring with Combustible Edison. Work on it. Important.



Cleve's gospel organ back-up was SO GOOD behind the preaching that the audio tape of this (BOSTON DEVIVAL, 90 min., $8.50) is hands down the best devival recording we have to offer.



>>Rev. Dr. Bill T. Miller, The King of Slack (Kings of Feedback, OBE), and his Living Keyboard, brought the audience to the edge of a mental precipice. As if his carpets of sound and ranting weren't enough, he also practiced "KILLBOB" on a Dobbs effigy, and GAVE AWAY FREE (albeit USED) SLACK!



>If only this could happen at every devival. David Apocalypse started breathing fireballs directly behind Rev. Stang during the sermon, giving the appearance of massively powerful pyroflatulation by the esteemed Reverend.

One the NAIL IS HAMMERED INTO ONE'S HEAD, it must needs be EXTRACTED.

And when you're finished running the needle and thread through the lips, you
PULL THE STRINGS!
Meet SCREWFACE.
>> Great closing night party.
>> Very sick.. hacking up spongy stone-like objects.. scary
>>2/19 Pitts
>> Arrive Cleveland 6am
>> Very Sick, Stang must drive
>> "Sicker than 14 mother fuckers" I. Stang sez
>> Talk of plans of moving to Dallas
*********************