Brushwood Folklore Center -- Sherman New York -- July 4 - 6 1997
********** SATURDAY JULY 5 1997 ***********
Breakfast with Stang shot by Myrkyry
*Susie shows off July 5th Souvineer Items
Crashed Saucer --- Sales table -- Jesus, Joe Mama, Friday Jones SELLING
Cross Drilling -- Rev. Strange fitting the Cross for Jesus

NAKED BAPTISM
Legume Reaches Out
Nude Baptism
Stang Speaks in Tongues
---
RASSLING MATCHES:
Susie the Floozie bites Stang's ear
Butt Spank (note brand of shorts)
Oops!
Friday Jones vs. Rev. Ivan Stang
Stang shamed by Sister Jones
Victory of the Bitches
Stang's Punishment
Jesus H. Christ Devilacqua vs. Pastor Craig
Rev. Pee Kitty vs. The Redneck Stunt Jesus
Jesus vs. Pee Kitty
Pastor Craig and Pee Kitty cheat, doubling up on Jesus Christ
The two Jesus Brothers crucify selves in triumph
Dr. K'taden Legume vs. Rev. Ed Strange
Rev. Nickie Deathchick vs. Miss Sakamoto
The Stunt Jesus totes the Cross to Golgotha
Barbecue End of Video8- roll 3, VHS Roll 3)
*************************************************************
VHS roll 4
(High 8 3 1/2) (Sat. PM)
THE UGLY PARADE
Separated at birth?
Pastor Craig, Ugly King
NHGH
This is a Mutant
The OverMan and his UnderMen
Saucer Crash and Alien, frame 1
Saucer Crash and Alien, frame 2
Saucer Crash and Alien, frame 3

---
THE LAST SUPPER
Jesus Sells Jon-Benet's Head
Nickie, Matt, Friday, Dynasoar, The Lord
Bad Fish Sticks -- a Failed Miracle
THE LAST SUPPER PANORAMA
Knowing What Must Come to Pass, The Lord Ponders His Fate
Judas Joe Mama fingers the Christ
Jesus pleads for Help but Rev. Sakamoto denies Him
The Lord is harshly hauled away by modern Centurions
Jesus arrested; His followers laugh
The Crucifixion
The Stunt Jesus drags the Cross
Nail that Jesus
Medium Shot, Jesus on Cross
Medium Wide shot, Crucifixion
Close up of suffering Jesus
Detail of Bloody Hand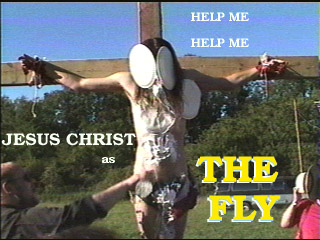 With Pipe
The Defiled Child Rachel Crowns the Bloody Jesus
Long shot of 'Calvary'
And Lo they mocked Him
Dead Jesus in a car trunk
---
BLEEDING HEAD LAUNCHING AND DISCO SOCCER

GIF Movie of The Bleeding Head of Arnold Palmer launched with a catapult made from a lawn chair

PalmerHead Launching MOV (same thing, but a QuickTime .mov version)



---
The band ZURROUND

On Stage:

Jesus opens with thanxgiving

DynaSoar arranges more rides

Legume on aerial ring fingers, marrying Dobbs & Jesus & blow jobs in dark rooms

BILL T. MILLER RULES WITH: X Day's A'Comin',
You Rang? (w/Stang),
Kill Bob! -- healed by Jesus!
Papa Joe Mama in an AMAZING rant: "In Praise of HATE" ("A Hasty Hate Rehearsal") (change on High 8 cam between roll 3 1/2 and roll 4.)
END VHS 4

************************************************************
VHS 5 (High 8 #4)
PAPA JOE MAMA continued. (end of "In Praise of Hate")
DynaSoar leads the band looking AS STUNNING AS A DEVIL WITH A RED DRESS ON and DELIVERS TWO MORE MIRACLES
"ASK IVAN"/"White Rabbit" sung IN HIS ANIMA VOICE and a West Virginny folk rendition of "20th Century Shizoid Man"!
Jehovah Hates Phred PRESSES ON in a courageous battle against power outtages
& performs THE FASTEST PERFORMANCE OF A BAND REPETOIRE IN HISTORY:
Is There Any Slack Out There?,
Pray for Bob (?), You Better Rant,
Waiting (?
POWER OUTTAGES:
BURNING THE CROSS
JHVH HATES PHRED cont.
Waiting, Goodbye
Jesus credits, intros
Steve Slack & The Band
Jesus makes time for power plug experiments
Steve Slack & The Band play on.
Papa Joe, Stang & Friday Jones
Groovy G on The Eastern Orthodox CotSG & the "Bullets for Legume" campaign

Suzie the Floozie on THE UNTHINKABLE: "What if X Day doesn't come?!"
Jesus $ave$ the masses while they throw their money onstage
Papa Joe: "Dictating to Dobbs"
Jesus worships DK & Wandarer
DK JONES does A SIMULTANEOUS RANT & JANOR MUSIC XPERIMENT!
P-Lil: BRAG OF THE CROSS DRESSING SUBGENIUS
P-Kitty rants on winning the war against the Pinks AND THEN KILLS THE PODIUM!
Dr. DynaSoar makes the audience the band and leads *THE BEST SG DEVIVAL ANTIMUSIC EVER RECORDED* in this climax to the X-Day Audio offerings, THE BLEEDING HEAD OF ARNOLD PALMER!
David Lynch RANTS!: "Shitloads of Slack" and "BOB WANTS YOU TO BELIEVE!"
Fireworks display & incidental antimusic - Jesus handles 7 AM arrangements
A well intentioned Rev Fellatio does TERRIBLE MICHAEL BOLTON IMPRESSION, then reads THE LONGEST ENEMIES LIST IN THE WORLD as THE CROWD REVOLTS!
Legume on 7 AM events
Rev. Strange on THE REAL LAST DAYS
QPM does it again when after delivering a rant in the Janor tradition, he tells audience to kill themselves & as they insist he show them how, Strange chokes him with an electrical cord
************************************************************
VHS Roll 6 (High8)
(End of Saturday night "new ranters")
SUNDAY
*THE X Day Drill* 7 AM
Everyone takes the Pil and the Kool Aid
A collection for Someone Else's membership card -
THE ASSASSINATION OF STANG
Papa Joe on "taking it in the ass for 'Bob'" -
Modemac ThanxGiving
Papa Joe & Legume on Con movies in the years leading up to X Day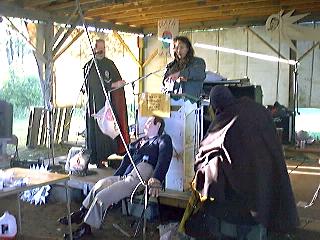 Legume's post-Rupture personal planet
Legume on the evils of fornication with Pinks
Papa Joe leads a closing
P-Lil reminds us that the time is now 0 BX!
************
Misc. home movies of clean-up, Devilacqua parents' house, childhood photos of Jesus, auto breakdowns on way back to Dallas, Sterno's house and Snavely's store in Little Rock
TAPE RUNS OUT


Back to Drill Pics LIST

STREAMIN' X DAY DRILL '97 REAL AUDIO SLACK!
---