News about Dr. Hal Robins' live shows: ASK DR. HAL

---
SUBGENIUS PARTY - AUGUST 23 - LEIPZIG, GERMANY
at the SISHABAR WUNDERLAMPE
Eisenbahnstr. 98, Leipzig
This is not a devival per se, just an open party hosted by Rev. Bucky Argyle, Princess Pimpelmee, Rev. Ivan Stang and Princess Wei, for SubGenius minsisters, especially our new/old buddies from previous EuroX-Days and devivals. Stang & Doe will be in Germany for 2 weeks and plan mainly to hang out. No big "show," just Slack.
Website and forum for this event
---
Recent Past Devivals:
---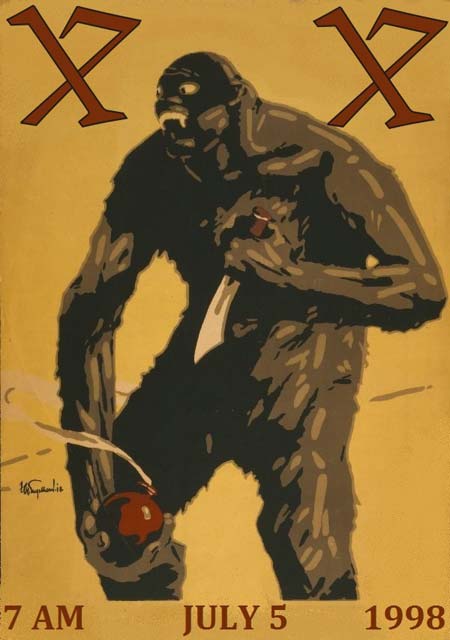 17 X-Day - July 1 - 6, "2014"
Wisteria near Athens, Ohio
IT HAPPENED! And the weather was FINALLY great, if you don't mind the world not ending, AGAIN.
Excellent recordings were made and they are now being played on HOURS OF SLACK.
SEE ALL THE X-DAY DETAILS HERE
DOWNLOAD THE SCHEDULE PDF Also: VISIONARY ART OF 17X-DAY

---
2013 WCSB Halloween Ball - Nov. 2
---
SubGenius-Related: Stang/Doe's Winter Trip 2012-2013 -- Best Photos
---

Detroit, Aug. 3 - THE AMINO ACIDS "Slack Hole" Record Release Devival
Plus
WEIRDSVILLE RECORDS
---
16 X-Day Drill: July 1 - 7, "2013" - HAPPENED!

NOT SAFE FOR WIMPS.
---
Starwood 33: July 9 - 14, "2013" -- Devival and SubGenius-Pagan Mate-Up -- HAPPENED!
Both Starwood and X-Day are still held back-to-back at Wisteria near Athens, Ohio
Art left: Codini; right: Legume
---
May 31, 2013, San Francisco - AGENTS OF CHAOS
Unauthorized book release party at Castro Theatre
* The YES MEN!
* James DeWolf from "Tourettes without Regrets"!
* Polly Superstar and her herd of Sparkleponies!
* Cognitive scientist Professor Lera Boraditsky!
* Reason Magazine's Brian Doherty!
*Dr. Hal!
Rev. Ivan Stang, host
Interview with Philo Drummond and Ivan Stang
---
2012 WCSB Halloween Ball -- October 27: Photos Here
2012 Halloween at the Slackermansion, Cleveland Hts. -- Nov. 4, "2012"
---
15 X-Day Drill: July 2 - 8, "2012" -- HAPPENED!
SEE THE PHOTOS HERE; also, info on 16X-Day, July 1-7 "2013"
Featured: The Amino Acids, Bobtisms, Evolution Control Committee, Doktor jams, Rev. Ivan Stang, Dr. Philo Drummond, Dr. Hal, Priestess Pisces, Dr. K'taden Legume, Rev. Frodis "Suds" Pshaw, Papa Joe Mama, Rev. Sam Singleton The Atheist Evangelist, Kaosmic BobKat, Dr. Dark's Drive-In, Rev. Feit C. Taj's 24-7 Grindhouse, Dr. G. Gordon Gordon, The Duke of Uke, The Mutant Mountain Boys, Ministry of Slack, Phat ManDee, DJ 2B, burnings, The Slot Rods (with Beach Blanket Bong-Go Party), Tommy Amoeba, Rev. Andrew The Impaled, DJ Shaver, real AND fake weddings, Elvis, and THE PERFECT REHEARSAL FOR THE END OF THE FUCKING WORLD. See OUR NEW X-DAY PAGE for every possible detail and many new videos. (Download the Program Booklet PDF)
Starwood 32: July 10 - 16, "2012" -- Devival and much much more happened (report in progress)
---
SUBGENIUS FAMILY VACATION 2011-2012 PHOTOS
We wouldn't recommend this to anybody/everybody, but there's a best-of at the start, and we've been referring to this stuff on Hour of Slack a lot lately, so, what the hell. Please read the instructions before committing yourself to anything. But if you like weird-looking rocks, or people, parts of this may be like porno for some.
---
Feb 25, "2012" - Detroit SubGenius Devival
Preachers, Bands: The Amino Acids, Priestess Pisces, Rev. Angry Larry, John Deere Tractor Beam, Jehovah's Witness Protection Program, DJ 2B, Unidentified Drunken Injury, Coffin Feeder, Karmic Lava, Freak Ache, Songs from the Moon, Tell All Your Friends, Three Hives, John Davies Problem, and actually more!
June 29 to July 5, 7 a.m., 2011:
HAPPENED -- in fact it happened the HELL out of it -- at a great new campground: Wisteria, near Athens, Ohio!
SEE OUR EXTREMELY DETAILED ADULTS-ONLY 14X-DAY PHOTO-AUDIO-REPORT PAGES

as well as last August's episodes of THE HOUR OF SLACK
Important Message from The SubGenius Foundation & Dr. K'taden Legume:
Friends, there are many paths to slack. You might fly your own aeroplane, or play your grand piano. You may get slack from drinking or whoring or bellyboarding down a mountain of crack; screwing your sister in the ass or playing pinochle with drag queens.
But NONE of these paths lead to slack without "BOB" by your side.
X-Day is still coming, dear friends! The WEASELS of PINKNESS are creeping out of the night to try to steal J.R."Bob" Dobbs' chickens, but "Bob" ain't gonna let em', and NEITHER SHOULD YOU!
If anyone or anything besides THIS PAGE tells you there's a devival ANYWHERE ELSE, especially certain false, defrocked "Popes" -- or, even worse, anybody claiming to be "Bob" Dobbs himself -- DO NOT BELIEVE THEM. These are NOT approved by Dobbs in ANY WAY, SHAPE OR FORM; these are PINK WEASEL CIRCLE-JERKS run by BACK-STABBING PINK PRETENDERS whose presence "Bob" will refuse to allow on the saucers NO MATTER HOW MUCH THEY MIGHT PAY!
ACCEPT NO SUBSTITUTES! USE ONLY DOBBS-APPROVED PRODUCTS AND SERVICES!

Illustration above: "Wrath of the Uberfemme" by Rev. Frodis "Suds" Pshaw (after a photo of Priestess Pisces)

---
And, following on the heels of X-Day Drill #14, also at marvelous Wisteria, Ohio: STARWOOD FESTIVAL 31
-- it included a Devival with Rev. Ivan Stang, music by Princess Wei R. Doe, Phat Man Dee, Pyrosonic (former ESO members) and much much more
---
---
November 13, 2010, DETROIT, MICHIGAN:
The Amino Acids, The Christ Punchers, Freak Ache, Boron Nuzzle (All Instrumental Show!)
Rev. Ivan Stang, Rev. Frodis "Suds" Pshaw
---
October 9, 2010, New York: NYC DEVIVAL

IT HAPPENED TO THE HILT at the Wonderland Collective in Astoria, Queens
AUDIO, PHOTOS from the show are HERE.
Nature-lovers and students of paleoanthrolpology might enjoy photos from StangDoe's road trip to and from, including pron from the NY Museum of Natural History, FEDCOMS Lab and the Zippo Museum!
SubGenius Preachers included: Rev. Susie the Floozie, Rev. Ivan Stang, Rev. Jimbo de Limbo, Pope Sinphaltimus Exmortis Pope David Lee Black, Priestess Pisces
Music by Rev. Phat Man Dee, Fat Free, Tommy Amoeba, DJ 2Beans, The Duke of Uke, Lon Milo Duquette
---


August 27-28, Cleveland, Ohio: DEVOtional 2010
MANY bands, screenings, vendors, speakers, plus Rev. Ivan Stang at the pulpit
PHOTOS, audio, video and REPORT already done - more to come on Hour of Slack
---
June 30 to July 5, 7 a.m.:
The Drill, anyway. Perhaps the world will end on 14X-Day in 2011. Meanwhile, much raw audio of bands and preaching from this event is available for download; photo gallery is now up!
THE HOUR OF SLACK radio show has been utilizing recordings from 13X-Day and will probably continue to do so into September 2010.

---
July 6 - 12, 2010: STARWOOD FESTIVAL 30
-- a major success! -- including a Devival with Rev. Ivan Stang, Phat Man Dee, Princess Wei R. Doe, and much much more
PHOTOS HERE; reports to come
Location: WISTERIA in Southern Ohio, south of Athens

---
May 22, 2010: Shanghai, China
First ever SubGenius Video Night and Mini Devival in the Peoples Republic of China!
HAPPENED! Full report coming. Here are some photos from this successful event. Thanks to Rev. Shining Path of Least Resistance!

---
February 11-14, 2010: WINTERSTAR SYMPOSIUM
HAPPENED at Atwood Lake Resort, Delroy, Ohio
HOUR OF SLACK #1245 is our Winterstar special
Sermon, Videos, Jams, Serenades, Parties with Rev. Ivan Stang, Witch Disco, Phat Man Dee, mind machines, more
---
Halloween 2009 at The Slackermansion in Cleveland Heights
Photos and short report
---
October 10, 2009, Portland, Oregon: CYCLONE OF SLACK DEVIVAL 2009 HAPPENED!
Detailed Report with Photos, Video Here
Ash Street Saloon, 225 SW Ash St., Portland, OR
Dr. Onan Canobite, Dr. Hal, Rev. Ivan Stang, Dr. Philo Drummond, The Duke of Uke, Puzzling Evidence, Princess Wei R. Doe and Rev. Crawford Smith were involved. Bands included: Power Circus * Cult of Zir * Nequaquam Vacuum
---
August 29, 2009: DEVOtional in Cleveland, Ohio

Guests: Rev. Bob Casale, Rev. KRK Ryden, Rev. Ivan Stang, Spudboys, many others -- JUST HAPPENED! See the Photos and Audio Report
---
September 4 - 7, 2009: DragonCon in Atlanta, Georgia
A HUGE SubGenius event happened at this, one of the grandest sci-fi/fantasy/comics conventions. Rev. Susie the Floozie, Priestess Pisces, The Quijibo Cartel, St. Byron Werner, Rev. Ivan Stang and many other SubGenii staged a major Devival (with a Tesla Coil concert by Arc Attack!). Over 50,000 people attend this convention annually.
X-DAY XII
July 1-5, 2009
---
July 21 - 26, 2009: Starwood 29 at Brushwood, Sherman, NY
Although this is the largest "neo-pagan" event in the U.S., with amazing musical acts, and speakers like St. Paul Krassner, it also includes a major Devival and other highly bulldada activities! I, Stang, haven't missed one in 19 years. In fact I'm one of the organizers now. Harvey Pekar is one of the many special guests this year. The SubGenius devival will be held on Friday afternoon.
PHOTO GALLERY of STARWOOD 2009
---
---
Nov. 15, 2009 - BALTIMORE, MARYLAND
PREACHING: Rev. Ivan Stang * Rev. Susie the Floozy * Rev. Carter LeBlanc * Priestess Pisces!
MUSIC BY: THE AMINO ACIDS * FAT FREE * THE MOTOR MORONS * and THE VERSIFICATORS
11-29-2008 DETROIT SUBGENIUS DEVIVAL
The Amino Acids, many other bands
at Small's - ALL AGES!
Conant & Caniff, Hamtramck, Michigan

((Note - Amsterdam Frop Cup is cancelled due to the Econocataclysm; Rev. Ivan Stang therefore may be preaching at Detroit Devival. Watch this space for updates.))
---
Aug. 29: JOCKO DOME-O
DEVO art show! Work by many SubGenii including Rev. Winston Smith, Rev. Ivan Stang, St. Joe Riley, Hellswami Satellite Weavers, Rev. Susie the Floozy, St. Byron Werner, Rev. Nickie Wild, many others!) Coincides with a show of KRK Ryden's great art for DEVO.
Asterisk Gallery
Cleveland, Ohio. 44113
---
Also finished: a report with photos and videos about:
Aug. 30 -- 2008 DEVOtional
The Beachland Ballroom
Cleveland, Ohio
---
"The Last X-Day Before The REAL X-DAY!"
X-Day Promo Video on Google Video
"Ve zay "Yah!" to X-Day Nine!"