Practical Weapons Against the Conspiracy
---
Yes, this IS one of the shortest sections in this whole gigantic web intestine.

That should tell you something.

art by RevMac


NEW: We're now carrying Bob Harris' weekly political column, THE SCOOP. Find there the news behind the news of the conspiracy behind the Conspiracy.

---
photo by/of Father Joe Mama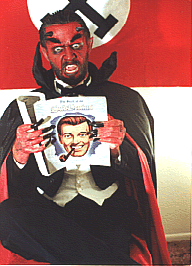 Opposing the Conspiracy
Roger & Me
Known Illuminati's
SubG Militia
Piss Test
E-Mail Privacy FAQ
Farewell to the Master
The Poor Man's James Bond
Micropower Broadcasting
CON Activities -- Leonard Peltier
WEJOT68: Undesirables Unite!
The Newsweek Jake, re-explained.
Top 50 Fun Things to Do on an Elevator
"Netwars" and Activist's Power on the Internet
Access to Supreme Court Decisions for Research
Billionaire gives away fortune!
Zippy and the Pope
Grafitti
My life has no meaning...
PETITION to Congress to Stop Senate Bill S.314
"Green Panthers" manifesto
Slackful Diversions
WEJOT68 on prop 187!
Yeti-Discrimination at Wendy's
---
This sad, pathetic excuse for a file was converted using GiveUp V. 1.0, with text editing by Rev. NotR after desperate nabbings from alt.slack by Rev. Ivan Stang.

Back to the Hall of "Answers"! (Yeah, RIGHT.)