-- if it ain't here, you don't want to know it!
---
ARTICLES of TRUTH
and lies become as one in this fine collection of serious, thought-provoking articles and essays from the intellectual subgiants of our mighty Race.
Also see ARTICLES II and ARTICLES III (added 12-99) for slightly newer Hate and Love Fodder!
Then there's ARTICLES 4 (added 5-00) for slightly newer Hate and Love Fodder!Also see ARTICLES 5 and ARTICLES 6 (added 12-01) for All-New Hate and Love Fodder!
---
RANTS
This is that
for which you've been searching from the moment you were born and that doctor slapped your behind. The pure, unrelenting Hate/Love of generations of Great SubGenius Doktors has been extracted and purified in order to assuage your personal emotional turmoil. YOU WON'T FEEL ALONE ANYMORE. TAKE A DEEP BREATH and focus on "Bob" before you venture into this one. You won't come out the same... but you might wish you had.
See the more recent RANTS II also! And as they become more recent, RANTS 3, RANTS 4, and the latest, RANTS 5!
---
DEAR SUBGENIUS ANSWER MAN!?!?
---
THE CHURCH "EXPLAINED"!!!!!
The Archive of Endless SLAQs
Do you REALLY THINK you should KNOW what The Church of the SubGenius IS?? Every person who ever asked got a different answer from every SubGenius who ever responded... these are those answers
And now: Dec. 2001 -- FAQs II!!AAnd now: Dec. 2001 -- FAQs II!!.


---
REVELATION X Out-Takes
The stuff that was TOO HOT for Simon & Schuster to HANDLE! -- or else too long for the SubGenius attention span.
---
REVELATION X -- THE RESPONSE
A series of posts on alt.slack which immediately followed the release of the Last Third Testament.
---
PRACTICAL ANTI-CONSPIRACY WEAPONS
Ask not what you can do for the Conspiracy; ask what the Conspiracy can do for YOU. A collection of "earnest" suggestions that might help you make the slightest dent in the hood of the Con Cadillac.
---
NEW SCRIPTURES
JHVH-1 didn't stop yakking at "Bob" with the PreScriptures, and "Bob" didn't quit yakking at his Called Ministers, either, although most of them probably wish that he would.
---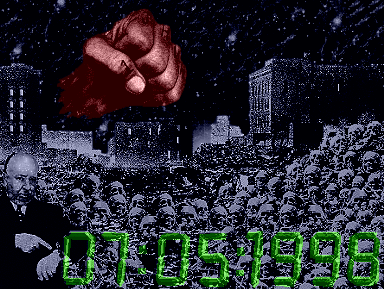 X-DAY -- What Will REALLY happen?
illo by Funway Plastico


---
SIGHTINGS OF DOBBS
The elusive High Epopt remains at large. If you have seen him, email to i.stang@metronet.com or share it with the masses on alt.slack
---
RECIPES
Explorations into the further reaches of the culinary arts
---
ASK "BOB"
He won't answer, but many a burning question has been posed on alt.slack, and the SubGenius called ministers never hesitate to throw in their two cents' worth when a SubGenius in need is crying out. Too bad the Volunteer Zombie who said he would edit this section, didn't yet.

OOPS, IT AIN'T HERE YET! GUESS YOU DON'T WANT TO KNOW IT!
foreground art by Rev. Numen Remissionis/bg art by NoahStewart/funway