XIIX-DAY
BRUSHWOOD FOLKLORE CENTER
8881 Bailey Hill Rd SHERMAN, NY

JULY 1-5, 2009
HOW TO GET THERE, WHAT IT'S LIKE, WHAT YOU NEED and WHAT WE CHARGE
See also the Brushwood website.
BRUSHWOOD FOLKLORE CENTER is just outside the village of Sherman, NY, in southwestern New York state, an hour from the Erie, Pennsylvania airport and about 2 hours' drive from Cleveland or Buffalo. IT IS NOT ANYWHERE NEAR NEW YORK CITY!! This is the site of the infamous Starwood neopagan gatherings -- 180 lush acres of rolling hills and majestic woodlands, with indoor hot showers, flush toilets, a roofed swimming pool and hot-tub area, a giant tent for holding tent-show devivals, and enough electrical power to keep TEN THOUSAND DOKTORBANDS CRANKING OUT THE HITS USING ALL THEIR EQUIPMENT, WHILE BREATHING CHURCH AIR, AND PERFORMING NASAL SEX, STARK NAKED, RIGHT THERE IN FRONT OF EVERYBODY, ALL NIGHT LONG!! That's right, you can REALLY LET YOUR TRUE YETI NOSE HAIR DOWN at THIS little campground! (It's "clothing optional"! SEE "The Swingin' Meat Jesus!") ((NOTE: There are also motels in nearby Finlay Lake, Jamestown, and Erie.))
It'll scare the hell out of the norm-worms and PROBABLY US TOO!!
But this isn't the sleazy poebucker set-up that The Pink Inside You fears. Brushwood is COMFORTABLE. The situation is SECURE. We will have our OWN "police." The folks who run the site, and the town nearby, have been doing this for YEARS with the PAGANS, and are COOL with "BOB"! W held our wildly successful DRILLS here in 1996 and 1997, achieving UTTER MOUTH-WATERING SLACK!! Then the world actually ENDED in 1998 -- except that it OBVIOUSLY isn't really "1998" YET! THEN, in 1999, well... we had one hell of a time. Then in 2000.... hoo boy. 2001, well, the world STILL didn't end. Or 2002. And then there was 2003. And '04. And '05.Ahhhh. And so on. But sooner or later it HAS TO!
YOU DON'T HAVE TO CAMP. There is now a Holiday Inn in nearby Finley Lake, and Sherman has several bed&breakfast places. There are also plenty of motels in Jamestown, NY and Erie, PA, both about 40 minutes from Brushwood.
THIS IS IT! This is where things start getting REALLY REAL! You'll notice we haven't mentioned any PREACHERS, BANDS or "SHOWS" yet. (Aside from the ones we DID list.) That's because those things will be YOU on X-Day!!! You wanna RANT?? Get up there and RANT! It's the END of the WORLD! You want to get SO DRUNK that you waddle around with your pants around your ankles, drooling, before toppling over into the pond? THIS IS THE TIME AND THE PLACE FOR IT!! WE aren't gonna plan a GOD DAMNED THING!!
The ONLY RULE is... DON'T SULLY ANYBODY ELSE'S SLACK. (NOTE: even FAKE guns and rocket launchers are highly illegal in NY.) If you fuck up or piss us off, we won't hesitate to have you physically thrown out by big burly S.L.A.K. Squad goons and/or THE MAN.
Now you're saying,

You don't have to do a DAMN THING and neither do we. All you have to do is BE THERE, CASH IN HAND! (VISA or MONEY ORDERS ACCEPTED. NO CHECKS!! Hit the ATM FIRST!!)
$30 for ORDAINED SUBGENIUS MINISTERS
(MUST HAVE MEMBERSHIP CARD! We WILL have our computerized Sacred Mailing List records at the gate as well as a MWOWM v.1.0.2b4 Pstench Scanner.)
PLUS $30 to become an ORDAINED SUBGENIUS MINSITER if you aren't one already!
(And you people better be AWFULLY GLAD that we had some slight modicum of MERCY and didn't raise the price to $3 Million like we planned!))
PLUS $10/day for camping!
NO one-day passes! * NO one gets in free or for a discount -- NO ONE, not even us!!!! Everyone pays!
PRE-REGISTER VIA WEB with Credit Card or PayPal
or FAX IN YOUR PREGREGISTRATION!
Or you can pay Brushwood at the door and us at the Stage, when you arrive. To insure privacy, security, and a plague-free event, you must sign a waiver and wear the ID triage tags given you. Brushwood is clothing-optional EXCEPT near the road.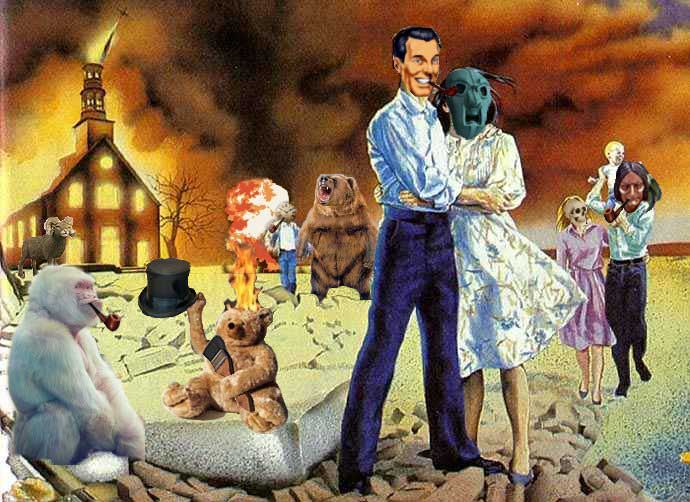 Brushwood is a developed camping facility (no RV hookups). Bring EVERYTHING YOU'LL NEED. NO ONE WILL BABYSIT YOU. There will probably be lunches and dinners available at the Brushwood cafe during the weekend, and there are nice cafes in Sherman. Bring tent, sleeping bag, flashlight...see list linked below. (The water there is ok.) Nights can be VERY COLD even in July, so bring warm stuff including a thick coat and extra shoes. There are two small towns with supermarkets (and alcohol) within 10 minute drives of the site. There is a Holiday Inn in Findley Lake, NY, sveral b&bs in Sherman, and hotels in Jamestown NY and Erie, PA (each are about 35 minutes from Sherman).
THINGS YOU MUST BRING TO GROUND ZERO, BRUSHWOOD (if camping)
DIRECTIONS TO BRUSHWOOD:
Brushwood Folklore Center is at 8881 Bailey Hill Rd, Sherman, New York 14781
Find Sherman, NY on a NY map. It's off Rte. 17, west of Chautauqua Lake in the southwestern part of the state, at the very tip, where it's reaching for and almost touching Ohio. 430 runs through it; 76 crosses through it and Rt.17
Go to Sherman.
Sherman's only one block long. Main Street = 430. Go to the west end of Main (Ford dealer on the corner) and turn south onto Co.Rd. 15. Take 3 miles to first 4-way intersection, which is Bailey Hill Road. Turn right (west) on Bailey Hill and go 1 mile. Brushwood is on the left, with a sign. If you get lost, you can call Brushwood at 716-761-6750.
---
This year you can become as involved as you want, way ahead of time, via the
X-DAY FORUM:
http://groups.yahoo.com/group/Xday/

This is one of several new Yahoo "clubs" that have sprung up for specific SubGenius SlaClusters in the last few weeks. If you have ever joined one Yahoo club, it's easy to join others. If you never have joined one, it's REALLY EASY to join the first one. And free. The clubs feature a discussion board that can be emailed to you a couple of different ways, or can be viewed and used entirely with a web browser.

For more info, but probably not much more, call or email the HOTLINE: (888) 669-2323
Or send SASE to 12XDAY DRILL c/o SubGenius Foundation PO Box 181417, Cleveland Hts, OH 44118, for info and "registration" form.
* Any SubGenius wanting to put on something special, rant, or play, JUST SHOW UP AND DO IT. Preachers or SubGenius bands planning on ranting, etc., should let us know only so we can add you to the p.r.
Art at top by iDRMRSR; middle right by St. Bubba; art at bottom by Razmataz