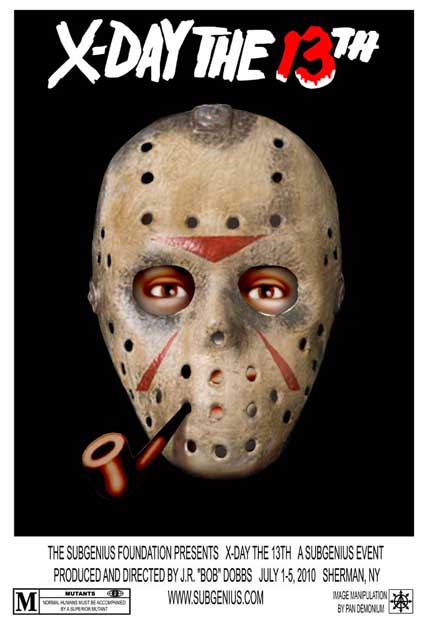 IT IS DONE!
13X-Day is being called "the best X-Day Drill yet" by most of the attendees. Obviously, had the Xist saucers come and the Rupture happened, it would have been much better, but we're beginning to suspect that "Bob's" point may be that X-Day could happen AT ANY TIME - so you had better get Slack now.
NEW: PHOTO GALLERIES of 13X-Day Drill
We are very happy with the hours of recordings we brought home, thanks to the great bands and ranters, and to Pater Nostril, who recorded it all. We will probably be combing through all that audio for the next ten Hours of Slack.
DOWNLOAD SELECTED RAW AUDIO of BANDS and RANTERS from 13X-Day
Many SubGenii have also posted their text reports on 13X-Day at the Members-only ScrubGenius group. Some are also posted on alt.slack, our older, unmoderated and kook-riddled forum. We will attempt to copy those reports and gather them here soon. Anybody is welcome to email us their pictures, writings etc. if they want to be sure and see them archived for eternity at subgenius.com.
---
This is THE SubGenius World Destruction Event and Annual Migration to our Western New York spawning grounds!
ARISE, MUTANTS!
WHERE??!? BRUSHWOOD FOLKLORE CENTER, SHERMAN, NEW YORK, USA!
(NOTE: This is NOT NYC, but a great campground in Amish country near Jamestown NY and Erie, PA)
HOW MUCH??? Only $30. But it's MEMBERS ONLY. Membership is $30. If you weren't a Member already, it'll cost you $60 altogether. A CHEAP PRICE for SALVATION, if you think about it. Also a cheap price for ANY weekend-long, totally spectacular and weird campout -freakout-musical/religious event.
CAMPING is another $10 per person. There are motels fairly nearby, in Finlay Lake, Jamestown NY and Erie PA, and there may be bed-and-breakfasts available in Sherman.
art left: Rev. Pan Demonium
FACEBOOK X-Day Page by Rev. Modemac -- also good as another RIDES BOARD
NEW: 13 X-Day Souvenir Propaganda Garments and Other Products
Better late than never. Wonderful souvenirs to cherish! -- Touching reminders of the last days of your life on planet Earth and your liberation by Dobbs. Shirts, hoodies, kids' clothes, mugs, steins, Liquid Frop Bottles, all emblazoned with the  famous 13 X-Day poster by Rev. Pan Demonium (above left) and/or this year's antique bug porn "squirrel shot (below).
CALL OUR TOLL-FREE NUMBER TO ORDER BY CREDIT CARD OR IF YOU HAVE SECURITY QUESTIONS:
1-888-669-2323 (if you leave your phone number on our message machine, do so S L O W L Y and CLEARLY)
You can become as involved as you want, way ahead of time, via
alt.slack

WHAT IS X-DAY? Read the SubGenius Pamphlet #1
and see the extensive illustrated reports and videos on the previous X-Day Drills below
DONATE to bring DR. HAL to X-Day:

---
Confirmed Superstar Bands, Doktors:
THE AMINO ACIDS! * FAT FREE * PHAT MAN DEE * THE DUKE OF UKE * PSYCHO CHARGER * Munky Hyv * Dr. Dark's BULLDADA BADFILM DRIVE-IN of the Damned ! * Dr. Hal * Dr. Philo Drummond * Puzzling Evidence * Rev. Susie the Floozie * Rev. Ivan Stang * Lonesome Cowboy Dave * DJ Shaver * Dr. K'taden Legume * Priestess Pisces * Rev. Modemac * Dr. Nickie Deathchick Wild * Rev. Carter LeBlanc * Princess Wei "R." Doe * DJ 2-Beans * Dok Frop * Sister Decadence * Pater Nostril * Rev. Chris Lee * Andrew the Impaled * Annie Christain * Rev. Eggplant * Richard Skull * Rev. Pantiara Evockavitch * Rev. Feit C Taj * and a slackload of newcomers whose real names wouldn't mean anything here YET, but no doubt will strike fear in the hearts of millions by July 6. If there is one.
It's time to KISS ALL CALENDARS GOODBYE!
There'll be
Naked Bobtism!
SubGenius Fetish Costume Ball / Beer Tasting! (This year's theme: THE HORROR! (HALLOWEEN IN JULY)
SPOUTING! with spewing
Dr. Dark's BULLDADA BADFILM DRIVE-IN of the Damned ! Featuring PHYNX and OCTOMAN
THE BULLDADA AUCTION! Bring weird stuff to be sold!
MASS SHORT DURATION MARRIAGE!
LIVE HOURS OF SLACK! and OR KILL ME Radio
Scrapple Toss, Pancake Orgy, 'Frop Beating, Time Killing!
THE BOBBIE AWARDS! SIDESHOW MARVELS!
POTATO GUN WAR! Rainy-Day MEDIA SHARING PARTY
TUBS AND TUBS OF PURPLE KOOL-AID!
ALT.SLACK TROLL SHOOT!
SPONTANEOUS DOKTORBAND COMBUSTION!
TRAINED PRAIRIE SQUID GIGGIN'-PARTIES!
(Free Debeaking Tools to 1st 5 giggees)
SPORTS FIGURE BODY PART LAUNCHING!
NUDE CHAINSAW JUGGLING!
'FROP ENHANCEMENT WORKSHOPS!
ACUBEATING!
PSYCHIC SURGERY!
HUMANFIGHTS!
LIVE FREAKS OF NATURE and ACID CASUALTIES!
FACE FUCKING BAT SPERM ANTIDOTE PUDDING COOK-OFF!
BOBBIE ROPING!
PRIVATE ADULT SEXHURT SEMINARS!
BONOBO CHIMP GOBBLIN' CONTESTS!
SELF-MUTILATING PREACHERS!
ODDLY NORMAL-SEEMING PEOPLE!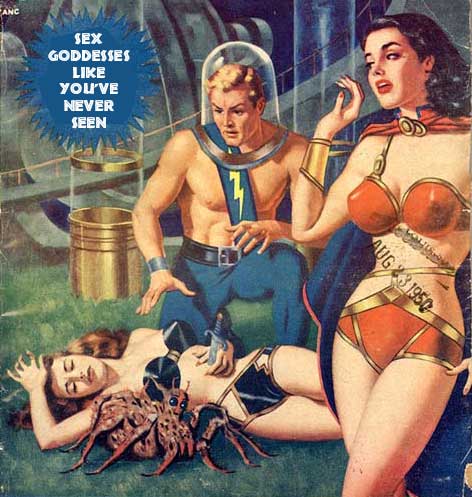 SEX GODDESSES, ELDER GODS, and XISTS!!!