LIQUOR, FOOD and other STORES
nearest
Wisteria
---
GOOGLE MAP PAGE OF X-DAY LOCI OF INTEREST
---
From Stang, Wei, Pisces, Suds, Rev. Nigel and Rev Joy after a full late-May survey of the entire area:
Forget Pomeroy, Ohio. Pretend it doesn't even exist. It's drab and crappy, and in terms of curvy bad roads, too far from Wisteria. Center your trip on ATHENS, OHIO, and use Wisteria's written directions from Athens to the campground. (A GPS will get you there, but not as quickly in the long run, as it may take you down a freakishly curvy state road.) Athens is a very nice and, pardon the expression, "hip" college town with a plethora of good but cheap motels, excellent bars and restaurants, and quirky music and clothing shops. Best of all, a gigantic Kroger grocery (with state liquor store), a Super-8 Motel and a vast WalMart are on the side of town closest to Wisteria, maybe 20 minutes from the campground if you are a slow and careful driver. The bars, stores, restaurants and hang-outs of Athens would make for a great weekend trip just by themselves. FORGET POMEROY. It's nothing but a convenient mailing address for Wisteria.
Our May 2011 survey renders all the old commentary below obsolete, but it might be handy for people who for some reason MUST come up from the Pomeroy direction):
**********
From Modemac (who wrote this without seeing Athens or Wisteria, relying on guesswork):
Even though Pomeroy, Ohio is the only community in the country that does not have a single four-way intersection, it looks as though getting supplies won't be a problem. A Google search reveals the following essential places for X-Day attendees to get stuff:
Powells Food Fair: 700 East Main St, Pomeroy, Ohio (740) 992-5490
Save-A-Lot (supermarket): 700 West Main St, Pomeroy, Ohio (740) 992-2891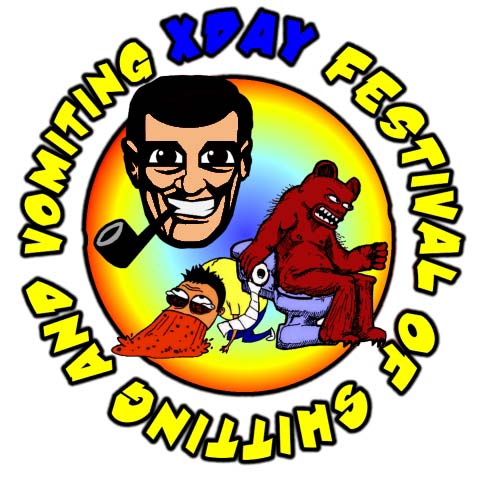 Even though X-Day is the GREATEST PARTY OF ALL TIME, there's a nightclub in town: Court Street Grill, 112 Court Street, Pomeroy, (740) 992-6524
There seems to be a number of mom-and-pop restaurants, I don't know which ones are good and which ones are not: Crow's Steak House, McClure's Restaurant (STANG NOTE: this one is owned by the uncle of a SubGenius), Wild Horse Cafe, The Corner Restaurant, and others. And for those who can't live without fast food grease, there's a McDonald's, Subway, KFC, Domino's, Pizza Hut, and Wendy's.
On the other hand, there only seems to be one listing for a liquor store in Pomeroy:
Jeff's Carry Out & Bait Shop (yes, that's the only entry for liquor), 100 Lasley St, Pomeroy, OH (740) 992 3756
Lucky Dog Carry Out & Liquor, 309 W Union St, Athens, OH 45701 (15 miles from Pomeroy) (740) 594-2626
((STANG NOTE: ATHENS HAS MUCH BETTER CHOICES ON ALL LEVELS AND IS CLOSER IN PRACTICAL TERMS.))
---
From Pater Nostril:
"Ravenswood, WV, which is very close to Wisteria (10 minutes or so) is a good place for stores and there are a few restaurants too. Ripley, WV, a bit farther (located on I77), is also a close destination for shopping & eating needs.
---
Rev Felix Automaton made the Google Map for X-Day at Wisteria with push-pins for Wisteria, nearby stores, gas, beer, liquor, whatnot, as well as some roadside weirdness on the way.
Art left: LEGUME; background pattern: IMBJR