SEE YOU ON THE SAUCERS
Rev. Ivan Stang, June 29 BX
AS USUAL.... here it is less than a week before X-Day, and I'm busting my ass trying to finish "last minute Earth work," like this website. Ironic, isn't it? Such funny litle monkeys we are. The world is ending and I'm worrying if everybody got their NEWS up on SubSITE in time, as if that made ONE NANO-IOTA of difference in the new Non World that's coming! All these Earthly concerns will seem so PETTY after the Rupture and the Arisal. "Updating SubSITE" -- WHY?!? Creatures of habit, aren't we? I got married, moved into a new house, got cable modem... just as if I wouldn't be hareming Sex Goddesses, building a new planet and emailing OCEAN LINERS to my friends as gifts within a week, being, as I am, a paid in full SubGenius Minister.
I know I'll be aboard the Escape Vessels practically before I get all this built-up alt.slack stuff posted for you poor web-only SubGeniuses who "don't do Usenet." (Usenet = the only part of the Internet that They will have trouble LICENSING you out of, now that the paid-up SubGenii are leaving.) But, I'm gonna try, anyway, to get ONLINE STARK FIST 2001-1 kick-started. Anyone who wants to can finish it.
I only have ONE DAY to do this before Dr. Drummond arrives and we start packing for 4XD at Brushwood! AND, I still have a lot more SWAG to crank out! BUT my friends -- against all odds, I finished enough FUTURE HOURS OF SLACK to get you UNPAYING SubGenii several more WEEKS of regret after X-Day, if any radio stations are still functioning. AND, if you want to hear what you're missing, last year's XXX-Day album (an expensive 4 CD set) has been transformed into a CHEAP $15 single CD-ROM with all FIVE HOURS of slickly mixed recordings in MP3.
If I don't see you no more in this world, I'll meet you on the next one, and don't be late!
Rev. Ivan Stang
Sacred Scribe #273
HIGHWAY NAME CHANGE! The road from I-90 to Sherman used to be Rte. 17. They changed the names of exists in Pennsylvania; now the exit for Sherman is Rt. 86.
A POSTER TO DISPLY ON X-DAY by new SubGenius sensation RIDETHEORY
Pre-X-Day Jitters
XXXXDAY, THE MOVIE
Brushwood's rule concerning cameras -- the FIGHT
Connie-ite Calendar 2001!
Correction: July 5, 1998

New Troutwaxing Story, "The Flowers"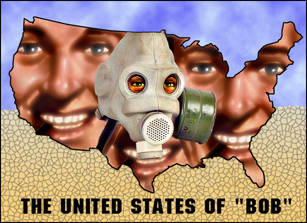 Stang Report: 4X-Day Sound Gear, Brushwood, CANDY
Survey: "PostHolocaustals"
Kill at X-Day
X-DAY'S A COMIN'!!!
XD4: Maggie Awards!!

South Florida XXXX Day Announcement

DAMNED SERIOUS::
Lil's Tampa Rant
Open letter to Iceknife and Stang...
Take me the triple-dippin' fuck off to space!
So, WE MUST GET OFF!! eh?

Xday Europe 2001...I have been ruptured
by Pope Black
X-DAY EUROPE
X-DAY EUROPE 2001 ONGOING Report by Pope Black!
Pope Black's New Address

INFORMATION FOR REPORTERS COVERING SOYUZ 2 TAXI MISSION

---
---