Boston Devival Report del Stango
From: Rev. Ivan Stang
Date: Wed, 05 May 1999
"FRIDAY-JONES-SHOULD-BE-FILMED-FROM-BELOW STUDIOS PRESENTS...."*
THEM ASSES HAVE SPOKEN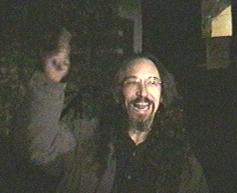 This is Rev. Ivan Stang reporting. I'm sitting at Friday's computer banks in the Friday Cave in Waltham, MA. She's away doing some sort of undercover errand for her OTHER masters, whoever they may be, and I'm waiting for her to return to, sadly, wisk me away to the airport so I can fly back to the accursed Buckle on the Bible Belt, Dallas. I hate to leave, because I've had so DAMN MUCH FUN here. MOST of the time. Finding out that the ultra-p.c. enlightened government of the city of Cambridge is QUANTIFIABLY LESS TOLERANT OF DIVERSITY than that of DALLAS, TEXAS, and watching Friday lose money as a result, was NOT fun.
We watched a Cambridge councilman explain that free speech of any kind was okay up until 1999, but that "the current public safety climate" means you should shut down a show first and then ascertain the show's content LATER. We also watched him read to the City Council from Papa Joe Mama's website, VERY VERY SELECTIVELY -- LEAVING OUT ANY PUNCHLINES OR SET-UPS THAT MIGHT REVEAL ITS ACTUAL SATIRICAL, FASCETIOUS NATURE. (For instance, he read aloud about the "Nitrous Oxide Gas Chambers" but left out "... where our victims will laugh themselves to death.") Deliberately making his fellow council folks think we are Nazi kooks. Without giving us an opportunity to correct the massive lie of omission. To cover his ass.
The ultra-P.C. humorless city councilman did not insist that the nightclub, and after that the church venue, cancel our show. He merely implied to the venues, and the cops, and the mayor, using "research" by omission, that we were white supremacists allied with the Trenchcoat Mafia and that we might draw a violent, even murderous audience.
I'm dead serious.
Needless to say, this is like Jerry Falwell calling the Teletubbies gay recruitment propaganda.
BUT THE COPS WHO WERE SENT TO INTIMIDATE US *LOVED* US, THE CHURCH LADY SAW THE ERROR OF THE FALSE ACCUSER'S WAYS AND INVITED US TO DO THE SHOW ANYWAY ON THE STEPS OF THE CHURCH; THE SWAGGARTS** SOLD $850 WORTH OF SWAG; THE ASSEMBLED MULTITUDE PASSED THE HAT TO HELP FRIDAY PAY FOR HER ADVERTISING AND PLANE FARE LOSSES; THANKS TO FRIENDLY COP FLOODLIGHTS, WE GOT AN EXCELLENT VIDEOTAPE OF THE NOW-INFAMOUS "CAMBRIDGE CHURCH STEPS DEVIVAL;" AND THE ACLU IS ALREADY ON THE JOB, LEGAL-EAGLE-WISE! We got PRICELESS P.R., and THE PINKS THEMSELVES PROVED EVERYTHING WE'VE BEEN SAYING ALL ALONG!
THEY FELL RIGHT INTO OUR TRAP!! WE WON!!
It ain't over yet, but of course I am not at liberty to divulge details which might taint a court case.
PRAISE "BOB"!! THANK GOD IT'S FRIDAY! HAIL THE "PAPAGANDA"!
IrReverend Friday Jones was the ROCK PROMOTER of this devival, and by that I mean that she was a ROCK! HER SAVINGS WERE ON THE LINE and she was suddenly being SHOT DOWN, ONE VENUE AFTER ANOTHER, by both anonymous weird creepy threatening callers to the venues, and powerful city officials... AND YET SHE HUNG IN THERE! SHE THRUST ON FORWARD THROUGH THE FRAY, a mighty STEEL-PLATED PROW on the Good Ship Dobbs, SMASHING ALL ICEBERGS IN HER PATH and melting them with the FERVENT HEAT of her PURE UNBESMIRCHED LOVE-HATE!! (And her not inconsiderable CHEST!) Papa Joe, Dr. Legume and I watched Friday Jones become a MARVEL of determination, a veritable SUPER HERO UBERFEMME of bear-trap-like tenacity.
GET DOWN ON YOUR KNEES ye worthless ones and KOWTOW TO FRIDAY THE MAGNIFICENT, FRIDAY THE MIGHTY, FRIDAY THE ALABASTER GODDESS OF UNRELENTING ANTI-CONSPIRACY ORNERINESS!!
and to JESUS CHRIST!!
When the shit started coming down, the Lord hit the phones like a madman.
It was He that got the ACLU on the case which then turned up the Old Cambridge Baptist Church, and it was the Lord who first started dealing with the Scared Councilman. It will be Our Lord Jesus Christ Business Manager that hounds the heels of the guilty. Jesus ain't got much of a bosom AT ALL. BUT! He is just as tenacious once he gets the scent of the prey and the hunt is joined. Jesus is "Bob"'s BLOODHOUND FROM HELL and the AMBULANCE CHASER OF THE GODS.
As his punishment, Papa Joe was given a new nickname. As his reward, I will not reveal it here.
Actually, Papa Joe Mama's hilarious call to TALK OF THE NATION on NPR was not the catalyst. Some nasty old fart in Florida sending the councilman Papa Joe's hilarious HOLOCAUSTAL WEBSITE print-outs was the catalyst. Papa Joe's NATIONALLY HEARD PUBLICITY STUNT CALL was merely the ICING on the CAKE. Indeed, one of the mysteries of this whole thing is that our persecutors COMPLETELY MISSED the Expose "Bob" website, which would have been even better for their purposes of slander.
You know, I may be the most dedicated Ivangelical of all, but these P.C. nazis in Cambridge were SO SO VERY BLATANTLY, PAINFULLY, AND UNFORGIVABLY PINK, that I find myself VEHEMENTLY DEFENDING the HOLOCAUSTALS!! Normally my ARCH ENEMIES within the Church!!
It proves that even the most diametrically opposed of SubGenii are BLOOD BROTHERS when compared to the HUMANS. The PINKS! The MEDIOCRETINS!! THE NORMALS.
RACIST??!?
They don't begin to GUESS the depth of our ALL TOO HUMAN RACISM!! For it is not racism, nay, but SPECISM! But try convincing a NEWT or a FROG that you're of a different species than him. We have as much luck showing the Pinks the errors of their ways. There is NO communication. They look at "Bob's" face and instead of seeing the embodiment of Slack, they see... NOTHING. Or a mere PICTURE with no meaning. Or a THREAT. SURE the Church is just one big "publicity stunt." But it's the GRAND PUBLICITY STUNT FOR FREEDOM OF SPEECH! For freedom of MIND! For SLACK!
False prophets bearing false witness. I'm gonna tell God on you, ye politicians! AS SOON AS I VANQUISH HIM IN BATTLE!! With the help of the Million Man Trenchcoat Army, we will DEFEAT GOD as well as His POLITICIAN HELPERS. But we will do it with LOVE, not hate. We will do it not with pipe bombs, but with pipe bongs. (And bombs full of pipes.) (And pipes LOADED with "da bomb"!). We're the opposite of a "hate group." We're Hate Groupies trying to perform a Love Grope. Our bloody rallies and the ensuing riots are ANTI-HATE rallies! That's why we say:
STOP THE VIOLENCE -- KILL THE SUBGENII
PROTECT FREE SPEECH -- SILENCE "BOB"
That's essentially what it came down to. They felt that our form of "free speech" is in such bad taste that it endangers OTHER free speech, and for that reason MUST BE CENSORED.
But yet... but... yet...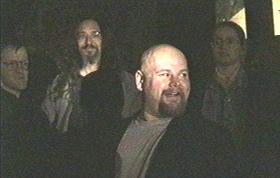 WHAT A GREAT WEEKEND IT WAS!!
PLUS I got to see THE MATRIX and DARK CITY, *AND* EL TOPO, with some of the sickest Holocaustals in the whole wide world, Dr. Legume and Papa Joe and Friday Jones! I got to HANG OUT! I got to SLEEP! I got me a got-dayemed GUSHER of PURE SLACK!! (Several of them, in fact!)
The only thing keeping this from being FULLY RIGHTEOUS is that Friday is still out several hundred dollars. She bought plane tickets for me, Legume and Papa Joe, she designed and printed zillions of GORGEOUS flyers, she and Modemac went ALL THE HELL OVER BOSTON AND CAMBRIDGE posting the flyers, she printed POSTCARDS and mailed 'em out to the Subs of 6 STATES, ALL ON HER HARD EARNED SAVINGS!!
So I think YOU KNOW WHAT TO DO!!
Send it to THE FRIDAY JONES RELIEF FUND
PO BOX 623
WALTHAM, MA 02454-0623
SO SHE CAN DO IT AGAIN!!!
Or... BUY THE VIDEOTAPE! ALL PROCEEDS GO TO FRIDAY! THE BOSTON "CHURCH STEPS" DEVIVAL AND BACKSTAGE SURREPTITIOUS HOME MOVIES
90 min. VHS
$10!
Deluxe "I GAVE AN EXTRA $10 to FRIDAY" edition: $20!!
Be like Mighty Friday herself and
DO IT TODAY WHILE THE HATE STILL GLOWS WITHIN YOU!
And ALL HAIL Rev. JIHAD FRENZY for SHOOTING the "Church Steps Devival" video, valiantly interviewing the unwilling as functioning as a stalwart HUMAN TRIPOD in the biting cold of the deadly night under the blistering kleig lights of the jackbooted stormtroopers!
****
If you want to understand what happened to the Church in Cambridge, as well as WHAT'S HAPPENING TO YOU RIGHT NOW, rent and review each of the films on this new, revised
MUST-SEE "TRULY SUBGENIUS-THEMED" MOVIE (and TV Show) LIST
THEY LIVE
THE MATRIX
INVASION OF THE BODY SNATCHERS (either version) INVADERS FROM MARS (ONLY the 1950s version) DARK CITY
THE PRISONER (TV)
THE INVADERS (TV)
THE TRUMAN SHOW
TOTAL RECALL
BRAZIL
CATCH 22 (the book, really, but I guess you could throw the movie in... they TRIED)
TIME BANDITS
BARON MUNCHAUSEN
and on a positive note: IT'S A WONDERFUL LIFE
Legume added: WATERMELON MAN
Note that the theme common to all of these is "the individual's awakening to the fact that his entire previous "reality" had been a false construct all along." Well... that, or: "To an insane society, the sane person is mad." You know. Like... daily life, and all.
Add yer own! And incidentally, I *herewith* start that list of "RECOMMENDED READING/VIEWING" aka THINGS TO THINK AND KNOW. I recently moved my ENTIRE OFFICE as well as my whole library, and that involved some much-neeeded wheat-from-chaff distillation.
*(-- St. Janor Hypercleats ripped off by Ivan Stang)
** "Swaggarts" SubJargon gag by Dr. Onan Canobite
All other "gags" in this "rant" were "spouted" by Friday Jones, K'taden "Cortez" Legume, Joe Mama, Ivan Stang
"Spouted" copyright Dr. Philo Drummond
"Rant" is a trademark owned by Fred Schwartz
"Gags" is a trademark owned by the estate of Theodore Bundy
****
----------------------------------------------------------------------
Subject: Re: Boston Devival Report del Stango
From: monsterwax@aol.com (Monsterwax)
Newsgroups: alt.slack
Date: Wed, May 5, 1999 2:14 PM
Message-ID: <19990505151428.07169.00002841@ng-cl1.aol.com>
They can pull "Bob" over, but they can never really "stop" him.
The tighter they squeeze their fists, the more we slip between their fingers.
What does not destory us, magnifies our HATE!
Praise Ken Reeves! Praise the P.C. pinks who can't tell the difference between
pink "hate" and divine "hate". They're helping "Bob" motivate the troops for
the battle that must be fought WITH NO MERCY WHATSOEVER.
In other over reaction news, so kid just got kicked out of school for drawing a
gun in class. Not drawing it out of his pocket, but on a piece of paper!
I predict millions of "copy cat" gun artists, and subgenius' everywhere race to
get kicked out of school the easiest way their is.
ART above by Klink
Original file name: Boston Devival Report del S
This file was converted with TextToHTML - (c) Logic n.v.