BOSTON SUBGENIUS BAPTIST CHURCH STEPS DEVIVAL DEBACLE TRIUMPH
THEM ASSES HAVE SPOKEN
The MASSES have spoken
and
THE MASSAS have spoken.
FALWELLIAN STUPIDITY AND ORWELLIAN P.C. FASCISM COMBINE IN FAILED ATTEMPT TO SILENCE "BOB"
-- And their EXCUSE was that they were "protecting free speech!"
WHICH "catch" number did they say that was?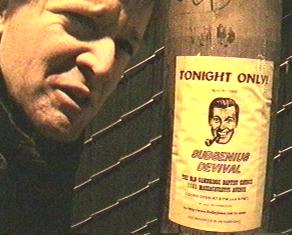 This whole hilarious-in-restrospect mess started when some BRILLIANT DETECTIVE in Florida deduced that all us SubGenii are part of the murderous, popular, world-spanning Trenchcoat Mafia conspiracy, and mailed a print-out of Papa Joe Mama's inflamatory Holocaustal Home Page to a Cambridge politician -- which in fact resulted in the CANCELLING of our scheduled Boston outreach. TWICE. We preached anyway on the steps of the Old Cambridge Baptist Church, which made for a much more authentic devival than we could have held inside the nightclub that wussed out, and now it's turned into an ACLU case, of all things!
And we can't help but CROW about it, for, as Dr. Legume pointed out, "We snatched a brown nugget of victory from the diseased, dessicated asshole of the Conspiracy." It's an exciting tale that involves police paddy wagons, literally fighting City Hall in the Cambridge City Council chambers, an ironically helpful Baptist church, a HUGE PILE of PHOTOS of funny-looking SubGeniuses (see illustrated walk-through), and a new $20 videotape.
For starters, if you have RealAudio, listen to the infamous "JOE FROM TALLAHASSEE" call to NPR's "TALK OF THE NATION" talk show.
BOSTON DEVIVAL PHOTO-ESSAY WITH CAPTIONS from Stang Cam
Hearan editted documentary of the complete sonic battle, scored by ESO, in Real Audio, on HOUR OF SLACK #683, the Boston UnDevival Special!

****

HOW IT STARTED
Big Brother is Watching Us... right now!

SubGenius on Talk of The Nation

Cambridge Chronicle article on Boston Devival

MAIN IN-DEPTH REPORTS -- How the Show Went On Even as the Firing Squad Cocked Their Rifles
Boston Devival Report del Stango
Rev. Stang's joyous peein' paean to P.R.
Cambridge Politician tries to stop SubGenius Devival
Modemac's blow-by-blow.
Banned in Cambridge!
--Friday Jones' bitter pissed off description of how her devival was assassinated by petty local politicians
Cambridge Chronicle article on Boston Devival

The next series of controversial letters to alt.slack, and the tire-bitingly pissed-off arguments thus sparked, exemplify what keeps this ol' Church more fun than a pumpkin full of feverish squirrels. Don't miss one of the all-time great alt.slack threads:
"Joe's next, in Tallahassee"
-- starts with a transcript of the phone call to NPR's talk show, followed by a classic flame war pitting hierarch against Bobbie in a battle to the death, culminating in:
That's it, I'm out of here. (Papa Joe Resigns)
The Martyritorial Instincts of P. J. Mama by Onan Canobite
Church Contract on "Joe from Tallahassee"
The day "Bob" wept.
Say It Ain't So, Joe!
Postcard from planet ten (Papa Joe's final taunt!)
---
OUR REAL CONNECTION WITH THE COLUMBINE HIGH SCHOOL MASSACLE AND THE TRENCHCOAT MAFIA
(Some thoughtful essays from alt.slack, peppered with sick humor and vengeful prattlings.)
---
FALLOUT! The grotesque repercussions of the unfair persecution of our innocent, earnest earnest "comedy act"
Dr. Foo's Remarks to Cambridge City Council

P-Lil's Letter to the Cambridge Chamber Of Commerce

Regarding Boston Devival: DON'T PESTER, PLEASE

Cambridge politicians merely cogs in the machine

FRIDAY CONQUERS FORCES OF EVIL!

TALL FAT BALD MAN STYLE HOLOCAUSTALISM WILL BE THE DEATH OF THIS JOKE CHURCH YET.................
Thais cutting in on Stang's action!

---
MISCELLANEOUS EYE-WITNESS ACCOUNTS
"Pinks walking past the Cambridge Baptist Church"

These Baptists aren't like the Baptists you're thinking of

---
---
RANTS THAT HAVE NOTHING AT ALL TO DO WITH THE BOSTON SUBGENIUS DEVIVAL OR THE TRENCHMOUTH MAFIA!
The Rocket Boy Alternative to Everything
by Commander Chas Smith
TO ALT.SLACK FROM STERNO!!!!!!!!!!!!!!!!!!
by Pope Sternodox
Other web pages devoted to this offensive event:
PAPA JOE MAMA's BANNED REVISIONIST HOLOCAUSTAL PAGES and special report
Hate Group monitors everywhere, take note! The Holocaustal Homepage has been updated (especially the last half). You don't want to miss this exciting oppertunity to get new "dirt" on Dobbs. Check it out and build your case against "Bob"!
MODEMAC's First Online Church of "Bob" SubGenius Media Archive
---
OUR FINAL STATEMENT
The only thing keeping this PERFECT DEVIVAL from being FULLY RIGHTEOUS is that Friday Jones is still out several hundred dollars. She bought plane tickets for me-Stang, Legume, and Papa Joe, she designed and printed zillions of GORGEOUS flyers, she and Modemac went ALL THE HELL OVER BOSTON AND CAMBRIDGE posting the flyers, she printed POSTCARDS and mailed 'em out to the Subs of 6 STATES, ALL ON HER HARD EARNED SAVINGS!!
So I think YOU KNOW WHAT TO DO!!
Send it to
THE FRIDAY JONES RELIEF FUND
PO BOX 623
WALTHAM, MA 02454-0623
SO SHE CAN DO IT AGAIN!!!
Or...
BUY THE VIDEOTAPE! ALL PROCEEDS GO TO FRIDAY!
THE BOSTON "CHURCH STEPS" DEVIVAL AND BACKSTAGE SURREPTITIOUS HOME MOVIES
90 min. VHS
$10!
Deluxe "I GAVE AN EXTRA $10 to FRIDAY" edition: $20!!
Be like Mighty Friday herself and
DO IT TODAY WHILE THE HATE STILL GLOWS WITHIN YOU!
Send check for $20 (to "The SubGenius Foundation, Inc.") to SubGenius, PO Box 140306, Dallas TX 75214