X-Day Drill '96 Report Part 5
by Rev. Stang
((VIDEO FIVE))
(Video 5 available only to those 12 people who were there.)
SUNDAY
7:00 AM SERVICES
Only a Few Made the Cut:
Jesus
Friday Jones
Will O'Dobbs
Nickie Deathchick
someone else
El Diablo
Demonica
Pastor Craig
The Unknown Young Skullcap Guy
Steve Slack
Pope Phred
Sosodada
Tom Herr
Susie the Floozie
ID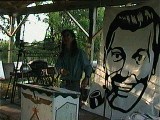 Stang, exhausted, butt dragging, takes stage before 15 people.
Jesus pans camera over as Stang distributes the Pils ... birds chirp...

70 pils represent the souls that will sleep through X-Day, those who think it's just a funny little little joke. "OH, this is just a DRILL! I'LL STAY HERE IN THIS NICE WARM SLEEPING BAG WITH THIS NICE POUNDING HANGOVER... AND IT DOESN'T SAY YOU HAVE TO BE AWAKE TO BE RUPTURED. BUT THEN... WHAT IF, AT THE MOMENT OF TRANSLATION, YOU TRANSLATE INTO WHATEVER HORRIBLE NIGHTMARE IS IN YOUR MIND WHILE YOU'RE HAVING D.T. NIGHTMARES... WHAT IF YOU DREAM OF BEING CHASED BY NHGH IN THE MUD FOR EVER AND EVER... SOME ETERNITY, HUH... SHIT TICKS NIGHTMARE...
I'll let "Bob" be my alarm clock...
Stang prepares for countdown///
gives pils to last minute attendees...
2 minutes... 30 sec... 2 years, 25 sec... rip your Pil open... cameramen too... you are the chosen... 5 4 3 2 1 PIL!!! Eat the Pil... WHOA!! RIDE THE SNAKE...
51 sec, a communal rush. That's how long the Rupture will take.
NEW DOCTRINAL REVELATION::
(((XXXX NOT TO BE REVEALED TO THOSE WHO DIDN'T THINK THEY NEEDED TO MAKE IT)))
"... but its almost as bad."
Stang does 1-hour X-Day rant not for publication. Someone else models the Susie the Floozie Official Shirt. Stang does a rather reasoned and sane rant, maybe his only one, for almost no audience at all.
((TOP SECRET RANT for 67 minutes))
SECRET DISCUSSIONS RE: UFOs
The basic truth behind the Greys... the actual relation to the movie Independence Day. Stang's personal UFO revelations. Background secrets about Bill Barker, Schwa...
((CENSORED)))
What this Drill was about... that we be reminded of the seriousness... that we create propaganda to make those who missed the Drill want to make the next one. Think about all those alt.slackers who couldn't be proidded out of their sleeping bags when push came to shove... all those alt.slackers who couldn't quite make the simple, easy cut, because their air conditioned comfort came first. They'll sit there waiting for the mpeg. And some of you will disavow us a year from now when our deal comes through...
(And Satan so loved the world that he amputated his horns and tail and came down into the world of men..)
Clean-up... Susie walks off into the distance.
Jesus, Susie, last faithful take the Squid into the wilderness and cast it free to swim in the ponds... at sunrise...
***Jesus commits squid to the pond... Susie weeps. Stang narrates.
Susie still picking red squid hair from her teeth... hacks up pure frop resin....
THE WAGES OF SIN in the wet grass: El Diablo's prune feet.
Jesus goes to clean up the cross after the crucifiction.... the holy remnants have been stolen. A few bits of Dobbs flesh remain on the ground as melted polystyrene. "We can sell this." Jesus attempts to smoke the burnt remnants... someone stole the Pipe... Jesus finds Dobbs tie shred. CU brain, tie, on stump...
Bob's blue nut... he was frustrated, all along.
Jesus dismantles cross, avoiding nailing by ONE MORE YEAR, by "Bob"'s grace. Jesus is thankful as sun rises...
NOTE From Susie on outhouse door: "Uh... never mind."
Pastor Craig admits he thought it was 7:30. (???!?!???!)
Betsy shows off her ugly doll with its dick.
endless stupid garbage as people leave... spaced out shit.
SALES TABLE as we pack up//// Legume dry-humps Friday, someone else... hideous sex scene
3 pm: Lonesome Cowboy Dave arrives for the Drill.
Stang and Lonesome Cowboy Dave explore Brushwood by foot.... Dave gives his excuses as the tape all runs out, everything unravels into tiredness and nothingness as Stang brags about the coolness gone by....
Jesus and Dave help pack up to leave.... the awful spread of shit waiting to be packed.
((END VIDEO FIVE))