X-DAY END O' THE WORLD DRILL #1

BRUSHWOOD FOLKLORE CENTER -- SHERMAN, NY

X-DAY 1996!!

JULY 5 through 7

"...a LITTLE TASTE of DOBBSTOWN!!!"
---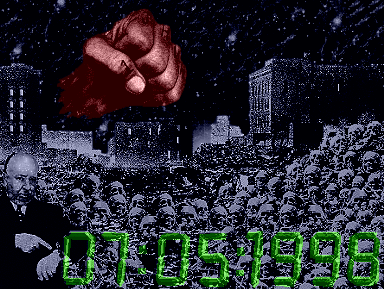 NEW NEWS RE: THE DRILL!

UPDATE: JULY 1
If you are planning to attend or seriously considering it, here's the very latest news regarding attendees, times, places, etc. This will be the last update that I, Stang will be able to deposit here before leaving for Brushwood myself.

art by funway plastico


Long before the event actually happens, we already have legends about it. Check out this X-DAY DRILL TALE by Rev. Friday Jones.

And, the fights and recriminations are already breaking out! Check this exchange of mail between JESUS and his ANONYMOUS ENEMY.
---
There are only TWO YEARS LEFT -- TWO MORE JULY 5ths before we KISS ALL CALENDARS GOODBYE! (SEE "X-DAY COUNTDOWN" in Java) This gives us just barely enough time to PREPARE... by gathering together all the tribes and phyles of SubGeniusdom for a VAST, YEARLY DOKSTOK-LIKE FREE-FOR ALL OUTDOOR SLACK-FEST at THE COOLEST CAMPGROUND IN THE UNITED STATES!

BRUSHWOOD is just outside the village of Sherman in southwestern New York state, an hour from the Eerie airport and about 2.5 hours' drive from Cleveland or Buffalo. This is the site of the infamous Starwood neopagan gatherings -- 180 lush acres of rolling hills and majestic woodlands, with indoor hot showers, flush toilets, a roofed swimming pool and hot-tub area, a giant tent for holding tent-show devivals, and enough electrical power to keep TEN THOUSAND DOKTORBANDS CRANKING OUT THE HITS USING ALL THEIR EQUIPMENT, WHILE BREATHING CHURCH AIR, AND PERFORMING NASAL SEX, STARK NAKED, RIGHT THERE IN FRONT OF EVERYBODY, ALL NIGHT LONG!! That's right, you can REALLY LET YOUR TRUE YETI NOSE HAIR DOWN at THIS little campground! (It's "clothing optional"! SEE "The Swingin' Meat Jesus!")

It'll scare the shit out of the norm-worms and PROBABLY US TOO!!

But this isn't the sleazy poebucker set-up that The Pink Inside You fears. Brushwood is COMFORTABLE. The situation is SECURE. We will have our OWN "police." The folks who run the site, and the town nearby, have been doing this for YEARS with the PAGANS, and are COOL with "BOB"! THIS IS THE PERFECT PLACE to PRACTICE and DRILL for the UTTER MOUTH-WATERING SLACK we'll have to undergo come 1998!! NONE MAY STOP US -- and NONE MAY ESCAPE ONCE THE GATE CLOSES!!

This isn't a "maybe," nor one of those "if there are enough people;" we've already got the site reserved; IT WILL HAPPEN!!! The SubGenius contingent of Cleveland's A.C.E., who have run Starwood successfully for 13 years, will be there to help make your visit the INSANE, UNFORGETTABLE, NERVOUS-SYSTEM-RAPING EXPERIENCE that it SHOULD be... and to help us FREAK OUT the STUFFED-SHIRT "RESERVED" SUBGENII until THEY TOO JOIN THE "ORGY"!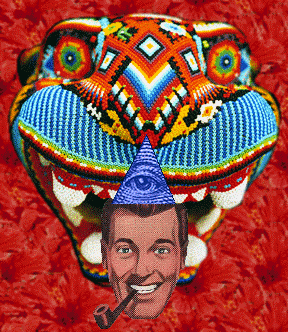 THIS IS IT! This is where things start getting REALLY REAL! You'll notice we haven't mentioned any PREACHERS, BANDS or "SHOWS" yet. That's because those things will be YOU on X-Day!!! You wanna RANT?? Get up there and RANT! Audition for the next Slack Crusade Tour! You wanna show off your COOL SHIT?? The stage is YOURS. You want to get SO DRUNK that you waddle around with your pants around your ankles, drooling, before toppling over into the pond? THIS IS THE TIME AND THE PLACE FOR IT!! WE aren't gonna plan a GOD DAMNED THING!! The ONLY RULE is... DON'T SULLY ANYBODY ELSE'S SLACK. (NOTE: even FAKE guns and rocket launchers are highly illegal in NY.) If you fuck up or piss us off, we won't hesitate to have you physically thrown out by big burly S.L.A.K. Squad goons and/or THE MAN.
CLENCH SHUT YOUR EYES AND STRUGGLE WITH ALL YOUR MIGHT, TREMBLING AND SHAKING, SWEAT POURING OFF YOU, TO TRY TO IMAGINE...
SAUCERS WILL SCREAM OVERHEAD! GREYS will SKULK in the BUSHES! ACTUAL LIVE YETIS will MATERIALIZE by YOUR CAMPFIRE! YOU'LL FINALLY MEET YOUR TRUE YETI MATE AND FUCK WILDLY IN THE BUSHES! YOU WILL BECOME YOUR OWN HERO!! YOU WILL MEET FRIENDS FOR LIFE WHO WILL GET YOU RICH WITHOUT WORKING!! And it won't just be a raggedy bunch of SubGeniuses wandering around -- it'll be NAKED PAGAN WITCH CHICKS and STUDLY FROPMEISTERS DANCING NAKED AROUND HUGE BONFIRES (which happens pretty much every other weekend at Brushwood, ANYWAY). You will see and experience things that may SHOCK you... that may even PERMANENTLY TRAUMATIZE and SCAR you. That's OKAY. It's all part of Dobbs' UNDERPLAN.

art by Rev. Dr. Cordt Holland
It's a SubGENIUS X-Day DRILL party! You bring the self igniting Bobbies and I'll bring the binoculars! OK, you bring the candy warheads and I'll bring the real ones! OK, you bring the pipe cleaners and I'll bring the cornstarch! OK, you bring the great big wooden cross and I'll bring the Hill of Skulls! You bring the Messiah and I'll bring the nails! You bring the pit bulls and I'll bring the pit! You bring the soda pop and I'll bring the tactical nuclear weapons! You bring the Greys and I'll bring the bug spray!
WE WILL SUMMON THE XISTS!!!!
("What's this "X-Day" bizness? What the hell are you people TALKING about," you ask. Try our doctrinally-correct ANSWER from SubGenius Pamphlet #2 -- or, DEEPER INFO on the ins and outs of our Liberation Day! Or, TOUCH THESE MAGIC WORDS to view an X-DAY INSTRUCTIONAL VIDEO!)
OH MAH GAWD!!!
There'll be
SIDESHOW MARVELS!
TUBS AND TUBS OF PURPLE KOOL-AID!
SPONTANEOUS DOKTORBAND COMBUSTION!
TRAINED PRAIRIE SQUID GIGGIN'-PARTIES!
(Free Debeaking Tools to 1st 5 giggees)
SPORTS FIGURE BODY PART LAUNCHING!
NUDE CHAINSAW JUGGLING!
BULLFIGHTS!
'FROP ENHANCEMENT WORKSHOPS!
ACUBEATING!
PSYCHIC SURGERY!
COCKFIGHTS!
LIVE FREAKS OF NATURE and ACID CASUALTIES!
FACE FUCKING BAT SPERM ANTIDOTE PUDDING COOK-OFF!
BOBBIE ROPING!
PRIVATE ADULT SEXHURT SEMINARS!
BONOBO CHIMPANZEE GOBBLIN' CONTESTS!
DOGFIGHTS!
SELF-MUTILATING PREACHERS!
ODDLY NORMAL-SEEMING PEOPLE!
INSANE, IRRITATING BOBBIE ASSHOLES WHO WON'T SHUT UP!
(Plus, if the pond freezes over, NAKED ICE-BORER RACING!)

FREE CRUCIFIXIONS and FRONTAL LOBOTOMIES! LIVE KASSNER HEAD-PUSSIES! LIVE ALIENS and their "WALK-IN" DUPES! BODY PAINTING!
IMAGINE -- the SHEER POWER TO BE BULLIED BY FAMOUS SUBGENIUS ZEN MASTERS!!

IMAGINE -- YOUR BIG CHANCE to BUY EVERY SUBGENIUS TRINKET, ARTIFACT and GEEGAW EVER MADE by ANY SUBGENIUS at the "Black Fleece Market of Slack".

IMAGINE -- YOUR BIG CHANCE to meet those amazing, intriguing individuals you've heard on the radio, seen onstage, or read in alt.slack and the holy Church books!

IMAGINE -- YOUR BIG CHANCE to find out JUST WHERE YOU STAND with DOBBS!!!

IMAGINE -- YOUR BIG CHANCE to prove yourself on the Altar-Stump of THE SPIKE !!

And BELIEVE -- THIS MAY WELL BE YOUR LAST CHANCE to become a FAMOUS, HIGHLY PAID SUBGENIUS PREACHER and TOUR with the next SLACK CRUSADE!! (See info)

GET FIRST CRACK
at becoming the one of the limited number of
GOLD CARD MEMBERS
(preferred status and access to secret info & goods)

...and get in on the ground floor of the new
SUBGENIUS CHURCH PYRAMID SCHEME

WE AREN'T KIDDING!! This is the Church's chance to establish a yearly event that will become LEGENDARY!! -- even if the world is destroyed during the third one. This "Northern Dokstok" will be -- nay, ALREADY IS -- a thousand times cooler than Woodstock. It's a regular "Brainbeau Gathering." You'll be able to tell your great-great-great-great-great-great-great grandkids, "I was at the First X-Day Drill... Yep! 'Fropped up with the great Rev. Stang hisself there... even fucked Connie Dobbs! And "Bob" fucked me -- right good, I'd say!"

The QUEEN of ALL the UFOs sez:
"All in an X-Day's work!"
art by St. Joe Riley

You Southerners and Westerners may complain, "Hey, why not have it in MY state?" Well, look at it this way. In rural New York in the dead of summer, it's still COOL AT NIGHT and there are NO MOSQUITOS!! And this location practically guarantees that you will have the honor of being abused by no less than:
DR. K'TADEN LEGUME!! (who did that painting right there) PAPA JOE MAMA!! CIRCUS APOCOLYPSE!! REV. NICKIE DEATHCHICK!! LONESOME COWBOY DAVE!! EINSTEIN'S SECRET ORCHESTRA!! THE LORD JESUS CHRIST, SON OF GOD!! KING OF SLACK BILL T. MILLER!! REV. IVAN STANG!! SISTER MELODIOUS CHOPPS! PRINCESS WEI "R." DOE!! TOTH WILDER AND FORMS OF INSANITY! REV. GENENIA GRRRRINDER!! KID GINSU!! REV. BLEEPO ABERNATHY!! and probably SISTER SUSIE THE FLOOZY!! POPE DAVID N. MEYER!! DK JONES & HUGE VOODOO!! BROTHER CLEVE DUNKAN!!
And we'd be willing to bet there'll even be bus money for ST. JANOR HYPERCLEATS!
Hell, "JOE" might even be there!!
NOT TO MENTION:
NENSLO!! POPE STERNODOX! G.GORDON GORDON! DR. PHILO DRUMMOND and THE SWINGIN' LOVE CORPSES!! JOE NEWMAN, SPHINX DRUMMOND and BOOGER 9000! PALMER VREEDEEZ! DR. HOWLL! PUZZLING EVIDENCE! WILL O'DOBBS! GLASSMADNESS! GARY G'BROAGFRAN!! JOHN SHIRLEY!! NANZI REGALIA! MARK MOTHERSBAUGH! THE SEXICUTIONER! BYRON WERNER! -- that is, if they aren't a bunch of PUSSIES!!!
Now you're saying,

You don't have to do a DAMN THING and neither do we. All you have to do is BE THERE, CASH IN HAND! (VISA or MONEY ORDERS ACCEPTED. NO CHECKS!! Hit the ATM FIRST!!)
$25 for ORDAINED SUBGENIUS MINISTERS
(MUST HAVE MEMBERSHIP CARD! We WILL have our computerized Sacred Mailing List records at the gate as well as a MWOWM v.1.0.2b4 Pstench Scanner.)
$40 for THE UNSAVED
(But you get $10 off on a NEW MEMBERSHIP/ORDAINMENT!)
PLUS $10/day for camping!
NO one-day passes! * NO one gets in free or for a discount -- NO ONE, not even us!!!! Everyone pays! Bitch to Jesus Christ Devilacqua if you can't support the Church. (Exception: we need a sound system. Whoever brings a sound system will have the event fee waived. And Bob Dean. Bob Dean gets in FREE!)
Admissions will be closed each night between 1 am and 10 am. PLAN TO ARRIVE OUTSIDE THESE HOURS. Parking is located at the front of the site; vehicles must be parked there after unloading inside. To insure privacy, security, and a plague-free event, you must sign a waiver and wear the ID triage tags given you. Brushwood is clothing-optional EXCEPT near the road. That means nakedity, Beavis.
This is a semi-developed camping facility (no RV hookups). Bring EVERYTHING YOU'LL NEED. NO ONE WILL BABYSIT YOU. There may be food for sale at the site, but there may not. Bring tent, sleeping bag, flashlight, food, cookstoves, first aid. (The water there is ok.) Nights can be VERY COLD even in July, so bring warm stuff.
DIRECTIONS TO BRUSHWOOD:
Find Sherman, NY on a NY map. It's off Rte. 17, west of Chautauqua Lake in the southwestern part of the state, at the very tip, where it's reaching for and almost touching Ohio. 430 runs through it; 76 crosses through it and Rt.17
Go to Sherman.
Sherman's only one block long. Main Street = 430. Go to the west end of Main (Ford dealer on the corner) and turn south onto Co.Rd. 15. Take 3 miles to first 4-way intersection, which is Bailey Hill Road. Turn right (west) on Bailey Hill and go 1 mile. Brushwood is on the left, with a sign. If you get lost, you can call Brushwood at 716-761-6750. For any other purpose, call the Devival Hotline: (216)556-0338
For more info, but probably not much more, call or email the DEVIVAL HOTLINE: (216)556-0338
Or send SASE to XDAY DRILL c/o SubGenius Foundation PO Box 140306, Dallas TX 75214, for info and "registration" form.
* Anyone wanting to put on something special, rant, or play, JUST SHOW UP AND DO IT. We DON'T plan on "organizing" this one AT ALL. Preachers or bands planning on ranting, etc., should let us know only so we can add you to the p.r.
X-DAY'S A-COMIN'!!!
PRIORITY SECRET: FOR HIERARCHY EYES ONLY!
PROPHECY ALERT!!!!

Looking through the original Book of the SubGenius (orange cover), I discovered that there was a misprint in the Dateline for Dominance. The dates 1996 and 1998 were REVERSED. Now this could very well be merely a misprint. But we cannot ignore the possibility that this is a new PROPHECY REVEALED. It could be that Dobbs , in his infinite stupidity, wrote the WRONG DATE on one of those moldy pizza napkins or motel receipts. But because "Bob" is such a lucky sonofabitch, the ineptitude of the publisher worked out in Dobbs' favor, correcting this important flaw in the Prophecies. I cannot claim this is a fact; it is merely a theory. Dare you take the chance? The shit is hitting the fan, brothers & sisters. The newly saved are leaving our devivals in droves. We may well pass our goal of a million new memberships by Friday. I predict that the Big One is coming. The signs are in the sky and burning cursed scars of land lay ahead like your rotting carcass stretched across the asphalt, slowly cooking on the hot sticky asphalt of Route 666. July 5, 1996. Minutes away, yet a slow agonizing eternity for the unsaved. The Church is in a turmoil. We must SAVE SOULS like madmen. The clock is Ticking.
-- LEGUME
Also at Brushwood in NY, Rev. Ivan Stang and Dr. Legume will be preaching at
STARWOOD
July 23-28

SEE DETAILS NOW!!!
If you cannot make it to Starwood or the X-Day Drill #1, you are a loser and not fit to call yourself a SubGenius! However, you can vicariously experience the entire traveling Slack Crusade Tour in rivetting photos and blatantly exaggerated text!! Or listen to it on SUBGENIUS INTERNET RADIO!! WE BLAZED OUR WAY ACROSS THE CONTINENT!!
********************************