The Slack Fist of Retrieval!
Welcome! You have chosen wisely!
In your wisdom, before proceeding any further you may wish to purchase spiritual insurance through our newly refined
OF GOODS AND SERVICES
(The nude photos are included only as a 'draw' and are not to be used for masturbatory purposes.)

SO, YOU THINK YOU'RE ALREADY A SAVED SUBGENIUS, FULLY PREPARED TO PLUNGE ON INTO THE WEB PALACE OF DOBBS?
You really DARE to venture DEEPER, EVER DEEPER into
THE ONLINE STARK FIST OF REMOVAL?
Are you sure? Do you have what it takes? Do you have hundreds of hours of free time? Within are a few dozen holy books' worth of divine revelation, brought to you at great personal risk by The SubGenius Foundation and its millions of friends and agents. Go past this door, and you may never come out.
OPEN THE GATES OF PARADISE
Roll aside the stone, enter the Mouth of the DobbSpider and descend into the very Bowels of the Web!


IMPORTANT CHURCH NEWS plus SHORTCUTS to the NEWLY-ADDED STUFF on THIS WEBSITE!
Don't ignore this ever-updated HANDY FEATURE!
DO YOU SUSPECT YOU MIGHT NEED TO KNOW MORE ABOUT THE CHURCH OF THE SUBGENIUS, FIRST?
#1. Everything is explained in
SUBGENIUS PAMPHLET NUMBER 1
The NEW Web reprint of the classic that started it all!
OR TRY:
ETERNAL SALVATION
or Triple Your Money Back


OR:
Skip over everything else and save time and effort with
The E-Z Quick-Implant BrainWipe
YOU'LL NEVER HAVE TO READ OR THINK AGAIN.

Downloadable death-games, gimmicks, gizmos, screensavers, movies, viruses and other SubGenius-customized programs!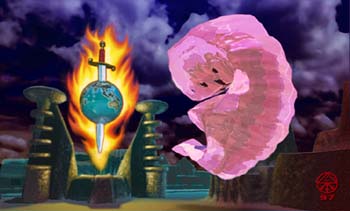 Are you AWARE of the minutes counting down before THE RUPTURE on XX-DAY?? (Requires Java)
(OOPS -- we mean, 1999.)
(Or possibly 8661.)


The Holy SubGenius Digest Slackmail Archives
Thousands of years ago, before even alt.slack had evolved, there lived on this earth a SubGenius bbs originating at M.I.T.'s Artificial Intelligence lab in Boston. These are the fossil remnants left by those long-extinct SubGeniuses.



REMEMBER: The purest, most sublime Slack obtainable is that derived from simply avoiding THE CRAP THAT YOU HAVE TO DO. A good example of this is when you do laundry, but just leave everything in the dryer, picking it out as needed over the following week. In a way, that's exactly what you are doing now, at this web site. The longer you procrastinate by lollygagging here, the more Slack you will accrue. If you're accessing the Net at a flat rate, staying here longer effectively makes your per-hour rate decrease. GOING DEEPER AND DEEPER INTO DOBBS' PALACE SAVES YOU MONEY!


OUR CURRENT STATE OF UPHEAVAL IS NO CONCERN OF YOURS
This web palace will always be "under contruction," for ever, and ever, and ever. We appreciate your inconvenience, your suffering, your impatience and rage.

"Live it, or live with it."
-- The Firesign Theater

---
If you're on a slow modem or trapped inside America Online, and all this gorgeous artwork that you CAN'T SEE is driving you crazy, bear with it. 90 percent of the hundreds of articles, rants, news and reviews that lie beyond these opening pages are still devoid of art and will be E-Z-to-skim... for a little while longer, anyway. Enjoy your crappy equipment while you still can!
THE STARK FIST OF REMOVAL: ONLINE
Address all correspondence, submissions, supplications, prayer requests and donations to The SubGenius Foundation, Inc., PO Box 140306, Dallas, Texas, USA 75214; e-mail slack@subgenius.com; fax 214-320-1561. We are irresponsible with unsolicited contributions. If you have a question about our mail order service, email JESUS at jesus@subgenius.com or fax Him at (214)320-1561. Or call toll free, 1-888-669-2323. DEALERS PLEASE INQUIRE FOR BULK RATES. Subscribers must inform this office of any change of address; failure to do so jeopardizes the subscriber's sole chance for Transfiguration and planetary escape on July 5, 1999.
Printed on electrons hand-picked by monks from the atom fields of Dobbstown, Maylasia, using recycled brain cells and serotonin donated by the faithful. Purchase price will be completely refunded without question should eternal damnation result from the reading of this web site. Any similarity between people and places in fiction and semifiction, and any real people or places, is purely coincidental. All models are over 18 years old.
Beware of lame imitations. So-called "SubGenius" or "Dobbs Approved" products by other manufacturers are not necessarily sanctioned by, nor representative of, this, the only legally incorporated seat of Dobbs' earthly kingdom and sole Called Bearers of The Covenant Trademark. Beware of possible counterfeits or Prankster Versions of SubGenius Foundation output.

---
The essential SubGenius teachings are encapsulated in THE BOOK OF THE SUBGENIUS (ISBN number 0-671-63810-6) and in REVELATION X -- THE "BOB"APOCRYPHON (ISBN # 0-671-77006-3), Fireside Books trade paperbacks published by Simon & Schuster. See the flipside of this Web site for catalog of other Church products including audio and video tapes, wearing apparel, and protective devices ("PRICELIST OF THE GODS").
All art on this page is byIrRev. Friday Jones! Except: Spider: Hal Robins! DevilDotBob and Dobbs photo: LIES! Color painting, "VISUALIZATION" by NENSLO

COPYRIGHT © 1995, 1996, 1997. 1998, 1999 by The SubGenius Foundation, Inc. All rights reserved. The Graven Image of "Bob" Dobbs' Face is a registered trademark of The SubGenius Foundation, Inc. (FIST18)