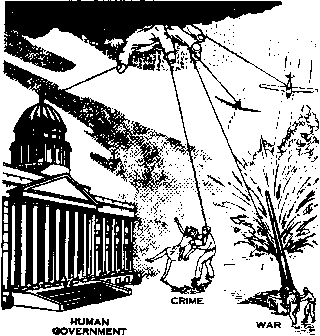 Jehovah 1
-- space god

The Church of the SubGenius is the PAN-RELIGION of the FUTURE, and REBELS against the namby-pamby, goody two-shoes "NEW AGE" and "AQUARIAN" ideals of most occult weirdos. Such people are fools, they do not curse, they have no understanding of the need for spiritual violence in this modern space-age a-go-go society.
The SubGenius wants no part of the "New Age," it is already here and it obviously sucks. The SubGenius would rather RETRIEVE the manly Past, before 1971 or even 1953, or else dwell in the naughty, fun-loving REMOTE FUTURE, a strange time when anything made of plastic is a valuable antique that collectors will KILL for, when SEXHURT will be recognized and indulged in as sane human nature no matter whether any 'church' or 'government' allows it. But such things are TRIFLES! The SubGenius knows that JEHOVAH 1 is a VENGEFUL GOD OF WRATH! JEHOVAH 1 - a.k.a. YAHWEH - is a mad alien, full of eyes round about, He cometh with the clouds, radioactive, all-pervading, He has forged His covenant with the SubGenius in CHAINS of GENETIC PROGRAMMING and DEMANDS OBEISANCE to His caveman sense of humor. He has been denying us SLACK and what He is making us do dates back to Homo Connectus, First Whole Man; only by letting our bodies obey the Code of financial lust survival that is built into them can our brains be freed from his INEVITABLE FIST.

Everything we do, have done, or will ever do, normally on-the-job but also and especially on the causational level of micro-atomic occurences and billionth-of-a-nanosecond electron collisions, is dictated by the permutations of the great SKORE, the cosmic worknet of cause-and-effect, the mutamorphic ARCHIVE of the shapes and movements of every blood tick, sperm whale, vampire gnat, movie star and gorgosaurus, "all the molecules of oil on all the grains of sand of every moonlit beach of the world. " No, "YOU CAN'T CHANGE THE SKORE." But JEHOVAH 1 can...and like an ax this TOTAL FATE PROGRAM confronts our similarly-encoded SENSE OF SLACK and cleaves our heads straight down the middle into schizocephalic right and left sides whose sub-id battleground is responsible for our precariously balanced NENTAL IVES: clones of us in the spirit world whose duplicate lusts influence our behavior on this material plane. Yes - JEHOVAH 1 smote us in primeval days with BAD BRAKES by which we cannot stop our devil twin from overcoming our 'better nature' and by which, furthermore, we cannot even begin to tell the difference between the two! Brakes keep us from committing ANYTHING WE MIGHT IMAGINE IN OUR MOST DANGEROUS FLEETING FANTASIES, such as chopping off noisy children's heads and giving... well, all of us, even non-SubGeniuslike whimps of the second and third waters, are Jekyll/Hyde monsters of two conflicting Noggin Polarities in our personalities; the SHAFT OF SUPPRESSION rears its ugly Head in response to this utter psychosis which squirms for most of our lives only in the dim, unseen reaches of our behavior-pumps; we act completely normal most of the time, but who is to say at any given moment which side, the 'good' or the 'bad,' is currently in control of The Animal? Thank "God" we are usually never aware of the subconscious Armageddon which expresses itself, physically, in our paranoias, human Work Instincts and universanal compulsions, and, spiritually, in our unruly but subtle psychic powers - which result not so much from any 'inner aura' but rather from a somewhat mindless 'ghost' standing invisibly at our sides: it is the half of our intelligence which is currently not controlling The Animal, it is the NENTAL IFE, and it erupts from its usual idiot blithering into weird, occult pheno-manifestations only when our turbulent mental background reaches such peaks of simultaneous crisis and repression as the stormy glandular rampages of adolescence!