NEW SUBGENIUS BOOK
with 100 PAGES of COLOR ART!
Actually, it's a FANCY CARD SET from us and STEVE JACKSON GAMES.
The BEST of ALT.BINARIES.SLACK (the SubGenius art newsgroup) was tapped for the BLISTERINGLY TRIPPY color illustrations for this SOUL-DAMNING role playing game, written and designed by Steve Jackson and Rev. Ivan Stang. Contributors include superstars NENSLO -- Atom Funway -- Fernandinande LeMur -- Sternodox -- The Prophet Jim -- Ivan Stang -- Poindexter -- even Paul Mavrides!
The boxed set of 100 cards is part of the best-selling ILLUMINATI -- NEW WORLD ORDER game but is a stand-alone set -- you can play using either, or both. "I now control your Dobbstown because my Janor Device has a Power of 10 over your Attitude Mutation!" Look for it and ask for it NOW at comic book and gaming stores! Or better yet,
ORDER IT FROM US! $16.95 plus $3.50 postage and handling (in USA)! CALL TOLL FREE, 1-888-669-2323, or see our SCATALOG ORDER FORM!
"I, Stang, am exceedingly proud of this, our last major "publication" before X-Day. Although in its own unique medium, this role playing game mini-universe ranks right up there with the authorized books and pamphlets in terms of PURE PSYCHEDELIC HOLINESS and TWISTED PARANOIA." -- Rev. Ivan Stang
INWO/SubGenius game art credits and secrets of PRAIRIE SQUID GRAPHICS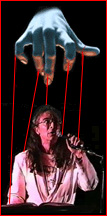 STEVE JCKSON GAMES sez:

This is a hundred-card non-collectible set. The cards feature art provided by the Church itself. You will like it.

The set of 100 cards is usable by itself, and includes rules for a 4-player common-deck game, using four Church of the SubGenius cards (with different art, of course). Each represents a different faction of the Church, fighting for control, Slack, and that unending flow of dollars from the mindless Pinks. You can also drop other INWO cards into a SubGenius game, or vice versa!

In honor of this, the folks at SJG unearthed a classic from the old Illuminati BBS and added it to the GURPS archive: The SubGenius Answers the GURPS Questionnaire.

INWO Subgenius BONUS SECRET RULE
Photo: Rev. Steve Jackson, left, and Rev. Ivan Stang -- King of the Geeks and King of the Weirdos, respectively.
STANG AT WORK ON THE GAME ART as depicted by IrRev. Friday Jones