THE MINNEAPOLIS SLACK CRUSADE DEVIVAL
Minneapolis
Ground Zero
Feb.6, 1996

"All the boy-goo talk makes me crave my favorite SubGenius..."
-- Sarah Vowell, CHICAGO READER

From the Diary of JESUS


>> Stayed with Dave, Michele Kali Madeline
>> Madeline has anti-"Bob" birthmark on head
>> Woofgang A Muttsart-Dog -Good dog for a dog
>> Went to TV station, taped madness in studio. Channel 9 news invited us to do a quickie interview -- they ended up shooting Stang ranting while Legume looms body-guard-like, Andrew juggles fire and David escapes from strait-jacket in background.
(You can download this whole thing from the new VIDEO STASH 4.)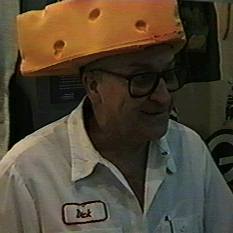 >> Mall of America:
>> Many beads
>> Legume stabs giant Snoopy
>> I drink out of giant Snoopy dish. Someone dares me to walk across it.
>> Capitalism is a lie.
>> Lots of great stuff to play with..for free!!!
>> Hulkios
>> Dick Cheese "fear this man"

>> Watched ourselves that night on TV -- we got more screen time than Morris Day's comeback, but less than carbon monoxide deaths... but we'll catch up to carbon monoxide if we have to kill as many people as it does
.
>>2/6
>> Ground Zero
>> Dave slices finger juggling knives
>> Static Grey opens show -Very serious glam-rock band
>> Covers "eyes with out a face"
>> The Pins "the cool band"
>> Beth- "It's a long way to the top but it would be worth the climb" I.Stang
>> Tight Security
>> Good pulpit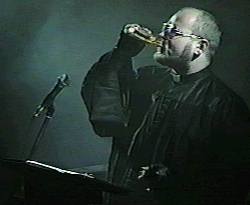 Dr. Legume drinks whiskey medicinally to aid his ailing voicebox -- delivers extremely atypical rant in rhythmic "black preacher" chanting cadence! ...Legume heals our host Dave in a moving ceremony (a bowel-moving ceremoney).

A BAD REVIEW BY AN ANONYMOUS ASSHOLE:

It was a nicer day that day February 6th, 1996 it was a hell of a lot warmer than least week which was -30 below, but I had to ruin my day by going to what some call a show. Now some might say it was an outstanding show, and others(like myself) a piece of shit. Maybe it was because Rev. Ivan Stang was on too many drugs that he couldn't think right, or maybe because the show didn't have enough props. The Circus Apoclypse was worth the six dollars to get in, but thats about it. I wish I could have seen "Bob" slaughtered and maimed up on stage. Because who gives a fuck! I also wanted to see the bleeding head. Instead I heard a bunch PINK rant and rave about some stupid x-day that is never gonna come because it is just a ploy to steal money from the unsuspecting audience. It makes want to join the fucking conspiracy!!!


NEXT: ST. LOUIS! NAH, FORGET ST. LOUIS. It was a DISASTER.
*********************