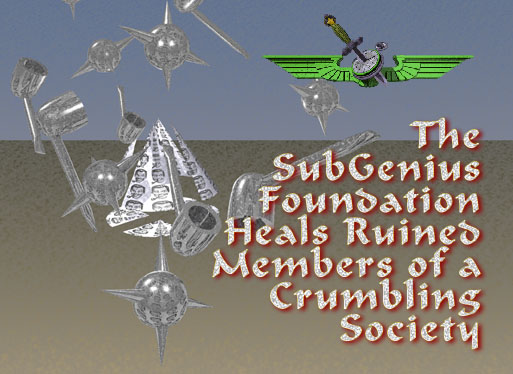 This is what The Church of the SubGenius is ALL ABOUT.


STRANGE BUT TRUE! This is only PART ONE of the Rants.
If you haven't checked in here since before Feb. '97, you'll want to see the fully unorganized, equally gigantic
RANTS PART 2!

art by Sterno




AN OLD STANDBY: Rev. Michael Peppe's undying classic, "AD"
NOW IN ITS ORIGINAL ILLUSTRATED "STARK FIST" FORM (newly scanned and redesigned by the great Rev. Noah Stewart)!!

---

THE BITTER WIT AND WISDOM OF NENSLO

ACT NORMAL
GOOD QUESTION
Nenslo's NEW REALISATION CHURCH WITHOUT "BOB"
Interview With Nenslo
NENSLO "hateword"
PERSONAL FREEDOM NOW! by NENSLO
Slack Don't Sneer (by Mrs. Nenslo w/ Nensletic Interference)
TERMINOLOGY
The TRUE solution
The TRUTH about Jesus
Nenslo Sermonette
NENSLO SURVIVAL UPDATE
BONUS!! -- Ultimate AntiNenslo Complaint

---

THE POIGNANT PENNINGS OF LES LUCID
See also "Articles of Truth"

Puking in the Work-place
What is this? RantOpus V - by LesLucid
Working Man's Slack

---

Dr. DYNASOR -- FED UP

Real Rant (Not Nice)
Everyday American Television
LISSENTHEFUCKUP
MediRant


---

A CROSS-SECTION OF INTENSE RANTERY
Jim-"Bob" Joycepeaks
The Brag of the Cross-Dressing SubGenius
BABY KILLING JESUS
Slack for the HandyCapped
Hamsterburger
Getting Tested for HIV
Pink Boy's Prayer
Rant: No more Mr. Nice guy
Militia Of Mighty Mighted Arians
Life sucks big time!
RETAIL RANT
Rev. PEE KITTY'S NOBLE CROSSPOSTING EXPERIMENT
Never DRIVE AGAIN!
Nothing Doing
I'M WATCHING YOU
The War for Obscurity -- Subgenii and Discordians
This is Obscene
WBNX in Akron, Ohio
What the Yacatisma Have in Store for Humanity
Clinton Orders Oklahoma Bombing
The GAP Con
THE PINK (Hour of Slack #64 rant)
Doubters Doubt thee Doubt Not...
Fall of America
Flatulence, what else?
God 13.013 in progress
Heads wanted
I crack myself up.
I WILL NOT DO IT.
Imajanor Rant
Kid Ginsu's "Bob"photo rant, pt2
One World Pink
Circus of Dr. Lao
Slack It or Shut It, Sir-Ma'am
SLACKFINITY
Smite First, Ask Questions Later
The Decline of alt.slack
Did Someone Say "Babbling Bullshit?"
Die, You Cretinous alt.slackers!
Y'all're a Bunch of Pincanuck$$
Zachary Carleton Leaves The Internet


---
This file was converted with GoToHtml 6.6b