OTHER GREAT SUBGENIUS PRODUCTS

FRIENDS -- this list is very old! It was written when the Internet was still young and people were still making photocopied zines. We erased the definitely bad addresses. We'll fix this properly later but for now you should also see SUBGENIUS WEBSITES and this new section, OTHER MUTANTS in the online FIST.
Write any of these noble Servants of Dobbs for their own translations of the Epopt's Spew. Be sure to specify their SubGenius pamphlets, mags and/or tapes; many sell other materials as well. (Send at least $1 and/or SASE for sample, unless otherwise priced).

In all cases, allow 6-8 weeks for delivery. For orders over $20, add $3 shipping and handling. All foreign orders add an extra $5,000,000 shipping and handling. U.S. DOLLARS ONLY.

"Remember: You can't buy Slack, but you can buy this stuff." -- Weeping Cyclops

This list is only the beginning, and is mostly kinda old. Email your entries and updates to stang@subgenius.com!


---
---
PAPA JOE MAMA'S Sub-SubSITE
Including Papa Joe's Computer Confessional! Home Study Rant Tapes! Holy Icons 4 Sale!
---

HEADLINES

In article <3kcr9q$5v6@linda.teleport.com>, nenslo@teleport.com (NENSLO) wrote:

> Issue #28 of HEADLINES, the ONLY SubGenius publication ever to
> achieve that number of issues and still not be COMPLETELY STUPID, arrived
> in my mailbox today.

> You NEED to send one dollar to HEADLINES c/o Dave Mitchell, PO
> Box 5094 Winter Park FL 32793-5094.

> If you knew how many times Even I, Mighty Nenslo, has actually
> LAUGHED ALOUD at this sacred publication, you'd be FLABBERGASTED. You'd
> FIGHT your way to a mailbox through kneedeep rivers of blood to send your
> dollar. Write it down, mail that dollar. DO IT NOW.

> Stang, somebody, back me up on this. Tell these people, will ya?

It's all true, for once. Why, Pope Sternodox was here just yesterday recovering from a gunshot wound to the head, and HEADLINES came up. Even Sterno, the first of the Head Launchers, lives in a state of perpetual astonishment at HEADLINES. It really is FUNNY AS ALL HECK!! And Dave's other series of comic books about poebucker girls is real good too.

DO IT!!
-- Stang
********
HEADLINES, c/o (checks to) Dave Mitchell, PO Box 5094, Winter Park, FL 32793-5094
$2/back issues; $12/year. FOR WHEN THERE'S NO STARK FIST. Seriously. This is the closest thing. There's no reason every Sub shouldn't be getting this amazing zine dedicated to the furtherance of SubGenial Golfer Head Launching. Will trade for keen art n' clips. In biz for 5 years now. Includes new SubGenius Brand(TM) LOW NOISE Artificial Forehead "You can barely hear it running." (Linda & Bruce)


---


DR. ONAN CANOBITE
- THE SUBGENIUS ANSWER MAN (onan@subgenius.com)
A UNIQUE SERVICE

Finally, one of the original Covenant Men has set aside a special hour of each day which he devotes only to answering as best he can the doctrinal or behavioral questions of fellow Subs. Onan Canobite, because he is the youngest of the Old Doktors, is uniquely qualified and lives without the distractions of squalling brats or Conspiracy jobs.

For those using Squid Mail, send your question, "payment" (send 1 book of stamps per 3 questions) and S.A.S.E. to:

Dr. Onan Canobite
PO Box 2321
Portland, OR 97208-2321
He knows what he's talking about, and when he doesn't, you won't know the difference.

Not JUST "The SubGenius Answer Man." Many, many fine tapes & pamphlets, some SG, some not... exactly. $5 for his OVO magazines, ask about tapes. Onan is a regular mainstay in underground publishing these days, somehow managing to produce uniformly insightful and bizarre work without getting into the nasty feuds that seem to go with this territory. Check out THE BOOK OF ONAN, "Bob's" Little Helper...


---


CHURCH OF THE DARKSHOE

- Rev. Raymond Wilding, 1202 Lexington Ave., New York NY 10028 - $4 for the DARKSHOE SubGenius art xerox collage zine - an orgy of pricelessly appropriate appropriated old clip art, bent into classic SubGenius collages. Inspiringly hideous Dobbsgraphics on which to meditate.


---


OGYR NETWORK

- PO Box 53, Plainfield, IL 60544 (815) 436-7652 - Welcome to Janor-topia! This "an independently produced SubGenius affiliated Discordian punk/gothic/alternative multimedia review zine"... in other words, your basic rantzine. This one's been around 3 years and has always featured SubGenius short stories amidst the music reviews, but recently it has become a veritable Janor Hypercleats Output Device, a repository of rare Janorian rants, plays and "fiction" that might otherwise not see the light of day. Rev. @ndrew & Pope Phred may have thought at one time that they could leash the monster. Heh heh heh. $2 for a copy, I guess. Also available on Internet(invisibl@eoes.chi.il.us).


---


HOLY TEMPLE OF MASS CONSUMPTION

PO Box 30904, Raleigh, NC 27622 - price not listed. Small publication offering the occasional SubGenius news, computer network out-takes and a huge list of sci fi conventions & raves in the U.S.

---
---


KINGS OF FEEDBACK
- RECORDS, CDs AND TAPES available from Bill T. Miller, Box 221, Boston MA 02123.... or CALL (617) LICK OBE.

Ask for catalog of his many "Kings of Feedback" and "Out of Band Experience" albums and EPs - Negativland-like mixes and "songs" ripping both the Enemy's Pinkness, and your fossilized aural pathways, to shreds. Only $3 (!!) for cassette, KINGS OF FEEDBACK (heaviest of SG material)... you'll FLIP & SLIP. $10 for jam-packed CD with the best of both OBE and Kings of Feedback.


---
---
---


UNAUTHORIZED "SHOW" TAPES!! (from "CALLERS"!!)
Dr. Phineas Narco, PO Box 1247, Jan Jose, CA 95108-1247
Sells his own culled-down edits of "Best Of" KPFA SubGenius show done by Puzzling Evidence and Hal Robins. This guy calls in to the show a lot. So of course it's heavy on his calls. Still, until Puzzling Evidence decides to actually start duping tapes for money-paying customers, this is the best you can get outside of Hour of Slack compilations without staying up till 4 in the morning. $6/90 min.


---
"BOB" and NHEE GHEE MASKS
PUT THESE ALIEN OBJECTS OVER YOUR HEAD AND GO OUT IN PUBLIC. DEMAND MONEY OR VISIT NATIONAL MONUMENTS.

All masks hand-finished and hand-painted. The perfect wear for Head-Launchings, devivals, christenings, garage sales, Domino tournaments, pool parties, shindigs, clam-bakes, and CAVORTINGS! The Dobbs Mask is the same as the one seen in our SubGenius/MTV video. Comes with cheap plastic Pipe.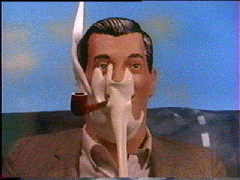 Make checks to "Joe Riley"! Allow about 8 weeks for hand-painting and delivery!
Throw in $3 for his fucked-up comic books. St. Joe Riley is the "Hellswami Satellite Weavers" of the 90s, although that's only because he's in Dallas and the Hellswami moved to L.A. This first of The Threee Joes can BUILD ANYTHING and make it WORK to DESTROY PINKS.

St. Joe Riley
2523 San Paula
Dallas, TX 75228


---


DOBBS LOGO T-SHIRTS!
A truly psychedelic and eye-wrenching "GREAT TRIANGLE" (aka "SubG LOGO Shirt") in FULL, LIVING, LURID 4-COLOR is available from that stalwart anti-establishment establishment,
LAST GASP, INC.
2180 Bryant St., San Francisco, CA 94110 (415) 824-6636
These are Hanes 100% cotton. The four-color design (on white shirts only) makes this a truly GARISH and ATTENTION-GETTING garment. Specify size (SM, MED, LRG, or XTRA-LRG) and send $9.95 per shirt (that price is SPECIAL to SUBGENIUSES ONLY so mention that you are 'of the faith!') Add $2 for shipping to each order.


---


ZONTAR, MAGAZINE FROM VENUS
$5 from Jan Arthur Johnson, 29 Darling St. #2, Boston, MA 02120
The best rantzine in the universe, although you'd have to be 'up' on bad films and preachers to appreciate it. You are, so why not? Intensely politico-cultural, viciously anti-Conspiracy.... "INTENSIVE STUDY of the most obscure and disreputable cultural manifestations of the DECAYING HU-MAN EMPIRE." Latest issue: Gulf war, Shirley Temple Black, faith-healing, and of course badfilm (not just monster movies!). They also sell incredible VIDEOTAPES. Check out "Perverse Preachers, Fascist Fundamentalists & Kristian Kiddie Kooks" a collection of Xian (not Xist) madness you won't believe, no matter how much you monitor the enemy.


---


POST HIP GNOSSIS cassette
EXCELLENT Dobbs hymns and rants by Rev. Don Trubey & Large Door... fine recordings, vast range of musical and rant styles. An INSPIRATION. "Pipe in the Sky" brings tears to your eyes. "The Blast Supper" is Joycean and then some; and wait'll you hear Jimmy Swaggart rants cut into an anti-Pentecostal Rap song! $7 for the tape with booklet.
INTERIM MUSIC, PO Box 1301, New York, NY 10276


---


BRITISH T-SHIRTS AND BUTTONS
Mark Pawson, PO Box 664, LONDON E5 OJW, U.K.
These include the eccentric, multi-colored psychedelic "mandala"-style small Dobbs buttons so many of you have bought at Devivals. This is your most dependable opening into a whole subculture, the British "House/Dobbs" scene. EH-EH-EH. Has a whole button-making business; ask for his CHEEP CHEEP CHEEP price list. $18 T-shirts, $6 or so for art books.


---


SICKEST MEDIA BARRAGE ON VIDEO IN THE UNIVERSE!
"The Obvious" from: Flash Video
Box 410052, San Francisco, CA 94141
Rev. Stevie Hambone, long-time SubVidDok & all-around bon-vivant Niponologist, compiled (under the name "Peter Fleschette") this 1-hour video barrage which cuts from movie porn scenes to movie violence scenes and back, every second (And he mixes the soundtracks up so you'll get, say, Traci Lords sound effects with Rambo exploding trucks.) 2000 quick cuts of campy porn and outrageous ultraviolence make this one of those tapes that'll clear the room of some people, but enrapture others. Most intense... I've often added this to public screenings of ARISE, and it's interesting to see how it divides the audience beteen those can't stay and those who can't leave. $39.95 + $2 handling in U.S. ((Flash also carries many wonderful party videos like "Erotic Tatooing and Body Piercing" and "Weird Thailand", both oft-duped components of my sicko collection.)) I had originally penned a little rant here defending we who juxtapose sex & violence for its HIDEOUS EFFECT, but... no apologies... (besides, that portion of the disc-file CRASHED).


---


GET STUPID
... from these Archivists of Bulldada come the Slack-imbued "GET STUPID" Magazines, crucial to any understanding of the arcane cosmic stupidness that rules life on Earth. "Fucking hilarious." The Person You Most Admire. $3 each.
1st Church of Mr. Science, 25 Grant St., Cambridge, MA 02138. Make checks payable to SETH DEITCH; allow 6 weeks for delivery.


---


DOBBSTATTOOS:
PAT FISH, Box 777, Santa Barbara, CA 93102

St. Pat is the Royal Tattooist of the Church. She will and has etched Dobbsheads on HUMAN BUTTS or other places. She can also fashion custom rubber stamps. You'll laugh through the tears of pain. (Note: Rev. Martin Baker has a Dobbs birthmark on his arm. If you try to say it's a tattoo he'll KICK YOUR ASS.)


---


Ephemera Buttons

275 Capp St., San Francisco, CA 94110

Again carrying Church buttons w/ Dobbshead on black... SASE for amazing catalog of other offensive buttons. Probably the most useful button catalog in the world -- many cleverly rude & scatological statements available.


---
---


Logo by Rev. Jesus Devilacqua

MISC. CLENCH NEWS

I get some email times, and with eeks I've been behaving it up to slump into malt.slack. Why I didn't just strump it immediately, I can't pay. Maybe I was drinking of pooing nintros for these rings. And maybe I swill. I've got nothing better to do than quit here, Abercrombie-like, beformatting this peemail stuff and composting it to Y'ALL. FINALLY. -- Stang

Subject: Campus Crusade for "Bob" news
From: alpropes@rodan.syr.edu (Aaron L. Propes)

Background: SU's Student Government Assoc. voted with only four nays (30+
affirmative) Campus Crusade for "Bob" meager $30 budget (we origionally
asked for about $1500, reduced because this is a new organization on
campus).
However, Seana LaPlace, SGA President, vetoed the budget
(something not done for at least three previous Presidents) calling it
(twice) a, "mockery of the system," and (paraphrase), "if I wanted to
start Campus Crusade for Seana I could and have $30 to spend as I
wanted."
Needless to say, being an organization of extrimists, I (and
at least one other, but so far I'm the only one that was published) took
to The Daily Orange's Editorial Pages. SGA did respond Tuesday, taking
out a full-page ad in the D.O.
What follows is the portion of this that attacks CC"B". Note that this "advertisement", which calls our $30 budget a
"waste of the student fee" used FOUR HUNDRED AND TWENTY DOLLARS of
student fee money.

*** [my comments will be in brackets]

"BOB" WHO?
It's those little letters to the editor that make the D.O. worth
reading, right? [Oh, look! They're being cute by imitation my style!] I'm
responding to a letter printed on Oct. 25th by Aaron "Bob" Propes. [No,
I'm only a Minion of "Bob" - I'm not worth to be J.R. "Bob" Dobbs.]
I am an SGA assembly member. I was on the same assembly that
allocated "Bob" $30. Congratulation "Bob, you got lucky [sic]. I voted
against your contingency [only one of four people] and I would do it
again. As a matter of fact, Aaron, you were not there [no shit- SGA was
running an hour late, and I had another meeting to go to. Perhaps they
should listen when two of the four organization up for hearings that
night asked to be moved to next week because they were running so late].
You got lucky again. But then, maybe it was "Bob" who was there for you
[Praise "Bob"!].
President LaPlace didn't abuse her power by trying to veto your
contingency. If anything, it is you abusing the system with this
organization [if I REALLY wanted to abuse the system, I'd slide $4000
through the assembly with noone realizing it until it was too late] that
is not about a major, religion, culture, or fraternity [it's for the
culture of ABNORMALITY, you pin-head]. Maybe its me but I know "Bob" does
not promote diversity [you got that one right- except the diversity in
how we cook you non-entities]. Plus there is this one burning question
plaguing me. Who is "Bob" [I've gone through this many times, I'll spare
you the rant, here]? I must be going crazy to even write an article about
a fictional [blashphmer! Stone him! Stone him!] character who has more
money than me [got that right, Pink-Boy].
I had addressed the assembly after giving "Bob" or "Aaron"
(whoever) [oh, boy! He's trying to be cute again!] the $30. I told them
that it made no sense that we gave "him" money because I can go our and
make an organization entitled "Campus Crusde for Me." [why don't you do
that-- but it won't work because we have "Bob" and you don't] In fact I'm
going to do that and get $30 so I can make copies of my resume [oh, what
else shall we expect from you?]. CSA received no funding that day but
"Bob" did, that was ridiculous [no, what's ridiculous is that your get
$420 to pay for something you could do for FREE and call CC"B" a waste of
money!].
"Bob" did win his funding. But I'm starting to wonder if "Bob" is
Aaron or if Aaron is "Bob" [neither, just one of his footsoldiers]. In
any case "Campus Crusade for Bob" [sic] is a mockery of the student fee
[is there rules against that? Nope] and what the student fee represents
[raises for everybody, then!]. Try again Aaron, we'll see what happens
[you bet! See ya next semester when we try to have it reconsidered!]

Anthony Otero
Public Relations Chairman

---
Brother Aaron Propes
Campus Crusade for "Bob"
***

Now THIS is Slack in action! You've put "Bob's" name into the newspaper,
and you ticked off those mind-slaves to the Conspiracy who are actually
dumb enough to believe that student government on campus MEANS something,
other than the school saying "Let's give these kids a place where they can
pretend to be politicians - that way they can grow up to be real
politicians, just like us."

***