Welcome, foolish mortals, to the...

Papa Joe Mama SubGenius sub-site!

Your "pipeline" to the mind melting HATE of 'Bob's' most controversial preacher.
(This page is only the merest PRIMER. Try the REAL PAPA JOE MAMA'S OFFICIAL "CENTER OF THE WEB INDEX", IF YOU DARE!)
Now you can: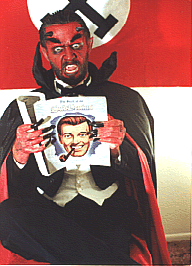 WARNING: The contents of this subsite are offensive to most pinks. Proceed no further unless your I.Q. is over 21 and you are willing to DIE for DOBBS!