KOOK LOVE
For those who enjoyed the voyeuristic peeks into the brainpans of the TRULY DIFFERENT in the book High Weirdness by Mail, this is a new exploration into that lofty realm. Related kookery may also be found in the KOOK HATE nook of The Hall of Evils, as well as in the Other Mutants section of The Hall of Goods.

The level of crackpotism in today's world has grown by such exponential leaps and bounds that it would be impossible to encapsulate it all in one place. In this section, we have placed those Kook Reports that are most likely to bring a smile to your face -- as opposed to those in the Kook Hate section, which are more likely to make your blood pressure go through the roof.
NEW:
ELVIS KNEW DICK (Elvis' letter to Nixon -- REAL)
JOHN WINSTON
A Special Collection -- with an Intro by Dr. Dynasoar
UFO NEWS: CNI News, a sample
New FRANCIS E. DEC Fragment??
Prehistoric Barbie
The Appearance of Armadillo Fucknuts
Armadillo Fucknuts meets Jim the Prophet's Cheap Imitation
Armadillo Fucknuts vs. QPM
NENSLO's Lecture on Badfilms and Bulldada! -- Scolding the Weak
The Psychiana Movement -- 'pure bulldada'



Our FAVES: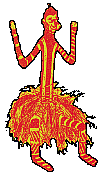 The Best Book/Website on Real KOOKS
Some notes on Donna Kossy's masterpiece. You'll definitely also want to investigate the KOOKS MUSEUM website!

Well, this explains everything!
If you're reading this on a computer screen, you'd better check this one out!

AOL numerology
Truly, America Online IS The Great Satan -- and this nails it down.

The Secret Underground World: a krackpot klassic
Buckle your seatbelts for this one -- several files and practically an entire book that explains EVERYTHING.

This Guy Knows EVERYTHING!
Well, maybe this guy explains everything ELSE.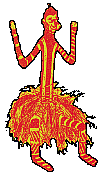 Collecting Mail For The Coming Anti-Christ
One of the most developed rationalizations we have ever encountered.

Bowl Earth
A series of discussions from alt.slack which would turn all Conspiracy notions of "science" on their head, were any scientists to go to the trouble of reading it.

HIGH WEIRDNESS BY E-MAIL
This is Mitchell Porter's classic 1992 document, possibly a bit outdated by now, that grew into the gigantic website Hyper-Weirdness by Web -- which we will assume you've already checked out, but if you haven't, take a few hours or days to do so.

Advanced Bonewits Cult Danger Evaluation Form
This thought-provoking test by our Druid friend Isaac Bonewits prompted much discussion on alt.slack, once again affirming the status of our Church as a true "cult" in the strictest sense of the word, PRAISE GOD-DAMNED DOBBS!!!
(SEE BELOW FOR ABOUT A JILLION AND A HALF MORE!!)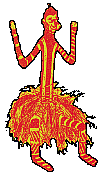 OUR RATHER LARGE LIST OF KRAZY, KOOKY WEBSITE LINKS
that lead to more such interesting website links and so, literally ad infinitum.
---
Various concise crackpot and Professional Abnormal listings or discussions, too short or insane to have earned their own separate links, are collected in the E-Z-2-Reeed files below.

MISC. OTHER MUTANTS & KOOK-FINDERS
MISC. KOOKS -- GENERAL
MISC. RELIGIOUS KOOKS


"Stop Fetal Tissue Research" WEB page opens.
"THE GATHERING"
(Aum) Supreme (Bulldada) Master Ching Hai
A Fiery Flying Roll
A Message from Commander Ashtar
A Truly Tasteless Museum
ALIEN INFLUENCE on World VIOLENCE
American Family Association (Wildmon)
Black Helicopter ID Starter Kit
Bob Larson newsgroup
Brain Eating Apes
Bronnerization
Conspiracy, Satan & Radio Riffs
"Bob" is a Rock?
Don't Mess With NHGH- suicide case
Excellent Conspiracy: Lisa Marie
FREE THINKING 1.2 (Pt. 1)
Info About Cosmic Awareness
Jesus' Father Was An Alien
My home was prayed for by: Trey
New online info about CULTS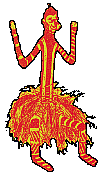 PLANETARY CAFE -- "an excellent source of research & information"
Societe Generale Rules World?
Taking Toons to a New Level
Tee-shirt for Religious Freedom
The False Profit's Bybel
The Illuminati-Jewish Mafia
The Raelian Church
The Vampire Bible
Xepera-l Mailing List (psuedo-Satanists)
SHIT HAPPENS

Entries in this section taken from alt.slack (originally saved by Rev. Ivan Stang) were text-edited, at great personal cost to himself, by the good Rev. Matthew Carey. The skinny little Mojo Dude repeated image is from Atom Funway Plastico. The background is by Paul Mavrides/Funway.