You have been scanned and judged. Audience with "Bob" is hereby granted.
You Are Now In
The Very CLUTCHES of

The Stark Fist of Removal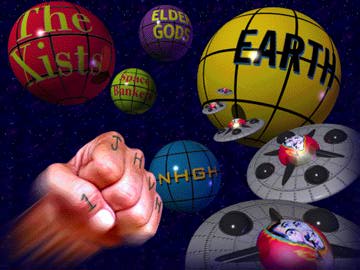 art by Rev. Numens Remissionis
---
STEP RIGHT UP, EARTH FOOL! This is your gateway to an alternate universe, a superior dimension -- the world of Dobbs Awareness, compactly encapsulated in but a few thousand pages of art and text. Many chain-gangs of DobbsDrones and Bombies have given of their Slack to bring to your screen everything SubGenius, from the most ancient, creaking STARK FIST OF REMOVAL print-zine reprints to the most recent battle reports from the infamous alt.slack newsgroup. You have MANY CHOICES herein, and each one leads to untold hundreds more... SO WEIGH YOUR OPTIONS CAREFULLY. Remember, YOU MAY NOT COME OUT! You might wisely decide to peruse our DISCLAIMERS AND WARNINGS before proceeding any further.
YOU MUST NOW CHOOSE. EVERYTHING hangs in the balance. Such is the Way of Dobbs.
NOTE: If you're already a fairly regular visitor to this site, used to the old stuff, and only on the lookout for new additions (of which there are a LOT every month or so), the CHURCH NEWS page is where we put notices and links to new or otherwise immediately pertinent material.

---
The EYES of "BOB"
You'll CRAP your SLACKS when you truly "SEE" what Dobbs hath wrought through the hand-eye coordination of his followers (i.e., his "tools"). Enough downloadable VISIONS, VIDEOS and VITREOL to crash your hard drive for GOOD this time.

---
The EARS of "BOB"
Sing along with Dobbs until your THROAT BLEEDS! Includes ear-knifing TrueSpeech radio, downloadable binaries, links to your Fave Cool AntiMusic Bands, and the KEYS to SUBGENIUS RADIO ACCESS!

---
The Hall of GOODS

Finally, we get down to BUSINESS! THE SUBGENIUS ONLINE CATALOG: Price List of the Gods, your source for great official Church videos, tapes, books, T-shirts, YOU NAME IT! PLUS: Other Mutants (ads and personals from your fellow SubGenius vendors), and ENDLESS REVIEWS of groovy Short Duration Personal Saviors and Designer Messiahs in every medium. Lists of Required Reading, Listening, Viewing, Squirting. You'll Never Be Bored Again -- IF you have enough money!!

---
Seek Out Your Own Kind... and be prepared to deal with the consequences.
---
The Hall of ANSWERS
New screen-blistering RANTS and in-depth ARTICLES from The Stark Fist Online! The Best of Alt.Slack! FAQs 'n SLAQs! Revelation-X out-takes! Things to Think, Know, See, Say and Do!
NEW:
old Archives of Classic SubGeniania including The Book of the SubGenius, Stark Fist back issue reprints, and ALL of the anthology 3-Fisted Tales of 'Bob'! Also: Webberized Encyclopedia of the Gods, Paths to Slack, and Practical Anti-Conspiracy Weapons! New Scriptures, recent 'Bob' sightings, secrets of X-Day... and some tummy-ticklin' recipes for the adventurous chef.

---
The Hall of QUESTIONS
Probe the mind(s) of Dobbs himself for everything you truly NEED to KNOW.
Just remember: "Bob" is not THE answer, and neither is anything else.

---
The Hall of SEXHURT
PATHS TO PORNOLOGY
Everything you have ever done throughout your entire life has been building up to THIS -- your chance to view those very Web pages that your Mom warned you about, those TABOO SECRETS which THEY would rather KILL YOU for being INTERESTED IN than LET YOU LEARN!! There will be a slight charge for this service.

---
The Hall of SCIENCE
and Hot-Headed Naked Ice Borer Preserve
FINALLY FINISHED!! Our "flagship" Hall. How the Universe Began, and Must End... Time Machines... How to Build A Home Electric Chair... HEALTH ADVICE you Can't Live Without... Philo's True History of The SubGenius Experience in Amerikkkkkkka... volumes of handy illegal COMPUTER TRICKS... but best of all, EVERYTHING YOU ALWAYS WANTED TO KNOW ABOUT PRAIRIE SQUID MATING HABITS, BONOBO/YETI SEXUAL TECHNIQUES, AND THE LOCAL AVAILABILITY OF FACE FUCKING BAT SPERM ANTIDOTE PUDDING!!!

---
The Hall of BULLDADA
Rival Kooks We've "Known" and Loved, High Weirdness by Mail-2, Motel of the Gods... KKKool Krackpots and Kristian Krazies! Secrets of the UFO! Mondo InterNut!

---
The Hall of MINDLESS FUN
Make Yourself SICK with PLEASURE! 4-Fisted Tales of "Bob"! Games, trivia and Quizzes! Vivid prurient voyeuristic accounts of ACTUAL SubGenius Devivals... AS THEY HAPPENED! Shameless letters and confessions from the Flock! And even (as a break from the dreadful seriousness)... a zany, rib-ticklin' Humor section!

---
The Hall of EVILS
Cavern of Conspiracies... The House of Hate... The Zoo of Missing Links... True Bummers: politics, evil rival kooks, inside-Church rumors and gossip... and the meanest, most heartless flaming in all the vast reaches of cyberspace. PLUS: Sterno's Corner!

---
The Men's Room
Your only source for Face Fucking Bat Sperm Antidote Pudding.
Strap on your information catheter and be flushed down the digital sewer.

---
The Ladies' Room
Women's Issues and Prairie Squid habitat.

---
Learn how to attend and partake of LIVE online Church Worship Meetings and Sunday Night Devivals in
SUBGENIUS IRC 'CHAT' LAND
Not for Children

---
Sacrifice your will, sign away your soul and smash your brain FLAT at
THE ALTAR
of the Cathedral of Slack!!

---
DOBBSTOWN Moonbase directly above is by Rev. Ivan Stang. MUTATED DOBBSHEADS ABOVE are by Rev. J. Nutting, except for the first two which are by id and Stang respectively.
---
THE STARK FIST OF REMOVAL: ONLINE
Address all correspondence, submissions, supplications, prayer requests and donations to The SubGenius Foundation, Inc., PO Box 140306, Dallas, Texas, USA 75214; e-mail i.stang@subgenius.com; fax 214-320-1561. We are irresponsible with unsolicited contributions. DEALERS PLEASE INQUIRE FOR BULK RATES. Subscribers must inform this office of any change of address; failure to do so jeopardizes the subscriber's sole chance for Transfiguration and planetary escape on July 5, 1998.

Printed on hand-picked electrons, using recycled brain cells and serotonin. Purchase price will be completely refunded without question should eternal damnation result from the reading of this Web site. Any similarity between people and places in fiction and semifiction, and any real people or places, is purely coincidental. All models are over 18 years old.

Beware of lame imitations. So-called "SubGenius" or "Dobbs Approved" products by any other manufacturer are not necessarily sanctioned by, nor representative of, this, the only legally incorporated seat of Dobbs' earthly kingdom and sole Called Bearers of The Covenant Trademark. Beware of possible future counterfeits or Prankster Versions of SubGenius Foundation output. If your FISTfiles don't originate from sunsite.unc.edu or i.stang@metronet.com, they may have been tampered with to make us look even worse than we really are. But then, that may be true even if they DO originate at i.stang@metronet.com or sunsite.unc.edu.

The essential SubGenius teachings are encapsulated in THE BOOK OF THE SUBGENIUS (ISBN number 0-671-63810-6) and in REVELATION X -- THE "BOB"APOCRYPHON (ISBN # 0-671-77006-3), Fireside Books trade paperbacks published by Simon & Schuster. See the flipside of this Web site for catalog of other Church products including audio and video tapes, wearing apparel, and protective devices ("PRICELIST OF THE GODS").

This section of THE OFFICIAL SUBGENIUS WEB PALACE OF DOBBS was initiated by The SubGenius Foundation as part of THE STARK FIST OF REMOVAL: ONLINE. THE STARK FIST is a product of the Church of the SubGenius official Dallas headquarters and public outreach arm, The SubGenius Foundation, Inc., and specifically of the First Orthodox Stangian MegaFisTemple Lodge of People's Covenant Church of the Wrath of Dobbs Yeti, Resurrected, and of contributing True Apostles of the Dobbs of other denominations.
---
COPYRIGHT © 1995, 1996, 1997 by The SubGenius Foundation, Inc. All rights reserved. The Graven Image of "Bob" Dobbs' Face is a registered trademark of The SubGenius Foundation, Inc.(clutch1)
---
---