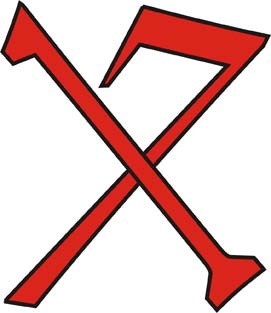 17X-DAY
JULY 1 - 6, "2014," Wisteria Campground


about 20 minutes from Athens, Ohio
STUFF! DOWNLOAD THE SCHEDULE PDF also: VISIONARY ART OF 17X-DAY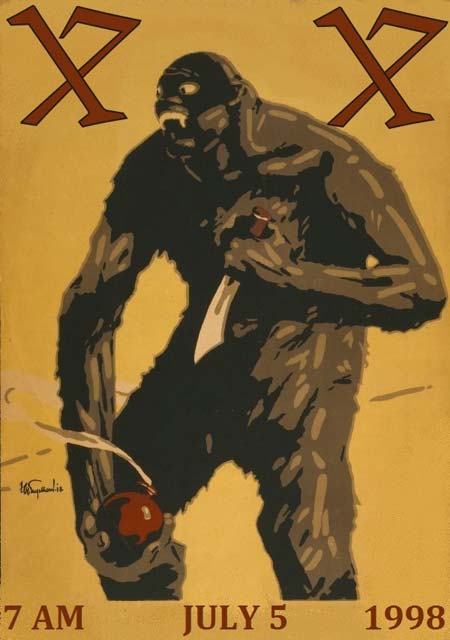 This is THE SubGenius World Destruction Event and Annual Migration to our spawning grounds!
ARISE, MUTANTS!
As always, our annual main SubGenius event is held in the middle of nowhere, is hard to get to without a car or ride, and requires camping (or else staying at a local motel in the very nice college town of Athens,Ohio, about 15 minutes away.)
If SubGeniuses were Normals, X-Day Drills and such would be held in Holiday Inn conference rooms. Like the gamers do. Like the sci-fi fans and the comics fans do. Like the Scientologists, Mary Kay sales people and the Grace Glory Baptists do.
But we are SubGeniuses, and X-Day is not a convention. IT IS AN ADVENTURE. A SURVIVAL TEST!!
It might be brutal at times. CORRECTION: it WILL be brutal at times.
But those times are exactly what make for the CONTRAST. They make the heights ever so much HIGHER. And, sometimes, when two SubGeniuses get stuck under a borrowed tarp in a rainstorm, and fall in love, and get married, and have kids, and get a divorce, THEY STILL COME BACK TO X-DAY.
Sure. You might meet your True Yeti Mate or have your peak experience at a comics con in a motel. But it will not be an ADVENTURE. It will not be THE ETERNAL STRUGGLE OF MAN AGAINST NATURE, AGAINST THE VERY ELEMENTS, AGAINST, YES, GOD ITSELF!! JEHOVAH ONE! ARE WE TRULY BUT SPACE PUPPETS?!? NAY, "BOB" SAYS, NAY!!!
"The brutal times form a protective barrier around all the SLACK at X-Day. You have to go through the brutality-field to get to the pure, rich, ambient slack that suffuses the event, but when you leave the Slack comes with you." -- Dok Holocaust
VETERAN ADVICE FOR NOOBCAKES for X-Day
Fine SubGenius Videos by Dr. Legume:
SubGenius Recruitment Video #666 - X-Day
The Deal - A SubGenius Storybook
When You See Those Flying Saucers
A Trip to SubGenius Heaven (Revised Director's Cut)
SubGenius Outreach Video #13
1936 MTV SubGenius Commercial
An important message for the Church of the SubGenius from Osama bin Laden
The Uninvited SubGenius With the Small Hairy Penis

---
WHERE??!? WISTERIA Event Campground and Nature Retreat, Pomeroy, Ohio, USA!
(20 min. from Athens, Ohio and Ravenswood, West Virginia)
Photo Gallery of Wisteria during Starwood, July 2010, with a detailed description of facilties, by Rev. Stang
Photo Gallery from 2011 with even more detailed text descriptions, of Wisteria, Athens, Pomeroy and environs from late May exploratory trip -- a handy "FAQ."
HOW MUCH??? Only $35. The cost is not very brutal. $35 for the whole week -- for ordained SubGenius Ministers. If you aren't ordained yet, you'll have to spend another $35 to become ordained. A CHEAP PRICE for SALVATION, if you think about it. Also a cheap price for ANY weekend-long, totally spectacular and weird campout -freakout-musical/religious event. You can register at the event (after 1 pm each day).
NOTE: CAMPING is another $15 per person, paid to Wisteria. There are motels nearby, in Athens, Pomeroy, Ravenswood WV, and Carpenter.
Art at top of page (logo): Rev. Abnorm Nihil. Map: Dr. K'taden Legume. Below left and right: Rev. A. P. Ostacy. Dr. Legume (bottom)
X-Day Souvenir Propaganda Garments and Other Products
Wonderful souvenirs to cherish! -- Touching reminders of the last days of your life on planet Earth and your liberation by Dobbs. Shirts, hoodies, kids' clothes, mugs, steins, Liquid Frop Bottles, all emblazoned with the new X-Day art by Dr. Legume and/or this year's antique bug porn "squirrel shots.".
For the careless and CARLESS: HOW TO GET THERE
Priestess Pisces (main organizer) says: Greyhound will bring you right to Athens, Ohio, which is a mere spitting distance from Wisteria, and we can get a friendly Yeti to give you a ride in. For air travelers, Wisteria recommends the Port Columbus International Airport, and again, we have Friendly Yeti Volunteers making runs back and forth if you arrange it with Pisces. Train service in the area isn't as nice, however. You should also ask around on the 17X-Day Facebook Page, our various SubGenius Internet forums, the chat room and the RIDES BOARD.
Until June 28 YOU CAN CALL OUR TOLL-FREE NUMBER IF YOU HAVE SECURITY QUESTIONS:
1-888-669-2323 (if you leave your phone number on our message machine, do so S L O W L Y and CLEARLY).
You can become as involved as you want, way ahead of time, via
SCRUBGENIUS forum
(Only ordained SubG Members may join .)
or (even better) the FACEBOOK X-DAY 17 PAGE
---
DONATE to help bring SubGenius pros and DR. HAL to X-Day so it doesn't all come out of Stang's pocket, which actually has a bottom:

"Nothing exceeds like Xs!" - Rev. Just John art below left by LEGUME
It's time to KISS ALL CALENDARS GOODBYE!
There'll be

Full Immersion Mass Bobtism!

SubGenius Costume Ball / Beer Tasting / CockTail Party!
Costume Ball Theme: WARRIORS (fake weapons, armor)

SPOUTING! with spewing

Dr. Dark's BULLDADA BADFILM DRIVE-IN of the Damned !

THE BADFILM GRINDHOUSE -- nonstop bulldada movies and shorts for 6 days, presented by My Inner Spoiled Child (See the complete SCHEDULE and the official TRAILER)

THE BULLDADA AUCTION! Bring weird stuff to be sold!

MASS SHORT DURATION MARRIAGE!

SLACK BLACK MASS

LIVE HOURS OF SLACK on stage every day with Stang, Lonesome Cowboy Dave, Dr. Hal, Rev. Susie the Floozie, Dr. Legume, Pox Quemada, Pisces, Princess Wei, many more!

MASS EATING! Scrapple Toss, Pancake Orgy, 'Frop Beating, Time Killing!

THE BOBBIE AWARDS! SIDESHOW MARVELS!
TUBS AND TUBS OF PURPLE KOOL-AID!
ALT.SLACK TROLL SHOOT!
SPONTANEOUS DOKTORBAND COMBUSTION!
TRAINED PRAIRIE SQUID GIGGIN'-PARTIES!
(Free Debeaking Tools to first 5 giggees)
SPORTS FIGURE BODY PART LAUNCHING!
NUDE CHAINSAW JUGGLING!
'FROP ENHANCEMENT WORKSHOPS!
ACUBEATING!
PSYCHIC SURGERY!
HUMANFIGHTS!
LIVE FREAKS OF NATURE and ACID CASUALTIES!
FACE FUCKING BAT SPERM ANTIDOTE PUDDING COOK-OFF!
BOBBIE ROPING!
PRIVATE ADULT SEXHURT SEMINARS!
BONOBO CHIMP GOBBLIN' CONTESTS!
SELF-MUTILATING PREACHERS!
ODDLY NORMAL-SEEMING PEOPLE!
SEX GODDESSES, ELDER GODS, and XISTS!!!

IMAGINE -- the SHEER POWER TO BE BULLIED BY FAMOUS SUBGENIUS ZEN MASTERS FOR THE LAST TIME!!
IMAGINE -- YOUR BIG CHANCE to BUY EVERY SUBGENIUS TRINKET, ARTIFACT and GEEGAW EVER MADE by ANY SUBGENIUS at the "Final Fire Sale Black Fleece Market of Slack SALES SHACK".
IMAGINE -- YOUR BIG CHANCE to meet those amazing, intriguing individuals you've heard on the radio, seen onstage, or read in alt.slack and the holy Church books -- AND, POST-RUPTURE, ATTACK THEIR ESCAPE VESSEL BATTLE PLANETS WITH YOURS!
IMAGINE -- YOUR BIG CHANCE to WIN BACK YOUR SOUL!!!
You'll be able to tell your great-great-great-great-great-great-great grandkids, "I was at the X-Day Final Gathering in legendary Wisteria... Yep! 'Fropped up with the great Dr. Hal hisself there... even fucked Connie Dobbs! And "Bob" fucked me -- right good, I'd say!"
"The X-Day house party and fin d'seacle freak show "parade" is something even the back-to-gabbers do, with a pumped up number of beats per minute, ten pils down your gob for 20 hours of chomping your bit, no ambience save for a couple of yellow cube lights haven't been able to kill.
"Also consider the fact that bouncing around on bad 'frop (probably Lunk, if nothing worse) or bad Church Air (probably jenkem, if nothing worse) is considered a definite no-no, never mind what you heard. And then, is it really your idea of fun to stand around some crossroads with no clue as to your whereabouts, with an Ohio map in hand which has snakes for roads crawling about, because you're hallucinating like an oilslide? Well then, simply get to know a few people first, which is not such a hard thing to do at X-Day Drill, and all kinds of possibilities will, if need be, arise by their own accord. In the meantime, remember: there's much more to be discovered!" - X-Day Guidebook (well actually from an Amsterdam guide book, but it works)
IT HAPPENED BEFORE!
Some of it, anyway
Check out these in-depth adults-only photo and text reports, by the SubGeniuses who lived through it
VIDEO FROM PREVIOUS X-DAYS:
ALSO: The entire edited new 6X-Day documentary is available in our catalog AS A FINISHED DVD

THINGS WE NEED:
HELP from people who are not totally incompetent. We offer "JOBS" like trash clean-up, stage decoration, tech help, airport and bus station runs, product sales, etc., whereby you can work off your $35 entrance fee. This is called SLACK BARTER. Email Priestess Pisces, who is in charge of that and just about everything else.
WILL YOU SUCK THE FINGER, OR GO WHERE IT POINTS?
---