THE SUBGENIUS CHURCH'S REAL CONNECTION WITH THE COLUMBINE HIGH SCHOOL MASSACLE AND THE TRENCHCOAT MAFIA
(Some thoughtful essays from alt.slack, peppered with sick humor and vengeful prattlings.)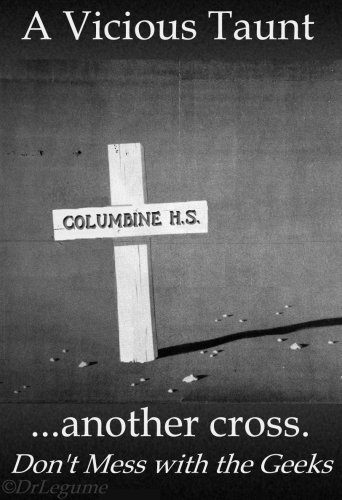 Towards a more perfect hate.

Colorado Youth for Dobbs Outreach

Here Be Dragons: No Trenchcoats In Heaven

DONATE! Or things will get REALLY fucked up!

Trenchcoat Mafia - It's just their way...

Trench Coat Clips from the News

---
ARTWORK INSPIRED BY THE COLUMBINE TRAGEDY
RANTS THAT HAVE NOTHING AT ALL TO DO WITH THE BOSTON SUBGENIUS DEVIVAL OR THE TRENCHMOUTH MAFIA:
The Rocket Boy Alternative to Everything
by Commander Chas Smith
TO ALT.SLACK FROM STERNO!!!!!!!!!!!!!!!!!!
by Pope Sternodox
Other web pages devoted to this offensive event:
PAPA JOE MAMA's BANNED REVISIONIST HOLOCAUSTAL PAGES and special report
Hate Group monitors everywhere, take note! The Holocaustal Homepage has been updated (especially the last half). You don't want to miss this exciting oppertunity to get new "dirt" on Dobbs. Check it out and build your case against "Bob"!
MODEMAC's First Online Church of "Bob" SubGenius Media Archive