OLD VERSION last refreshed 05-04-00

From the Office Pew of Rev. Ivan Stang

Background: Funway Plastico
Borders, Clips, Blips: Friday Jones

Hear the latest HOUR OF SLACK
weekly Church radio show in RealAudio!!
Astounding, EASY fidelity!
Check for local availability on the REAL airwaves
-- we're on 15 stations.

In January, EVERYTHING BECAME DIFFERENT!!
DOBBS came in with the new century, smelling like cheap pipe tobacco, grabbed us all by the scruffs of our necks, and told us to SHAPE UP or SLACK OFF! So... we did both. The SubGenius Foundation has an office building! Almost every main section of this site is being revised! But the MAIN change was that we took the "MONTHLY ONLINE ZINE" approach. Here's last issue:
THE STARK FIST OF REMOVAL, ONLINE ISSUE 2000-2
Don't worry, we're still planning to keep printing The Stark Fist newsletter as well. (But we'll be able to mail it out a HELL of a lot sooner, if each SubGenius would purchase ONE THING this month from our CATALOG. And I'm NOT saying that to be FUNNY.)
Our first Church Field Trip to Amsterdam was a smashing and SMASHED success! The Amsterdammers knew about XXX-Day ALREADY -- they'd etched huge "TRIPLE XXX" signs EVERYWHERE in town -- so we didn't even have to preach. We just Slacked Off, and called THAT a "devival." Somehow THAT made for one of the best devivals ever... prompting much photodeviltry and incisive observations regarding our INEVITABLE MIGRATION TO THE LAND OF TULIPS AND 'FROP, if XXX-Day doesn't get here first.
ADULTS ONLY: earn the Church $ per click by checking out these two SPECIALTY PORN SITES:
We recently finished THREE CDs of INCREDIBLE MUSIC and PREACHING by yours truly, Rev. Ivan Stang, Einstein's Secret Orchestra, Lonesome Cowboy Dave, Mark Mothersbaugh, King of Slack Bill T. Miller, DK JONES and many worse -- that should give you "Gimme-Bobs" a way to redeem yourselves through SPENDING!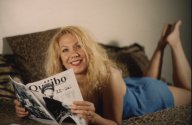 Other news: H.H., the 8th Atom Funway, HAS RETURNED!
Have we mentioned QUIJIBO, the greatest SubGenius zine? (Yes, an actual PRINTED zine, like in the old days!) See the Quijibo site for details. (Or just send $5 to 18 W. Main, Greenfield IN 46140. Model: Barbie Geddyn)
EVEN OUR IRC CHAT PAGE has been updated!

SEE ALT.SLACK on USENET for the LATEST latest. And don't just LURK! Lurkers are GHOSTS.
FROM PREVIOUS UPDATES:
HUMAN END-OF-WORLD PREDICTIONS FAIL!! See our Suppressed Year 2000 Report -- WHAT REALLY HAPPENED
We've hard more experience with the world ending than ANYBODY, so just before Y2K we offered a special Y2K pep talk for the faithful.
THE ART MINES underwent their yearly GROWTH SPURT. Some of them are already shaving. TWO YEARS' WORTH of SOME artists' most timely work is already thumbnailed for you at TUNNEL 14. Such as Fernandinande LeMur's sacred painting seen here, depicting the Discovery of the One True Dobbshead by Dr. Philo Drummond and Rev. Ivan Stang in 1978. Note: I fixed the "miscellaneous artists" links -- there's a ton of stuff there that wasn't accessible before Feb.2000.


Better Sex for Mutants: New SubGenius Message Board!
---

The outgoing old 1999 Bombies, as they fled, hurriedly HTMLed all manner of news, lies, flaming and ranting from alt.slack, my email, and St. Byron Werner -- collected in ARTICLES 3! A good cross-section of what the Conspiracy and your fellow Other Mutants are doing. It'll MESS WITH YOUR HEAD!!
ARE YOU READY for XXX-DAY '2000?
The Florida clenches threw the TAMPA BAY DEVIVAL.
SubGenius PreMillennial Y2K De-Bugging Tour and Apostolic Hierarchite Conclave a RESOUNDING SUCCESS! (see Pics)
In September '99, I, Stang MOVED TO CLEVELAND. The Church HQ is still in Dallas, and so is Jesus, but I'm running my end by remote control here at the spaceport. You can READ ALL ABOUT IT and my NEW ADDRESS and even take a visual tour of the new Palace... for that matter, you can read every damn thing I've posted to alt.slack about anything, up until this very instant.
I was UTTERLY UNABLE to keep up with all the productive madness that our Other Mutant friends and allied cults n' clenches were up to. But here are some of what WERE the more immediate and important:
FREE MUSIC FROM KING OF SLACK BILL T. MILLER! NEW CD!-- MP3 ORGY.com CD-ROM Released Featuring 103 MP3s You Gotta Hear

John Wayne Gacy Dobbshead Bought on E-Bay by SubG Minister

RTMark Quarterly Report (second quarter, 1999)

SATANIC AND MICROWAVE TORTURE OF A CHRISTIAN

STOP DOMESTICATING YOURSELF! (SCHWA news)

XX-DAY '99 VIDEO NOW AVAILABLE through our new MAGIC catalog!
EVERY BEING NEEDS this ASTOUNDING DOCUMENT of a BLASPHEMOUS, SORDID, NUDITY-BESMEARED EVENT!

---
I, Stang MOVED!
To CLEVELAND!
The SubGenius Foundation mail order factory and biz are still at the same old Sacred Dallas address, but your humble Sacred Scribe is now at PO BOX 19355, CLEVELAND, OHIO 44119-0355.
MY NEW EMAIL IS STANG@SUBGENIUS.COM. Discount all other email links to me that you might see in this website, until I fix 'em. (Discard "i.stang@subgenius.com" and "i.stang@metronet.com"). The new FAX number for ME AND Church HQ is 216-783-0150.
This does not affect Church biz at all. The HOUR OF SLACK radio show sound quality will probably improve, because I'll be producing even more of it from the studios of WCSB at Cleveland State. All other SubGenius business info (as seen in our catalog, etc.) remains the same. Jesus is still running the business biz at The SubGenius Foundation, PO Box 140306, Dallas TX 75214.
*****
---
---
CRITICAL!! MASSIVE DEPOSIT OF PSYCHO GRAPHICS, LURID PHOTOS, NEWSGROUP CONTROVERSIES, REVEALED SECRETS and GOSSIP!
DOS EQUIS: THE XX-DAY 99 DRILL at Brushwood, Sherman, NY
Includes ALL the photos and special reports from those who were there, ALL the XX-Day event news from alt.slack, and gorgeous inspirational graphics from alt.binaries.slack.
Includes THE TORTURE OF FATHER JOE MAMA By IRREV. FRIDAY JONES for the Crime of Bad Publicity
NOTE: WE JUST ADDED DETAILED CAPTIONS AND RANT TRANSCRIPTS TO THE "7:00 AM JULY 5 COUNTDOWN and NON-RUPTURE" PHOTO ESSAY.
"I got one thing to say, and it won't take long.
But the Xists done been here, took a good shit and GONE!"
-- Dolomite, paraphrased
The mightiest SubGenii gathered at a plush campground in far western New York State for XX-Day, July 5, 1999. We said our goodbyes to planet Earth, and prepared for the Great Migration. The Chosen Who Hath Paid were to be Taken In when the Angelic Host descended in judgement in these Last Few Days.
Taken in, we were. DAMN "DOBBS" AGAIN!!
None of the Signed Up Ministers were allowed to taste of the Sacred Kool-Aid from the Holy Galvanized Tub; none experienced the ecstacy of the Sex Goddesses from Planet X, nor the joy of VENGEANCE, of unleashing our fury upon an unrepenting world of Pinks below!
Instead, we unleashed our fury on a "Bob"-head pinata and crept home to our horrible Conspiracy day jobs.
But GOD DAMN, did we get in some GOOOOOOD practice for the END OF THE WORLD!
Sure, we got DOUBLE CROSSED on XX-DAY -- but we can't wait to get ROYALLY SCREWED on TRIPLE-XXX-DAY 2000!
---
NEWS FLASH! REPAIRED NEW BOBCO SYMBOL FONT SET FROM ATOM FUNWAY! HUNDREDS of pictos, hieroglyphs, Dobbsheads, as seen all over our site n' shite!
Download MACINTOSH version now !!!! !!! !!!! Download WINDOWS version now!
See here for the 3 other BobCo font sets! ALL WILDLY DIFFERENT!
Re: old bobCo 10 font problems
---
THE SUBGENIUS M-TV VIDEO in REALVIDEO! Financed by MTV, diected by Stanky, rendered for RealVideo by Modemac!
PLUS! The Moment of Rupture (7 am 7-5-98) at Brushwood, audio recorded by Onan Canobite in RealAudio... and... The 19th Killing of "Bob" by Jesus at the '97 X-Day Drill (RealVideo). AND! Pope David Meyer preaches, Boston '98 (RA). Or howbout this audio SERMON?
INSANE REAL AUDIO NEWS FLASH!! REV. SUSIE THE FLOOZY and LYMPH NODE INSTITUTE's "BOB's" SLACKTIME FUNHOUSE (and Hour of Slack) are now on RealAudio at WREK's SITE! HAIL CONNIE! Saturdays at MIDNIGHT! GO GO GO!
AND!
Puzzling Evidence Show Now Live via RealAudio ! FINALLY! Famous SubGenius Dr. Howll on the INTERNET, LIVE! (At 4 am on Thursdays... see details.)
Hour of Slack also sounds GREAT on AudioActive from radio station WCSB's website, on Sunday nights, 9 PM, EST!
And!! MOST ACCESSIBLE OF ALL -- at 11 p.m. EST on Thursday nights, tune in to EINSTEIN'S SECRET ORCHESTRA Swamp Radio -- the FINEST in Radio-Church MADNESS and MUSIC, with Hour of Slack co-conspirators Lonesome Cowboy Dave, Rev. Bleepo Abernathy, Rev. Ivan Stang, Princess Wei R. Doe, IrRev. Friday Jones, CANTOR CHAS SMITH -- and YOU!! (Call in live!)!
Here's a great SUBGENIUS COMIC BOOK by Dr. Legume!
AND!!!, Praise Dobbs, the new STEVE JACKSON GAMES INWO / SUBGENIUS GAME SET is OUT and IN STORES NOW! This boxed set includes 100 color reprints of the most psychedelic SubGenius art EVER IMAGINED; it can be played either as a stand alone or as part of the Illuminati New World Order game! Wherever role playing games are sold-- or BUY 'EM FROM "BOB": $16.95 each plus $3.50 shipping and handling! THE TRIUMPH OF ALT.BINARIES.SLACK! NEW SAMPLE ART (thumbnailed!)
See also STANG'S FOLLY.
SOME "NEW" WEBSITES
Phineas Narco's SubGenius Radio Tape Catalog
Popess Lilith von Fraumench | Fools' Press
KING OF SLACK BILL T. MILLER
The *NEW* ORGY OF SLACK Sub-section
BOB'S SLACKTIME FUNHOUSE RADIO
---
MAIN SubGenius IRC Channel: #subgenius on irc.fef.net
---

And if you really want to DELVE into the dark past, see Rev. Stang's Internet Diary.